Features
The Exquisite Redemption of Miss Colleen Burton (Part 1)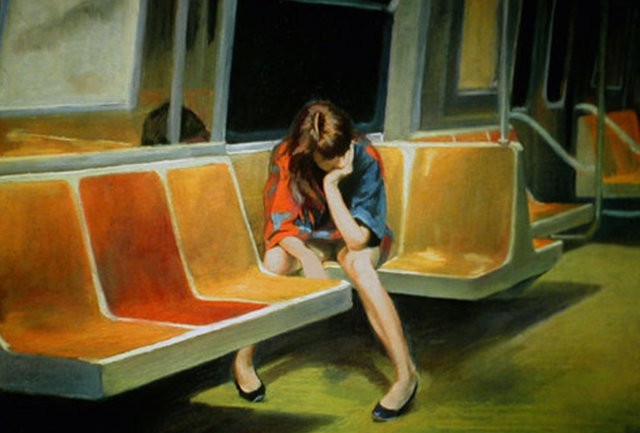 The following is the first installment of a HEAVEmedia experiment in honoring NaNoWriMo, as well as an attempt to write a novella in public. Read on, join us, and so forth.
Surrealism isn't about making the real unreal. Surrealism is about making the unreal real.
Five writers from Chicago, each with their own unique perspectives, will attempt to write a cohesive novella twice a week over the next several months with no knowledge of where the story is going until each consecutive piece is posted here on Heave. Each new part will be posted every Tuesday and Friday, with the writing duties being carried out in a standard batting order fashion (once the end of the batting order is reached, it starts from the top).
The Batting Order:
Part 1 – James Medley (Songwriter)
Part 2 – Carly Heiser (Screenwriter)
Part 3 – Dominick Suzanne-Mayer (Journalist)
Part 4 – Mike Haverty (Playwright)
Part 5 – Justin Gainer (Sketch Writer)
At the end of each installment, the writer of said installment will introduce a caveat, or an obstruction, that must be adhered to by the following writer in the next written installment. For example, at the end of a piece one of the writers may say, "In the next installment a character must get extremely injured." or "In the next installment a character must fall in love." or "In the next installment Colleen's car needs to explode." Those are all extreme examples, but you get the idea.
Now, the writers wanted to take this project a step further and involve the readers in the writing process. After the first five weeks of writing, Heave will begin asking the readers of the story to tweet @HEAVEMedia with their own ideas for obstructions. How the writers decide upon which obstructions to use is up to them.
Let's begin.
———
The Redemption of Miss Colleen Burton – Part 1
In the diner is an air usually reserved for graveyards or divorce lawyer waiting rooms. Colleen knows she is wrong. Sweat drips. Hands tense. Her cell phone suddenly shatters against the wall of The Diner Grill. The wall does not flinch. Colleen is asked to leave.
With no money for a cab, she walks the thirty three blocks down Irving Park (in the rain). She thinks, "At least God is crying for me." as she wrings out her wet green jeans in her not so pristine porcelain tub. Colleen goes to sleep stark naked, bone chilled and alone, and wakes the same way when morning arrives.
Her roommate, Janet, is eating Colleen's Captain Crunch and doing the Sun-Times crossword on their found faux leather couch while Colleen groggily slumps on the love seat in their living room.
"Could you please stop eating my food?"
"Seven letter word for bureaucrat."
"Fascist." Janet snickers. "So how was your night last night, Collie?"
"I lost him. Again."
"Lost who?"
"Really Janet?"
"Five letter word for pig."
"Devon."
"That's harsh! I thought you two were in love."
"God. No. I lost Devon."
"And the five letter word?"
"Swine."
"Ah ha! Wait," Janet pauses as she sets down the paper and hurriedly tucks her bark brown hair into a ponytail. "Okay, so what do you mean you 'lost' him? Like, do we have to go put up signs? I'm not lending you any money for a reward. You already owe me–" Janet knows that this is a serious conversation, but her one gift in life is levity.
"I told him. About. The thing."
"Shit, Collie. Really?"
"Yeah." She turns to face the window; wasting a beautiful view on such an ugly admission. This moment between the two of them lingers for a bit more than a moment.
"Seven letter word for trash."
"Compost."
Most of Colleen's problems have been attributed, by Colleen herself, to her unbridled lack of honesty. However, she has never once considered herself to be a liar. To Colleen, withholding information and fabricating information were, and are, two entirely different beasts. A subtle distinction, but one her heart and mind had agreed upon long ago.
An example: Colleen orders her daily everything bagel from the Einstein Bros. off the Diversey Brown Line stop. She specifically asks that the bagel not be bagged. Every day, just as Esther (the barista) hands Colleen her bagel, Colleen moves her hand ever so slightly to the left so the bagel misses her grasp and falls to the floor. Indignantly, yet politely, she then places the blame squarely on Esther, who apologetically fetches a replacement for the sullied bagel. While Esther's back is turned, Colleen quickly picks up the dropped bagel and shoves it in her purse.
She has done this every day for the last six months and five days to the amazement of nobody, as she is very private about her indiscretions as well as her love of everything bagels.
This is just the type of girl Colleen is.
Friday's obstruction: Carly has to continue with no "spoken" dialogue.