Reviews
Movie review: "Kill Your Darlings"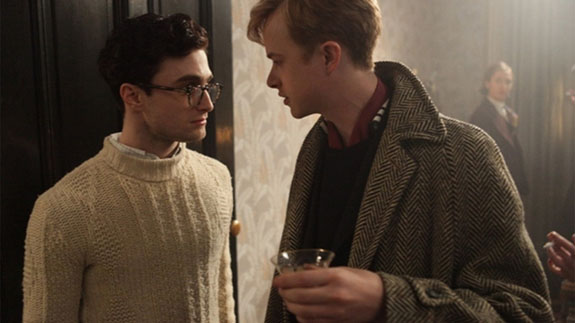 Kill Your Darlings dir. John Krokidas
Release Date: Nov 01, 13
1
2
3
4
5
6
7
8
9
10
Kill Your Darlings is one of those rare movies about youth that actually feels young. It rattles at the edges with the exhilaration of new discovery, of first loves and first heartbreaks and the almost nihilistic abandon that comes from being at the age where autonomy is now yours and the responsibilities that come with it are merely queued up to arrive at a seemingly untouchable later date. Unlike so many movies about the early part of the twentieth century and its beat poets and its jazz music (and jazz cigarettes) and its wild abandon, this is a movie that's just as breathless and vibrant as its subject matter.
That breathlessness starts with how many genres writer-director John Krokidas' first full-length feature crams into the frame. Kill Your Darlings is at once a period-heavy biopic, a true-crime melodrama, a queer coming-of-age tale, a skewed black comedy, and a jilted lovers' tragedy. A mélange of contradictory experiences is perfect for a film about one of the most chaotic moments in a young person's life: the beginning of college, particularly in a hub as bustling as New York City and in an era where experimenting with drugs and fluid sexuality was still genuinely dangerous. In particular, this is the story of Allen Ginsburg (Daniel Radcliffe) and his first year at Columbia University, one where he'd meet his contemporaries in William Burroughs (Ben Foster) and Jack Kerouac (Jack Huston) and begin his life as a revolutionary writer.
Perhaps most integral to his formative experiences, as the film argues, was Ginsberg's friendship with Lucien Carr (Dane DeHaan). A troubled young man and budding intellectual radical, Carr is the sort of personality who could easily seduce a quiet, experience-hungry young man like Ginsberg. Followed with unsettling devotion by the much older David Kammerer (Michael C. Hall), who takes the opposite of a shine to Ginsberg, Carr quickly introduces Ginsberg to a new world of nitrous oxide tanks, literary vandalism, sexual curiosity, and eventually, life-threatening danger. DeHaan is revelatory in this role, the walking embodiment of joie de vivre and free-flowing sexuality, all masking evasive instincts that makes him all the more magnetic and all the more dangerous at once.
Radcliffe makes an excellent foil; even if his performance is occasionally just a bit too obviously doe-eyed, he's the perfect mark for Carr's endless charms. Seduced in more ways than one (rarely has a largely sexless relationship been so erotic onscreen), he's doomed to be ensnared in a web of substance abuse and increasing violence. Krokidas, too, has an excellent handle on how to mete out small touches that shade in this alternate universe. For as alive and immediate as Kill Your Darlings feels, this is still set in the past, in a New York where homosexuals were dragged out of bars with scorn and the introductions of sex and violence to literature were ill-received. The subtle uses of anachronistic musical cues, such as an ambient and tragic version of Bloc Party's "Pioneers" late in the game, work perfectly in service of a film that's as much a transgressive work as it is a time capsule.
The title takes on a lot of meanings throughout the film, but it comes up in the classroom, in which an assiduously traditional professor encourages his budding young writers to kill their darlings, to disregard their personal peccadillos and anything else that makes writing distinct or vibrant, in service of learning a series of empirical strategies for making the kind of writing that gets published, that is profitable. Kill Your Darlings realizes that this trend is hardly dead in any artistic medium, and does its diligence in burning down the establishment anew. If that's something of a quaint notion by today's standards, it's still every bit as necessary now as it was 70 years ago. And perhaps, most importantly, Ginsberg and Carr and Burroughs and Kerouac aren't turned into symbols. Before at least three of the four were icons, they were reckless youths in love and lust with everything, right down to the very ideas of love and lust. Everything they did after that, it would seem, was really just postscript.