Culture
The Spinning Lariat: Reach for the sky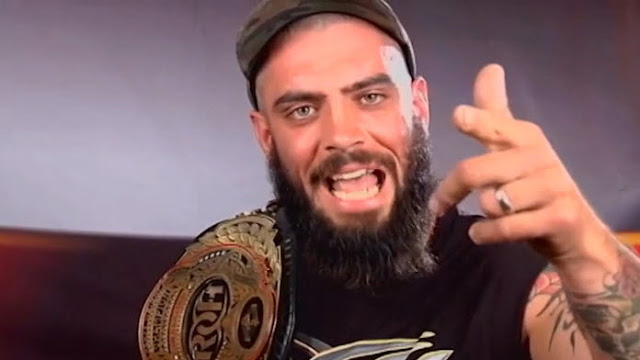 Every week in The Spinning Lariat, Trent Zuberi brings you his observations on TNA Impact Wrestling, and occasional American independent wrestling in general.
Who is the Ring of Honor World Heavyweight Champion? Seems like an easy answer for any fan or visitor to the Ring of Honor website. It's obviously Adam Cole. However, who is the real ROH World Heavyweight Champion? Contrary to Cole being listed as champion and defending the title as such, the real ROH Champion recently showed up in Chicago to lay claim to the fact that he never lost the title, and did not willingly forfeit it either. He came in at the conclusion of an exhausting 60+ minute match that came down to Adam Cole and now-number one contender Michael Elgin, and not only let Cole taste what a title belt to the face feels like, but unveiled a new custom championship belt at the same time to signify he never lost it in the first place. With Adam Cole laid out, a message was sent for the upcoming year in ROH: Jay Briscoe is holding you all hostage.
Title dispute stories in wrestling are very interesting if done correctly. Over the years there have been some that were executed to perfection, and others that were so bad you can't believe someone approved them to be shown to the public. A lot of times they tend to start off with a sense of realism and then later fade into an almost cartoonish style that makes them so silly that a viewer isn't as engaged as they were at first. But when they are done correctly, a viewer can side and sympathize with a wrestler who essentially got screwed out of a title by never officially losing it. Wrestling fans will mentally footnote the reign of the wrestler who holds the championship by always noting that they never officially beat the champion for it. In the case of ROH, Jay Briscoe had to forfeit the title due to injury, and through a tournament Adam Cole won it. So in actuality the title was held up and Adam Cole went through fair competition to win it via tournament, but he never beat the champion, now did he?
ROH and Jay Briscoe created an amazing character throughout this time period. The injured Jay Briscoe began with a plea to ROH Matchmaker (and former champion) Nigel McGuinness to not strip him of the title because of his injury. The video was so passionate that anyone viewing wanted to go protest on his behalf. A follow-up video of the day he had to forfeit the title and reluctantly hand it over to the new champion was shown in a day-in-the-life style layout of Briscoe's emotional struggle leading up to the forfeit. He was shown as a man who worked to achieve his dream, only to have to turn around quickly and give it back. The mental struggle any human being would have with something like that is hard enough, but knowing that a guy like Jay Briscoe really took it to heart outside of any wrestling storyline or television production gives it an even deeper meaning.
Fans felt for Jay for having to go through such struggle, and for when he had to present the title to the new champion at the conclusion of the tournament. And to have Cole turn heel and kick Briscoe in the back of his head after receiving the belt only enraged fans further and made them side with Briscoe even more. So when Jay showed up in Chicago at Glory by Honor this past weekend and knocked Cole out with the contents of the mysterious bag he carried to the ring with him, only to reveal it to be his new custom championship belt, fans knew they were in for a ride on a long road of redemption with Jay Briscoe driving.
The dynamic is interesting. Michael Elgin has officially won the title of number one contender for Cole's belt, but Jay Briscoe is taking an "over my dead body" approach to the title picture. What's interesting to see now is how all three of these warriors are worked into the picture and how every one of them can remain strong throughout. Fans are ready for Elgin to have a title reign, but they are also very invested in Briscoe, so who gets the support and who gets the backseat? Jay Briscoe has created a hostage situation with the fans of Ring of Honor, and they are happy about it, because if the determination and passion displayed in the buildup to all this is any example of what the fans are in for, things are about to get very interesting.
Questions, comments, feedback? Connect with me on Twitter @vanillajoke