Culture
The Man Who Invented Beer: Spaten Oktoberfest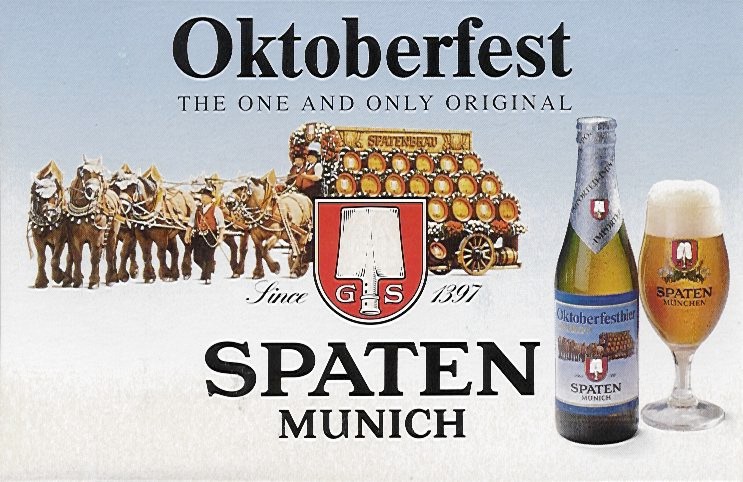 Every week in The Man Who Invented Beer, Adam Cowden runs down the latest in craft beer, often with a history lesson for flavor.
The world is changed. I can feel it in the water. I can feel it in the earth. I can taste it…in the beer.
That's right, friends: the leaves are turning, the temperature is dropping, and Halloween is just around the corner, but most importantly, Oktoberfest is here! Was here, actually; the real Oktoberfest celebration in Munich ended on October 6th this year. As Americans, though, we hold very dear our inalienable right to bastardize and misappropriate items of foreign culture as we see fit, so we will likely be drinking Oktoberfest beer well into December, and rest assured, we will celebrate Oktoberfest whenever we damn well please (within the month of October, at least). This past weekend, my friends and I decided to chase down some Chicago locales getting down with Oktoberfest, and had our share of the bread-and-butter Munich Oktoberfest export, Spaten Oktoberfest.
What's the story?
Before discussing Oktoberfest beer, let's back things up a little to a time….before Oktoberfest (DUH-DUH-DUUUUUUUUM).
On October 12th, 1810, the Crown Prince Ludwig of Bavaria (later to become King Ludwig I of Bavaria) was married to Princess Therese of Saxe-Hildburghausen (Saxe-Hildburghausen was a region in southern modern-day Germany). Prince Ludwig cultivated lifelong passions for women, art, and partying, and decided to use his wedding as an occasion to indulge in the latter-most of these passions. All of Munich was invited to join in the festivities, which were located out on the fields in front of the city. In honor of bride and new Crown Princess, this meadow was christened "Theresienwiese," and to this day Munich natives refer to it by the shortened "Wies'n." The celebration culminated in a series of horse races in the presence of the royal family, and it was the decision to repeat the horse races each year that gave rise to the annual celebration that would come to be known as Oktoberfest. Yeah, the horse races. Not the beer. Huh?
Eventually, excitement over horses gave way to excitement over beer (thank God) and Oktoberfest was prolonged and moved to late September to take advantage of warmer weather. Today, Oktoberfest is a 16-18 day long festival (sometimes extended beyond the 16-day norm to coincide with German Unity Day or to celebrate the bicentennial anniversary) that is attended by over six-and-a-half million people each year. The festival features 14 large tents, 20 smaller tents, rides, a roller coaster, and tons of würstl (sausage), along with brezeln (pretzel), and bierleichen (passed out people, literally translated as "beer corpses"). Oktoberfest has been cancelled 24 times since it's inception — 14 times due to war, and the rest due to cholera or inflation.
The beer served at Oktoberfest is subject to three strict regulations.
1) The beer must be brewed according to the Reinheitsgebot, the Bavarian beer purity law dating back to 1516 that I discussed back in my article on the Hofbrauhaus, meaning that the beer can only be brewed using barley, hops, water, and yeast.
2) The beer must have a minimum strength of 13.5% stammwürze (approximately 6% alcohol by volume).
3) The beer must be brewed within the city limits of Munich. Due to this qualification, only six breweries can produce authentic Oktoberfestbier. These are: Augustiner-Bräu, Hacker-Pschorr-Bräu, Löwenbräu, Paulaner-Bräu, Spatenbräu, and Hofbräu-München. These six call themselves the "Club of Munich Brewers."
Beers brewed according to these guidelines are often called Märzen, since they were traditionally brewed in March and allowed to ferment slowly over the summer. Märzen beers were originally dunkel-style dark lagers, but in 1872 a some named Josef Sedlmayr debuted a strong Märzen/amber Vienna lager hybrid that quickly became the Oktoberfest favorite. Märzen/Oktoberfestbier is even lighter today, and since 1990, all of the beer served at Oktoberfest is golden in color.
Where can I drink it?
You can find an almost complete listing at beermenus.com (it's much too long to reprint here), but if you want to enjoy Spaten Oktoberfest from a signature 1-liter glass stein (highly recommended), I'd recommend checking out the Chicago Brauhaus. If you can get past the kitschy atmosphere and gain a quick appreciation for live polka (good luck), it's really the perfect spot to enjoy this beer. Do yourself a favor and order a giant pretzel with spicy mustard. It was created shortly after beer on the 7th day, when God saw that beer was lonely.
Chicago Brauhaus is also located in Lincoln Square, which is a German-American cultural center. If you're interested in doing an Oktoberfest beerhall crawl, Huettenbar, Resi's Bierstube, and Laschet's Inn are all within easy walking distance and all serve authentic German beer and food. We hit Huettenbar after the Brauhaus, and though they did not offer steins, the bar had good beer, some sweet murals, and a pretty young crowd.
What does it taste like?
Upon first sip, my girlfriend blurted out, "It's like a liquid pretzel!"  Upon second, she changed her mind to, "It's like I'm drinking fall!"
These are common impressions of great Oktoberfest beers that are probably due as much to the beer's appearance as the taste. The first thing you'll notice about Spaten Oktoberfest is the beautiful deep-gold/amber color. It really does look like you're drinking tree whose leaves have just turned for Autumn. Or possibly liquid pumpkin pie topped with whipped cream, thanks to the ample foamy head that regrettably dissipates very quickly.
Don't worry, it doesn't taste like dead leaves (or pumpkin pie). Like all Oktoberfests/Märzens, Spaten Oktoberfest is a lager, and the nose (aroma) is accordingly very clean with only the slightest hint of earthy/lemon esters. You can detect a bit of malty/biscuit taste, and a bit of the higher alcohol content, but the main attraction doesn't come until the first sip. If you've had an Oktoberfest before, you basically know what to expect, and if you haven't, imagine a sweeter, stronger version of your favorite amber lager (maybe Dos Equis or Sam Adams Boston Lager). The additional sweetness and strength are both due to a higher sugar content (sugar gets converted to alcohol by yeast in the maturation process), and both combine to create a beer that is sweeter and less bitter than your traditional amber lager, but more balanced and earthy than a dunkel or a dubbel. The primary taste is almost all malt, though it's less like toffee/caramel and more like a toasted biscuit, and the aftertaste is dominated by the higher alcohol content as well as some muted, earthy hop bitterness. Some people have also picked some berry flavors lingering around the aftertaste, and I guess I could see this (though it seems like a little bit of a stretch to me).
The mouthfeel is fizzy and almost tickly, which is strange because of the relatively weak carbonation. This might have been due to all of the spicy mustard which I simultaneously enjoyed. The beer is definitely not watery, but feels thin in a pleasant, smooth way. This lends it a refreshing character that is not usually present in similarly strong beers, and makes it perfect for washing down sausages, pretzels, etc.
Should I try it?
How do you say "yeah" in German? Oh yeah, "Ja!" Though it's likely not quite as good stateside as it is served in a Munich beer tent, Spaten Oktoberfest is probably the most widely-available true Oktoberfest/Märzen beer that you're going to find. It's a clean, tasty, perfectly-engineered fall beer that doesn't rely on any cheap tricks or pumpkin extract, but instead evokes the magic of the season with a toasty-yet-cool brew that highlights the beer's natural malty sweetness. How's that for a beer commercial? And remember: it's best served in a glass stein. With a huge pretzel. Did I mention the steins and the pretzels?
Rating: 7/10