Reviews
Movie review: "Cloudy With a Chance of Meatballs 2"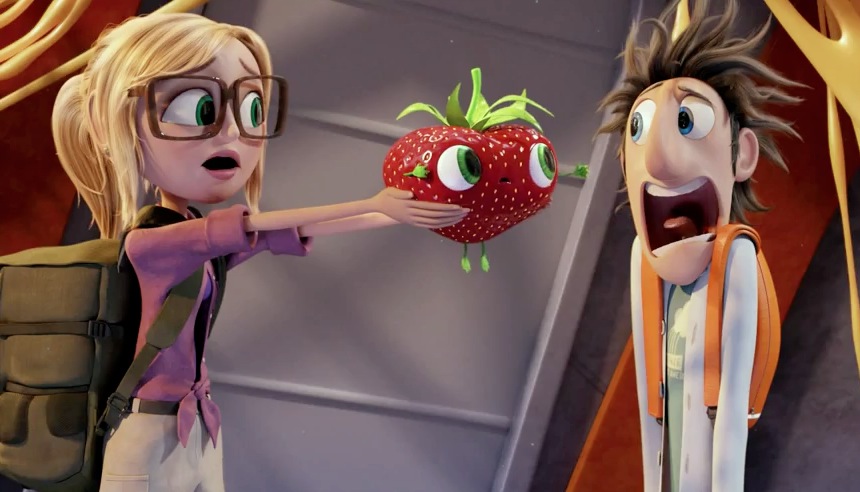 Cloudy With a Chance of Meatballs 2 dir. Cody Cameron and Kris Pearn
Release Date: Sep 27, 13
1
2
3
4
5
6
7
8
9
10
A sequel to Cloudy With a Chance of Meatballs feels rather unnecessary, given the first film's dedication to doing something (quasi-)original and its ultimate message about the importance of creation and forward motion, no matter the wacky consequences. But then, it was a family movie that was unusually well-reviewed and made a ton of money, so here we are with Cloudy With a Chance of Meatballs 2. Flint Lockwood (Bill Hader) is still inventing, now for Live Corp, an Apple-esque conglomerate run by Chester V (Will Forte) with the intention of making the world a better place. However, there are precious few of Flint's hyper-imaginative inventions that have the sleek panache necessary to thrive at Live Corp. When one of Flint's inventions embarrasses him at a company-wide gathering, Chester realizes that the naïve Flint can be used to more nefarious ends; namely, a dangerous mission that sends Flint and his friends back home to the island of Swallow Falls, which was overrun with giant food in the first film and has now begun to exhibit signs of food-animal evolution.
All of this is ripped through rapidly, a pace that's charming at first but eventually proves tiring. Some of the montages are hilariously effective, nailing down the madcap charm of the first film, particularly one in which Flint tests all his new inventions on his embattled father (James Caan), but once the crew heads home to Swallow Falls, the film falls into a pattern. Flint's belief in his friends is shaken by his corrupt idol figure, food puns are made about all the living creatures on the island, one of them turns out to be monstrous and endanger some or all of the group, repeat. That's not to say that the film isn't enjoyable, because compared to the garish Technicolor tedium of seemingly indestructible franchises like Madagascar, at least Cloudy gives off the sense that somebody at some point was using their imagination.
There's also a decent message in there that occasionally pops out when the film isn't just trying to squeeze as much adorable/innocently frightening imagery into every frame as possible. Co-directors Cody Cameron (a Shrek franchise veteran) and Kris Pearn (a longtime in-house Sony animator) take surprising strides toward suggesting that not all forward progress is good, especially when it comes at the expense of vibrant ecosystems. It's hard to say whether a kid with a gold iPhone 5S is particularly going to care, but Cloudy becomes a more watchable film when it's playing around in that territory than when it's trying to keep the bloated second act moving with a series of largely consequence-free setpieces that are fun and diverting but mostly superfluous. This is normally where one would say that "well, the kids will like it." And sure, most kids will probably enjoy Cloudy With a Chance of Meatballs 2, but shouldn't we all expect just a little more than "it's alright"?