Culture
Movie review: "Blue Jasmine"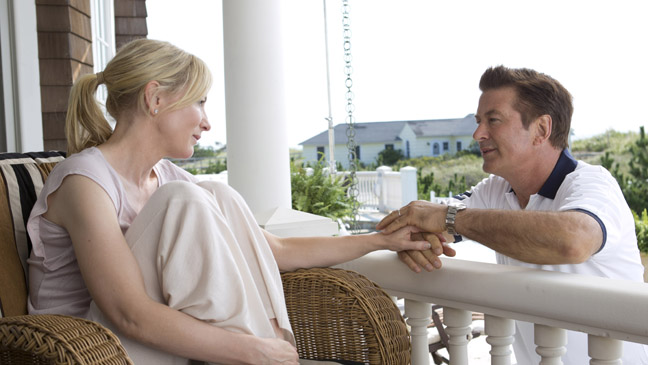 Blue Jasmine dir. Woody Allen
Release Date: Aug 02, 13
1
2
3
4
5
6
7
8
9
10
In his late career, Woody Allen has specialized in making elegant little trifles, movies without the ambition of his late 70s output or the existential scope of his 80s films. Although the bitter Match Point was a veritable remake of Crimes and Misdemeanors, but as a thriller, these days he seems more content to remake A Midsummer Night's Sex Comedy – but with a misanthropic bent. From Vicky Cristina Barcelona to Midnight in Paris, they've been entertaining but shallow, about as deep as a birdbath. I've loved more than a few of them on their own terms, especially the exquisite Midnight in Paris, but found them lacking somehow. Like Almodovar's I'm So Excited, it's great to see the master remove his brain, but after a while you want him to get back to business.
It's customary to say that a Woody Allen movie is his best in [insert number of] years, but with Blue Jasmine, it's not just that it's his strongest film in decades. I want to call it a "return to form," but that's not exactly honest. Into his fourth decade as a filmmaker, Blue Jasmine improbably finds Allen exploring new territory with a film that's at once an homage to John Cassevetes, a remake of A Streetcar Named Desire and a satire of the one percent. This is the definition of biting off more than you can chew, but Allen sells the whole thing perfectly, as if he were a natural at Tennessee Williams.
However, he's not without help in the endeavor. The strength of any Woody Allen movie rests in its cast, and films like Curse of the Jade Scorpion and To Rome With Love were bogged down by actors trying to make sense of the Allen dialogue, squeezed into roles for which they weren't right. But with Blue Jasmine, Allen gets flawless performances across the board, from the underrated Sally Hawkins and Bobby Cannavale to Cate Blanchett, who played Blanche DuBois in the Streetcar revival on Broadway. Allen is known for getting great performances out of his actresses, and Blanchett turns in what is easily his masterpiece, applying the actress' chameleonic instincts to a woman who loses everything, including her sanity.
Blanchett plays the chatterbox Jasmine, a wealthy New York housewife whose husband invests their entire life in crooked dealings and has that foundation ripped away when he goes to prison. Of course, Jasmine is no doe-eyed innocent, and the movie shows that she was willing to look the other way, doing whatever she feels is in her best interest. After her bankruptcy, that includes moving in with her sister (Hawkins) in San Francisco, a sister she never had much interest in before the bankruptcy. This move is challenged by the sister's mechanic boyfriend (Cannavale), the Stanley to her Stella, who knows a rat when he sees one. Jasmine promises that she'll just be there until she can get on her feet.
The drama between the three of them can be a little one-note, only because their characters are so steadfast, and Allen avoids this by weaving the narrative through past and present, as Jasmine relives what happened to her in flashbacks. Although she's determined to put the past behind her, she's constantly haunted by her ghosts, the trauma of her husband's infidelities and later his suicide in prison. The movie begs the question: Is starting over possible when we have so much history behind us? Can we ever be the people we want to be when we are stuck being ourselves? Jasmine wants her life back but this is her life now, one defined by her oncoming madness. This she cannot accept.
This sounds like pure tragedy, and many have criticized Blue Jasmine for being yet another one of Allen's misanthropic fables, but Jasmine's story is told with such care that the movie becomes unexpectedly tender and touching, like an old song on the radio about lost love. The soundtrack is filled with jazz tunes, and here we can see the old Allen touches, his penchant for bringing the radio days to the present. More than anything else, Blue Jasmine is a character study, one of the few times in recent memory that Woody Allen seems content to study someone else. There's no clear stand in for Woody in the movie, although the Louis C.K. casting seems to be a wink in that direction.
If Allen wants to learn something from the experience of finally making a movie that lives up to his full potential as a director, he should take a note from Jasmine. Hell isn't other people. Sometimes hell is ourselves.