Culture
On The Apron: Husky Harris, Bray Wyatt and obnoxious wrestling fans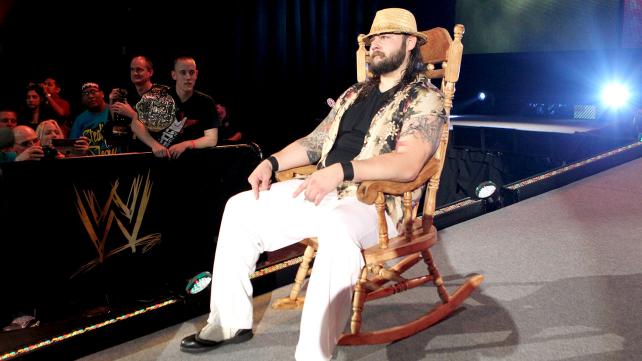 Every Tuesday inside On The Apron, features editor Dominick Mayer digs into the latest developments in WWE.
Three quick things about last night's Raw before I get to the meat of today's column.
1) THE WYATT FAMILY IS HERE. I'm going to be something of a bummer about this in a minute, but Goddammit if that entrance wasn't everything I wanted it to be.
2) I'm a big, big proponent of WWE's solution to the problem of three hours of live content per week being a major, major uptick in actual wrestling.
3) Empathetic Ryback is his best possible form. Also, if this means Vickie returning as Ryback's Paul Heyman, that could be the thing that poor man needs to finally get back on track.
Now, on to my big grievance with Raw, and a big one with wrestling culture in general right now. During the live debut of the Wyatt Family (after some thoroughly terrifying found-footage vignettes throughout the show), the mood was dampened slightly by people chanting "Hus-ky Har-ris!" while Erick Rowan and Luke Harper attacked Kane with the ring steps. Now, if you don't remember the promising but horribly mishandled Nexus angle from a few years ago, Bray Wyatt was first known as Husky Harris, a bigger-built gentleman with little identity beyond being part of the group. He got hurt, Randy Orton punted him so hard he disappeared from WWE television and at some point, some brilliant mind behind NXT decided to rebrand him as the charismatic, fedora-wearing leader of a swamp cult. I've already written about how amazing this trio could become if handled well, but many on the internet feared that his previous rollout for the audience could lead to people trying to ruin the angle to prove how "in on it" they are.
There are two reasons this is bad, and one of them was covered by Brandon Stroud in his writing on last night's show. If you're not reading Mr. Stroud, by the way, you're missing out on one of the funniest, most engaging and most well-versed pro wrestling writers on the internet right now. I want to quote briefly from his piece on why referencing a past character sucks:
"Bray Wyatt is played by the same guy who played Husky Harris. It's true, and I'm happy you pay enough attention to wrestling to know that. But when you chant "Husky Harris" during Bray Wyatt's debut, what you're doing is invalidating Bray Wyatt's existence. You're saying "this isn't a real guy, this is a guy I remember from before." You're forcing Husky Harris's narrative onto Bray Wyatt. What THAT does is cheat YOU out of the experience of a new, dynamic and much, much, MUCH better character and wrestler. A joke nobody laughs at expressing a basic knowledge of wrestling ruins an experience for you, everyone around you, and possibly, because WWE audiences take cues from other WWE audiences, everyone everywhere else."
I highly encourage you to check out his column in general, but especially this, because it makes the point that from a basic standpoint of narrative storytelling, interrupting a new character to champion that you remember when he was an old one interrupts the basic premise of pro wrestling (kayfabe, in so many words), in which you accept that this thing is generally real. You wouldn't go to Fast & Furious 6, point at the screen and yell "Hey, it's XXX!," so why would you do the same thing to a show that creates its own self-contained universe with history and lineage and allows you to watch it play around within itself?
The other thing that bothers me is that these reactions were sort of inevitable, and speak to larger issues within WWE and in mainstream culture at large. For a few years now, WWE has been fostering the notion that anything current that is not named John Cena is inferior to anything they've done in the past. Between the constant re-releasing of old tape libraries (which is an important thing, but is bordering on a crutch at this point) and the continual pushing of part-time and nostalgia acts over current stars, WWE has defined the past as a litmus test that's nearly impossible to pass. When this year's biggest pay-per-view features The Rock (barely there at all), Triple H (in his autumn years at best), Brock Lesnar (hired gun only), Chris Jericho (hardly credible these days) and The Undertaker, who can't wrestle more than 2-3 matches a year, what's that say about your current roster? That the guys we're supposed to invest in year-round are all well and good until the real stars come back?
That's fine for now, but what happens when those guys literally can't wrestle anymore, like "Stone Cold" Steve Austin and his robot body. What then? People are supposed to invest in wrestlers that have been defined as comparable scrubs. To cycle back to the initial point, this attitude at the creative level defines how fans absorb the product. Ryback, who's been getting better and better over the past few months both inside the ring and out, still gets "Goldberg!" chants, because a) smarky people love proving how much they know about the behind-the-scenes stuff and b) as the above quote mentioned, crowds then internalize this behavior as how they should engage with new talent. So you get people hollering "What?" during every promo as though SCSA is still relevant and diminishing new talent because it's not the guys they know, despite the fact that the only way for them to get to know anybody new is to stop doing this.
But then, American culture fosters this idea at large. We're in a time of instant nostalgia, a time where Hollywood has defined the best and most valuable movies as the ones that you've sort of seen before. (Note how most marketing doesn't even tie into the originality of new properties; Inception was sold as being made by the Batman guy.) Television endlessly trades on the popularity of old TV properties and the instant nostalgia of talking-head comedy shows that turn current events into "remember when" tidbits. The thing we have now is inherently never as good as the thing that came before it, and this rhetoric only leads to a singularity in which innovation no longer exists and all popular culture is composed of facsimiles of other things that already happened. I'm not saying that laughing at early-90s hairstyles is going to lead to an intellectual apocalypse per se, but I'm saying that you can only look back if you're also looking forward, and that's happening less and less. And if we can't appreciate Bray Wyatt in all his glory without immediately drawing attention to the other stuff he did, what's to stop WWE from saying "Hey, let's call Darren Young Son of The Rock! People still love that guy!"