Culture
Movie review: "I'm So Excited"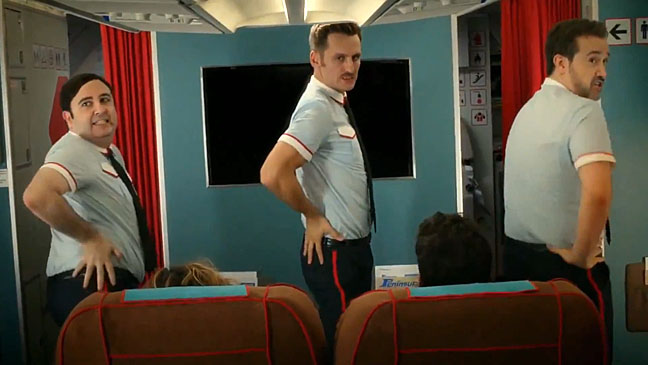 I'm So Excited dir. Pedro Almodovar
Release Date: Jul 05, 13
1
2
3
4
5
6
7
8
9
10
I'm So Excited, the first Almodovar film since 2011's The Skin I Live In, is a cause for celebration in at least one respect. I would rather be watching a bad Almodovar film than most other films in existence, and even at his worst, I cherish the opportunity to pick apart a wreck from cinema's greatest living master of operatic kitsch. That said, this is a bad Almodovar film, easily the weakest in his catalogue. Almodovar claims that he removed his brain for the making of this film. It also appears that he removed logic, common sense and his ability to make a coherent film. For a film about a plane crash, the result is dangerously close to the subject matter.
That is not to say that I'm So Excited isn't without its charms. Almodovar assembles a mouth-watering cast of his regulars (including Penelope Cruz, Antonio Banderas, Cecilia Roth, Lola Duenas and Javier Camara), who clearly came ready to dig into the film's dirty bits. Pedro wants to make this decade's Women on the Verge of a Nervous Breakdown, a madcap comedy melodrama with a sinister touch, but he settles for a very gay rendition of The Love Boat. To its credit, I'm So Excited might be the queerest film ever made, a movie in which nearly every single male character has a same-sex encounter. The film's most memorable setpiece involves a full-on cabaret performance of The Pointer Sisters' 80s classic "I'm So Excited," which might be one of the best things I've seen on film all year.
However, for every bright spot and every joke that lands just perfectly, there's another bigger one that blows up in Almodovar's face. After indulging his darker sides for some time, Almodovar does not take back to lightness well, and the movie strains so hard to have fun that the energy starts to grate. There are simply too many subplots, too many running jokes the movie forgets about and characters that add nothing to the film except a beautiful face. From cast to set, the entire film is gorgeously rendered, furiously alive with Almodovar's neon pop aesthetic. It's the script that can't keep up.
The basic structure of the film involves the landing of a flight from Spain to Mexico. Early on, the pilots and stewards discover that the landing equipment has failed, which means all of the occupants will likely die. The pilots need a landing strip big enough to accommodate what would have to be a skillfully executed wreck, and nothing is open. It's a great metaphor for the movie, which circles around its plot without ever seeming to fully commit to it or care about it. I'm So Excited attempts a M*A*S*H vibe, where the entertainments distract from the horrors of war, but we never get a real sense of danger, nor do we care.
Instead, Almodovar uses this as an excuse to throw an alarming litany of sex jokes at the screen, some much more successful than others. I'm a sucker for a great blowjob pun (after all, I'm only human), but the fun stopped for me when the movie delved heavily into rape jokes, ones to which Almodovar kept returning in case we missed them the first time. Duenas' character arc involves losing her virginity as a 40-year-old woman, which she achieves by raping a sleeping passenger in coach. Another passenger regularly drugs his wife to have sex with her while she's unconscious. He claims she's a "sleepwalker," but Almodovar knows better. Or at least he should have.
We shouldn't have to agree with the moral universe of a film to enjoy it, and I loved Woody Allen's Match Point despite the fact that it lets a character off the hook for murder. Here, it's not that I felt that Almodovar was amoral. It's that he didn't bother to construct a universe at all, morality notwithstanding. The best Almodovar films take you into their inverted universe, a maximalist universe whose heightened reality reflects our own, in painful and transporting ways. But this time, there was nothing to invite me into. Just because Almodovar built the plane doesn't mean he bothered to think about a destination.