Culture
Widow's Peak 2013: Friday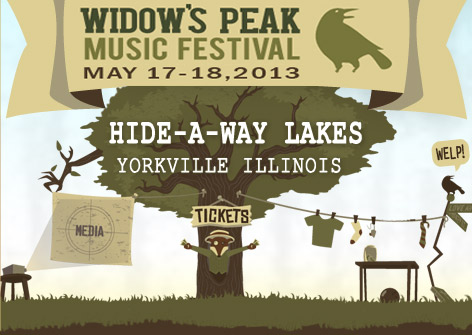 Due to unforeseen circumstances, our coverage of Widow's Peak Music Festival has been delayed. This entry covers the festival for Friday, May 17. Check back tomorrow for our coverage of Saturday, May 18.
Widow's Peak Music Festival is a two-day event in Yorkville, IL that doesn't have the flair of the bigger music festivals: the outrageous water prices, big-name acts that pack the stage area hours in advance, when the best sound is over by the sound booth. And you know what? It's absolutely fantastic and refreshing. It always takes place in a campground called Hide-A-Way Lakes that allows and encourages bringing your own food and liquor, with the people usually open to share with the person next to them. The fest is self-described as the anti-festival, with the founders of the event being former folk musicians creating an event that would allow the music that they enjoyed and were inspired by to be collected for the rest of us to see. It's a progressive roots festival, celebrating all of the music that makes up classic Americana: folk, bluegrass, jazz, blues and all the spaces in between. The performers range greatly in age and all bring a little of their personal experience and artistic flair to bear to the classic form, and the attendees range just the same in both age and artistic flair. Sadly, this year will be the last for the festival, but that doesn't mean it can't be celebrated, and it certainly doesn't mean we can't talk a little about some of the phenomenal acts that were in attendance.
Best start of a full-time touring schedule: Under the Willow. One of the scariest things I could imagine a group of musicians having to do would be to make the decision to go full-time with the act. Not everyone succeeds in the venture, but luckily, Under the Willow has the potential to be one of those bands that can make it full-time and keep drawing crowds for a long time to come. They combine folk lyrical designs with bluegrass instrumentation to produce an infectious, toe-tapping sound that you can't help but get excited about. The band is composed of two multi-instrumentalist couples, which might be kind of an understatement since the members are constantly trading instruments between songs without missing a beat, all the while being led by two powerful female vocalists and the whole group dancing along with the crowd. Hailey Hasegawa-Skreens and Joe Lenza, one of the couples, said they draw from many musical styles and separate themselves by playing a bit harder and with a more electric sound than traditional bluegrass and folk bands. This band is going places and is a great act to see. They plan to be back in the Chicago area for Rib Fest on July 3.
Best band getting its set moved due to circumstance: The Hobosexuals. When one of The Tillers' members had a child, The Hobosexuals were moved to the side stage to play, and play they did. They're a group of six, with five members singing songs about wanting pigs to fucking die and lyrics like, "I got fucked but I didn't get laid." All the while the band told jokes and ragged on each other mid-set.  Ryne Watts, one of the group members, told me they were started in an abandoned brewery in St. Louis and they were all drawn together by their collective love of country music. Two of the members also make up the two-piece The Hooten Hallers, who're playing Saturday and are big draws for the festival. They're recording their full-length album this summer and expect to be touring through the Chicago area sometime next year.
Biggest sound for the smallest amount of people: Charlie Parr. Sometimes a band just sounds way bigger than it is. The band consisted of two, Parr himself playing guitar and singing and a guy playing the washboard and a kick drum. That's it. The performance sounded like it came from a fuller band with rich sound throughout. If Parr is one thing, he's a phenomenal slide guitarist, playing traditional Americana with a Grateful Dead-esque smoke effect coming from the crowd. The best part of the set, though, was the feeling that he was playing what he wanted and not catering to the crowd, saying that if you don't feel this song, there's another one afterwards. His style comes from growing up around the music and the thought that "Good music moves you," in his words. And he was right, as the crowd was up and dancing along to the tunes.  He is truly talented and liked worldwide, leaving for Berlin after the show and regularly touring in Ireland and Australia.
That group of teachers that are as cool as they say they are: Jonas Friddle & the Majority. This seven-piece outfit is made up of teachers from Chicago's Old Town School of Folk Music, led by a grand-prize winner of the John Lennon Songwriting competition for folk in Jonas Friddle. There's a string quartet and horns, all played expertly and lending to a huge sound. They play music that melds together so many different styles that it's almost a new thing, but still distinctly roots music. One minute they'll play a 1950s-style song with a trio of female background singers, the next a three-chord blues tune. They have bluegrass and folk songs as well, their set ending with a fantastic interpretation of "This Little Light of Mine." When asked where they get their inspiration, they said it comes from each other, building off the styles that everyone can bring to bear and playing music they like to play. It's a style that seems to work because the universal crowd reaction was that they were amazing. I think Clifton Roy, the co-founder of Widow's Peak, said it best. The band plays progressive roots, music from which they're 100 years removed, and keeping it alive. They will be playing an album release party in Chicago on July 19.
Best way to wrap up a night: The fans and Late Night Grass. For those who didn't want to sleep, Widow's Peak has a segment called Late Night Grass, where two bands (Frank F. Sidney's Western Bandit Volunteers and Chicago natives The Grasstronauts) play until 2 a.m. There was a fairly large crowd who didn't want to stop partying, and even when the Late Night Grass set was over, the music didn't stop, as the fest goers who brought instruments played even later into the night around fire pits. It's one of those things unique to this festival, where everyone is friends and everyone wants to party, so people move from place to place hearing music and cooking food into the morning hours. It's just a great reminder of the overall atmosphere.
Coming tomorrow: More Chicago folk groups, The Hooten Hallers and hopefully fewer mosquito bites than Friday night.