Culture
Rambling Dispatches: Kickstarters, porn flicks and more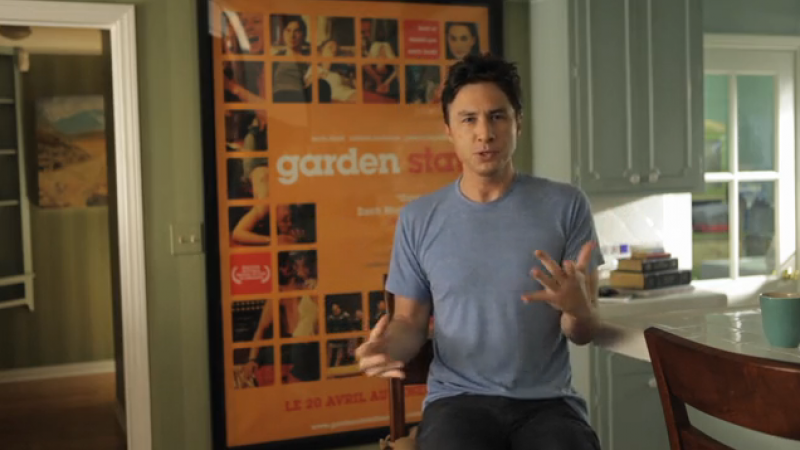 Every Thursday in Rambling Dispatches, resident malcontent Quinn McGee rants about whatever he damn well pleases.
So some weeks it's a particularly interesting week in a certain entertainment medium, more than the others. This past week seemed to be a curious time for anything film related, with two new movies making waves in the news. Luckily, instead of this week being about some new wide releases, or some new television show debuting, this batch of news existed outside the realm of the generic, and dealt with a rather large sum of money being exchanged in ways that made me ask more questions than I thought I would.
The first was the amount of negative comments thrown at Zach Braff over his new Kickstarter campaign. I love me some Kickstarter, and when I actually get a big boy job, I know that it's going to be one of those horrible obsessions of mine, much like online poker games or drunken eBay bidding on "collector's items" that are really just old porn magazines. Anyways, he's been drawing a lot of flak in the media about using Kickstarter to raise the $2 million needed to create the sequel to his successful film Garden State. Now, I see where the criticism comes from, and it isn't necessarily wrong, but you have to look at the nature of the film industry at large. To be honest, and he mentioned something similar to this in an interview addressing those who were against his decision to use Kickstarter, getting the funding more independently and outside of the large production houses allows more creative freedom to the writer and director, of which Braff is both. You can take a great idea and place it in a large production house, and end up with a really shitty movie with overdone action sequences, just because explosions sell. (Michael Bay must be a producer's dream.)
And it can also be said that Braff is not as wealthy as we all think he is, his last major post-Scrubs role having been in the forgettable Oz: The Great and Powerful. (Except for Tron. I'll take a few more of those films.) Garden State is almost a decade old, so this could just be an issue of him not really having enough money to create a movie on his own. That being said, I agree with the criticism that says Kickstarter has primarily been an outlet for people to raise money where they normally wouldn't be able to. Is there no one that would trust him again with their money? I kind of doubt that. It's a topic that I didn't think I would be torn on, because there's hardly a thing on Kickstarter I think is out of line or a horrible misuse of the service. It does bring up some interesting points, though, because maybe there should be some limits on who can use Kickstarter, so that there's no misuse in the future. I think that he's using it for a great reason and I'm glad he raised all the money he needed, but it could set a precedent for other people to use the money just to avoid seeking Hollywood producer money.
The second bit of news is something I have to cover after talking about both sex tapes and teen pregnancy television shows in the past. For those of you who haven't seen the pretty trashy cover of the newest "celebrity" sex tape, Farrah Abraham, one of the stars of the Teen Mom series, has taken a rather large step into the pornography scene with her new film, Backdoor Teen Mom. (Seriously, that might be one of the laziest titles of a porno I've ever heard.) It's been reported that she sold the rights for her very own sex tape personally to Vivid Entertainment for a rather staggering sum of money, with an estimated cost of $14,000 dollars a minute for a total runtime of 70 minutes. Now, that math comes out to just shy of a million dollars, but that figure comes from TMZ, so it's probably bullshit. I've not watched any of it, the same way that I haven't watched any of the Octomom sex tape, because I disagree with the whole affair. Apparently, though, the footage was hotly pursued by the executives over at Vivid, who said they were reminded of a young Kim Kardashian, a statement that damns the both of them. It's especially funny if you've had a chance to check out the newest music video released by Ray J, called "I Hit It First," which is totally not about him having sex with Kim before Kanye West, but is totally about him having sex with her first, unless "hit it first" means rock bottom, in which case he totally won.
All joking aside, if there's one thing I can remember about Teen Mom, it's that Abraham's home life was far from easy. And the only thing everyone was focusing on was how much crazier it could get, and we ate it up. I honestly feel bad for her, because this just seems like the natural progression of where the popular media wants all its stars to go, and in the realm of sex tapes, this could be the last horrible and nasty stop on the path. At 16 she was glorified and paid attention to for the fruit of a sexual mistake, and at 22 she's selling her sex tape to the highest bidder because she's falling out of the spotlight for having a baby. I know I never really speak highly of people selling a sex tape to stay relevant, but this is different. This is the culmination of so many fears about teen parent dramas that myself and others have written about before. I honestly feel for Farrah Abraham, and I hope that she doesn't regret this decision in the future.