Culture
The Spinning Lariat: Welcome to Impact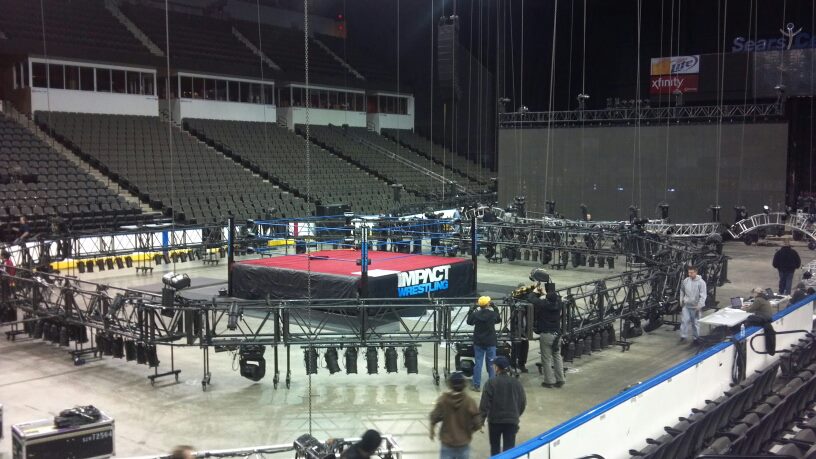 Welcome to a new weekly feature at Heave, The Spinning Lariat, in which longtime professional wrestling obsessive Trent Zuberi breaks down the latest developments in American wrestling's other big company, Total Nonstop Action (TNA).
Level nine. A level nine nerd. That's the term used by one of my friends to describe my professional wrestling obsession. A level nine nerd knows it all: history dates, move sets, news, personal info. You name it, he knows it. But why not a level 10? What separates me from being a full-blown, top-of-the-list nerd? According to my friend, I'm not a level 10 because I actually leave the house and have other hobbies. However, it's true, I'm a wrestling nerd through and through. I use the lingo, I collect massive amounts of tapes/DVDs (oh yes, VHS exists in this house), memorabilia runs wilder than Hulkamania and I seem to find a way to relate every life situation to a wrestling angle. Sound a bit crazy? Hey, it could be worse; I could be sitting here typing an article psychoanalyzing a family of Kardashians.
I love it all, though. I was a kid who grew up on WWF/E, then later found WCW and ECW and my course was set. The big three of the 90s ruled it all and took up a big part of my life. By 2001, only two of those remained, until 2002 came along and proved to be one of the most important years in professional wrestling history. Two major companies founded that year, Ring of Honor (ROH) and Total Nonstop Action (TNA) Wrestling. The frenzy was reborn, and the influx of talent that flew through the gates was immeasurable. TNA got television exposure from the beginning and quickly became my primary focus. (I'm also a hardcore ROH fan, let me just say.) I sit here going on 11 years later and have never missed a single TNA show, be it television or pay-per-view. I almost look upon them like a proud parent when I see how much they have grown, having a strong live show every week on Spike TV, drawing thousands to their events, being seen in over 100 countries, their merchandising and media deals growing on a daily basis.
It's been six weeks to the day since TNA Wrestling took their live weekly program Impact Wrestling on the road outside of the friendly confines of the once-beloved Impact Zone in Orlando, Florida. It had been a long time coming. For years, one of the biggest complaints most critics had was that the company needed to leave Orlando and get on the road. It's true, the Orlando crowd was stale. The Impact Zone was housed in a studio on the Universal Studios lot, which meant tourists and fans alike could attend the show for free. I always hated the fact that the crowd got Impact free every week. Aside from the jealousy of them being able to attend weekly and not pay a dime when I couldn't, I always felt that because of that they were spoiled as well. Let's face it: when you get something for free, you tend to take it for granted. I understand that for a growing company with a network TV deal, a guaranteed full house on TV every week looked better than risking a possible bad visual, but hey, how many of those people really appreciated what they got?
When the big announcement was made that they were going on the road every week and that the first stop would be my hometown of Chicago, I wasted no time in informing my fellow nerds and coordinating a ticket purchase. We rolled in eight deep to the first live Impact on the road, and it was everything we hoped it would be. Immediately you could see the difference on the show. The roster seemed more enthused, the show had more energy and the fans brought a completely new element to the show. Now, not to be a jerk, but the Orlando crowd had grown really stale. To them the product was too humanized, the mystique was gone. They saw the roster every week, got to hang out with them socially afterward, etc. To Orlando, TNA was a home-base promotion, even though they tour worldwide. Now we had a new element. To Chicago, this roster was just a group we saw on TV and the occasional house show (non-televised live event) when they came around. However, this was a big deal. This was live TV. This was the show we all tune into every week, and now we're in the crowd for it. Not only was the live element amazing, but when I watched the two shows back on television (they tape two episodes per city) it looked like an entirely different product, one with more excitement than ever before.
The new television schedule, combined with the new pay-per-view schedule of only doing four major shows a year (a throwback to the old days of wrestling PPVs) allows for a more generous amount of time to build stories and cultivate audiences to the current theme of the show and its characters. Since going live on the road, the stories have taken more direction and have naturally become more and more compelling each week, not to mention the aesthetics of the different arenas every week. Now they have different audiences to impress, different reactions to gauge, fresh faces and feedback and it's driving the company to impress.
Since Chicago, TNA has had very successful outings in Jonesboro, Arkansas and Corpus Christi, TX. It just furthered the point that not only if you bring the product to the people they will come, but also how the players involved naturally up their game because of the extra element added to it. TNA in general has the leverage to be a bit more adventurous as well with their programming, since they are targeting a more adult audience compared to the WWE's current PG vision. Everything from unscripted/reality-style interviews to concept matches can now be tested on fresh audiences week after week to get different feedback and help grow the product.
I highly suggest a viewing of the show to all of you. See what I have been discussing here and get familiar with the other major player in the professional wrestling industry. You might see some familiar faces (Hulk Hogan and Sting are resident legends), as well as some new ones whose talents will captivate you right off the bat. Next week is Indiana, PA for two shows. I will be watching those and providing some feedback as well as a character analysis of the current major storyline stable of the show, The Aces & Eights.
(Questions, comments, feedback? Please feel free to contact me at trentzuberi@gmail.com.)