Culture
The Man Who Invented Beer: Harpoon UFO Hefeweizen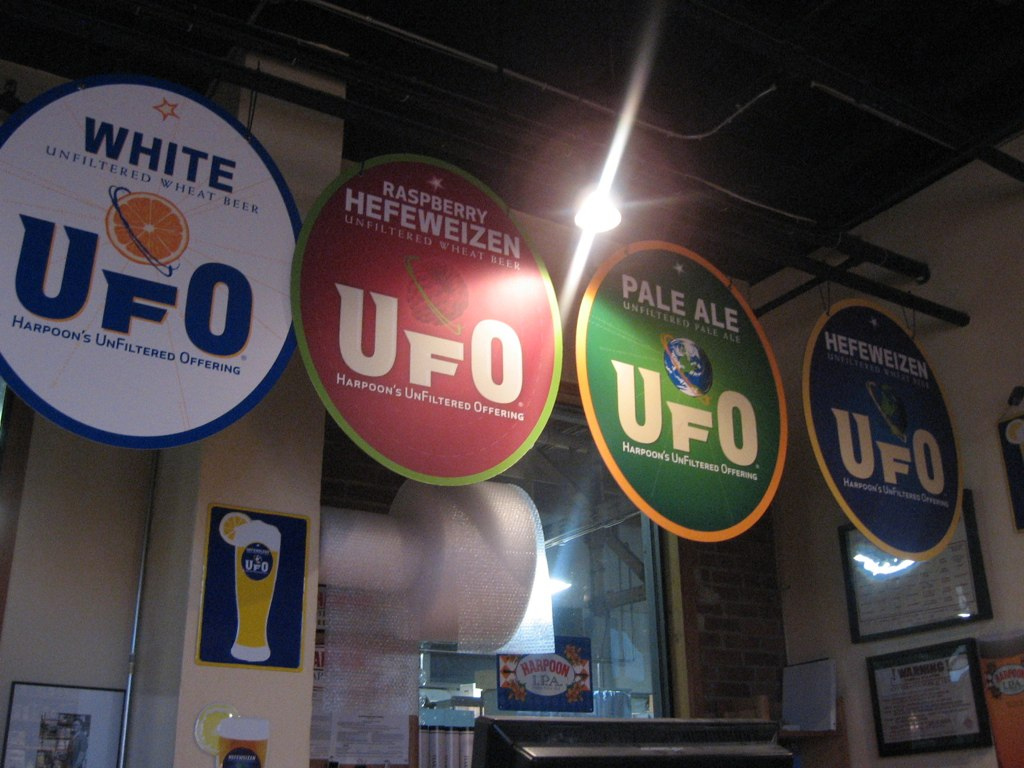 In The Man Who Invented Beer, every Wednesday, Adam Cowden runs down the latest in craft beer, with some history for flavor.
Warmer weather is on the horizon, and that means so are the witbiers, shandies and summer ales. In honor of an especially beautiful day this past Friday, I decided to finally pop the cap off of a beer I've been meaning to try for awhile:  Harpoon's UFO Hefeweizen.
What's the story?
It's a real typical "let's start a brewery" story. Seriously, you're gonna be bored by it. Two college buddies (Rich Doyle and Dan Kenary) come back from Europe and decide they like drinking beer more than looking for a real job. Rich Doyle writes a business plan for a brewery during his sophomore year, and brewmaster George Ligetti comes on as the third man. In 1986, the trio found Harpoon Brewery in a warehouse in South Boston. Notably, these three entrepreneurs' new brewery was the first to commercially brew and bottle beer in Boston for more than 25 years, and they were thus awarded "Brewing Permit #001."
Today, Harpoon is the largest craft brewer in New England, and are responsible for what can only be described as a fuckton of beers. In the UFO series alone (UFO stands for Unfiltered Wheat Offering, by the way), they offer UFO Hefeweizen, UFO White, UFO Raspberry Hefeweizen, UFO Pale Ale and UFO Pumpkin. Harpoon also offers four IPAs (including a Rye and Black IPA), a line of seasonal beers, a dark ale, a chocolate stout, four ciders and a line of strong beers dubbed "Leviathans." Oh, and then there's a whole line of 100 small-batch, limited release beers called "100 Barrel" (they're currently on #46), as well as "Harpoon Ale," the brewery's very first beer that is now available only at the brewery.
Why should I drink it?
U is for unfiltered, so you can expect UFO Hefeweizen to have all of the benefits of unfiltered beer that I've previously discussed. Harpoon is also famous around Boston for hosting some pretty sweet events, so if you happen to be in the city for St. Patrick's Day, Oktoberfest, Halloween or the Harpoon Summer BBQ, make sure to head to the brewery, as the reputation surrounding these parties has done as much as the beer itself in building the reputation of the Harpoon brand.
On a more serious note, it's a near certainty that Harpoon will be doing their part to help out in the wake of the tragedy that struck in Boston this past Monday. Harpoon is extremely active in the communities in which their facilities are located, and host a pretty sizable number of annual volunteer and charity events. They are most famous for hosting a series of bike races that raise money to fight hunger, brain cancer, and ALS, among other things. The most intense of these races is a 148-mile ride from Harpoon's Boston Brewery and their location in Vermont. I'd honestly be shocked if they didn't announce a race to help benefit the victims and families of the Boston Marathon tragedy, so keep an eye on their Harpoon Helps blog.
What does it taste like?
Take equal parts Blue Moon and Leinenkugel's Summer Shandy, and you've got the basic idea. Harpoon UFO is lighter in taste and appearance than Blue Moon and most other hefeweizens that I'm familiar with, and lacks the spice and characteristic banana-like tang of true German hefeweizens. It's a light, fizzy, faintly fruity beer that tastes more like a witbier than a hefeweizen. In many ways, it tastes like Blue Moon's little brother. It's got the characteristic cloudiness and hint of yeasty sourness (both traits courtesy of the un-filtration) as well as the thick foamy head, and the main difference is that the overtly orange flavors of Blue Moon are replaced with subtle flavors that suggest lemon rather than hit you over the head with it. In such a light beer, this is definitely a virtue; the fruity flavor neither covers up the pleasant wheat maltiness nor acts as an excuse for a sub-par beer.
In terms of texture, it's a very smooth beer. A mouthful has almost the same silky, velvety feel as nitro-carbonated stout, but it's also got that fizzy, turns-to-foam-in-your-mouth sensation. The fizziness actually may be more a result of the sour, yeasty taste than carbonation, as it's much more apparent on the tongue than the rest of the mouth. It's also got a clean finish – which is a fancy way of saying it lacks any aftertastes or lingering sensations.
Should I try it?
Yes. Don't expect the complexity or flavor of a top-shelf hefeweizen, but Harpoon UFO is a light, refreshing beer perfect for a hot summer day. I'd actually prefer it to Blue Moon or Summer Shady, especially if I were looking for a beer I could stick with all day long. It's also a perfect introduction to craft beer for those turned off the heaviness and bitterness of typical of many other varieties. It's very widely available, so pick it up or order a pour next time you see it.
Rating: 7/10