Culture
The Man Who Invented Beer: Dundee Porter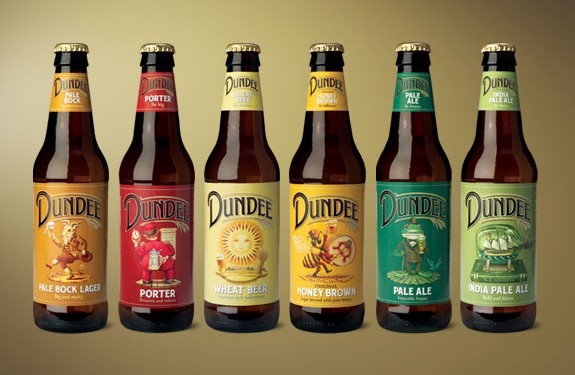 Every Wednesday in The Man Who Invented Beer, Adam Cowden runs down the best that craft beer has to offer, along with a history lesson.
This past weekend, I decided to hit one of my favorite new Nashville establishments, Viener Fest (go ahead and get your snickers out of the way before continuing), in the hopes of scoring a good German beer or two. Viener Fest certainly didn't disappoint in this regard, but my favorite beer of the evening was actually an inexpensive American brew called Dundee Porter.
What's the story?
Information on Dundee is fairly scant. Apparently, they are part of the Rochester, NY-based Genessee Brewing Company, one of the oldest breweries in America that is nowadays most famous for producing "Genessee Cream Ale" and most infamous for producing the Walgreens-exclusive beer "Big Flats." (Seriously, this beer is best suited for use as an emetic.) In 1994, the company first started producing J.W. Dundee's Honey Brown lager, and built the Dundee brand largely around the strength and popularity of this beer. Honey Brown won a gold medal at the 2004 American Beer Festival, and Dundee began to branch into other styles shortly after. In 2008 the "J.W. Dundee" brand was changed to "Dundee's Ales and Lagers," and the company now produces 13 different beers.
Why should I drink it?
When Dundee brewmaster Jim McDermott was asked, "If you could only drink one beer for the rest of the life, what would it be?" he replied, "Dundee Porter."
If you're unconvinced by Mr. McDermott's endorsement, you might be interested to learn that Dundee brews have a reputation as some of the cheapest and most widely-available quasi-craft beers available (since it is owned by Genessee, the Dundee brand is not truly a craft brewer). My bottle was just $3, which is about as cheap as you'll get for any non-Busch beer at a restaurant, and though I'm not sure exactly what the retail price is, I know that Dundee beers can be found at Meijer. And that's really all I should have to say about that.
What does it taste like?
Like porter-light. At 6.5% ABV, it's a relatively strong beer that's actually slightly above the average strength for an American porter, but in terms of body and the characteristic bitter, roasted porter flavor, Dundee Porter was lighter than what I'm used to.
The beer poured very differently than what I expected; instead of the jet-black coffee-with-bubbles look that's typical of the style, Dundee Porter poured a clean, surprisingly clear caramel-brown (or ruby-red, depending on how you looked at it). The brew was also well-carbonated and the pour left a head that was bigger and lighter than other porters. A mouthful of the stuff was also lighter and less syrupy than what you might expect, but the taste was surprisingly full and masked the alcohol content extraordinarily well. The overwhelming flavor was caramel/malty sweetness, and the roasted/bitter flavor creeps out near the end almost like an after-thought. Usually, it's the other way around (the roasted/bitter flavor tends to dominate in most of the porters I've tried), but I actually think I might prefer things this way around. It tasted different from a stout, and I think it would be nice if more porters differentiated themselves enough to justify the difference in name.
Should I try it?
Yes. For the price, it's hard to find a better beer, and considering how easy this one is to find, there's really not much reason to go looking. Even if you're not big on porters, pick it up in the Dundee Variety 12-pack. You might like this one.
Rating: 7/10