Features
Ramblings of the original 'G-thang': Mingus' "Black Saint" turns 50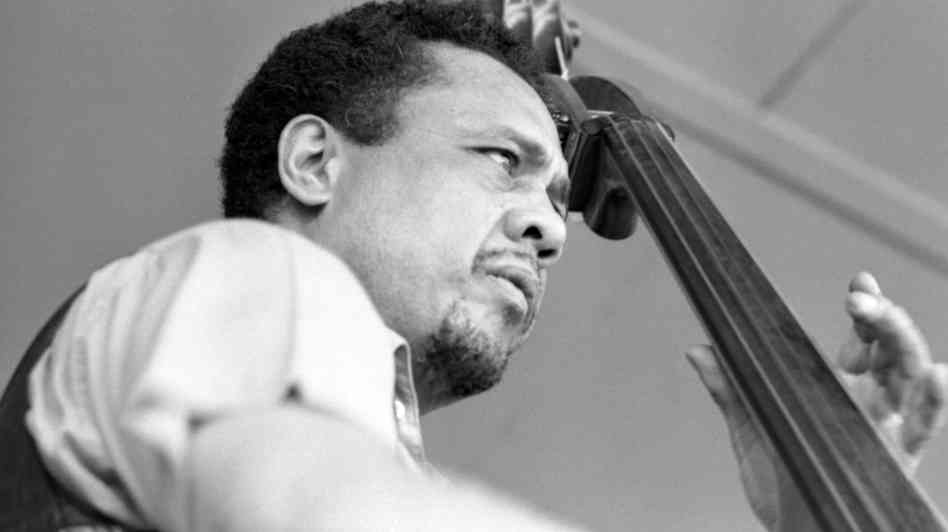 In a litter of cool cats, Mingus was a bulldog. While contemporaries such as Miles Davis and John Coltrane possessed a quiet seriousness, prowling gracefully about the back of nightclubs driving all the honeys wild with flirtatious restraint,  Mingus thrived in confrontation. In the suit-and-tie culture of the 50s and early 60s, Charles Mingus was a victim of a tight collar. Where so many jazz artists prided themselves on wily disguises, pioneering the image of the self-satisfied foxhole playa, Mingus had no qualms about admitting that life was difficult–because it was difficult. And it was made even more difficult by the heavy expectation to present an untarnished image of class and excellence at every given moment. At the time, unspoken codes of conduct felt more like mandates if you were a black artist looking to make it in New York City. You could take the route of sheer indifference, grimacing only in private, or directly acknowledge the forces that be. In such matters, Mingus was no coward. To bring it all up to date: Miles Davis = Andre 3000 and Charles Mingus = ODB. These are, after all, the original gangsta prototypes: the playa and the anti-playa.
I don't think Mingus was ever the type of man who would hook a woman in with a sly glance and whisk it away in order to reel in her curiosity. He wouldn't waste time trying to make the woman beg for him, because the world weighed him down with its lies and grandeur. He had his ego and his own delusions, but his worldly awareness was such that he wasn't going to go to any great lengths to fool anyone. Miles Davis was notorious for turning his back on the audience, for playing hard to get with the ladies and the record labels. He played it off like he didn't care, and he played it well, but the truth was all this was simply an understated masculine way of avoiding what he couldn't handle. They were clever self-preservation tactics that delayed the inevitable scratches to his ego. This sort of thing drove Mingus wild. He was the kind of man who looked his audience square between the eyes, directly aired his grievances with record labels, and when it came to women I believe he would make mincemeat of the game, going straight to the paint and dropping down on both knees to give her a death grip, dig his face into her midsection, and plead for her mercy like a Greek tragedy. Well, at least that's the portrait of a mind one listen to The Black Saint and the Sinner Lady sells me.
Jazz music is often berated for being self-indulgent, and The Black Saint and the Sinner Lady is usually seen as no exception. But really, the irony is that Mingus' honesty defies the very notion of self-indulgence. It converts the psychological content and abstract compositions into an emotional journey that I think audiences can experience NOT through the filter of image, concept, or persuasion, but through a tangible interaction with his soul. Like a good country ballad, or a blues number, it hits your heart because it directly confronts human limitations. The music on The Black Saint and the Sinner Lady gushes with pain, and Mingus' performances are often filled with bursts of hostility, lunging at the audience with pleas for help. His elegant and often precise sense of composition isn't slick hair grease designed to polish perfection but rather the preconceived boundaries of his mind, a structure which oppresses an expression of brass and reed that sqwaks and snarls before it with earnest passion, threatening to break loose with hell's fire. These are revelations of a deep unfulfilled need for house, woman, and peace of mind. Rewards that are agitatingly placed just beyond the cage Mingus has articulately defined.
The opening track "Stop! Look! And Listen, Sinner Jim Whitney!" plays like a casual discussion between a guilty man and the gods. It starts with Al Green-like gospel, sounding like that guy we all know–that man with a heart just stating his case. It wooes you into a smoky cayenne pepper groove before bursting into hot bayou flares of merciless whips and flagellations served by the angry lord above–a woman perhaps, disgusted by the frenzy of a man twisted between lust and motherlessness. It's a verse-to-verse call and response that goes from tender lyricism to steadily rising conflict. The argument peaks and bursts into flames, as her godlike power gets the final word in a frenzy of baritone gripes and soprano wails pleading for her mercy.
"Hearts' Beat and Shades in Physical Embraces" is the introspective aftermath. Dejection coated by a smooth classy lounge feel, encapsulating both brooding and flashes of sweet memory. As the piece goes on it repeats verses from the introductory number, reiterating the same demons, setting an atmosphere of foreboding where the audience is always aware of this sore spot that is always there and bound to repeat itself again like the bitter aftertaste of an ale with bad hops.  "(Soul Fusion)" descends from grief into fear. Although the song is a fairly repetitive hook and is the only number with a steady temperament, it's a temperament of restlessness–our shattered protagonist now rolls around in an empty bed, muttering sleep-induced visions of the woman he must return to.
"Stop! Look! And Sing Songs of Revolutions!" is the penultimate classic. An 18-minute closer that plays like a wild ghost chase. It's a journey initiated in somberness with quiet saxophone and trumpet lines crossed a sifting hi-hat and trickling piano. It furls with passion, and rage at what I imagine to be the sight of a beauty to cure all ills. It heaves a giant sigh as she slips away from his grasp, and the recording falls dead silent before colorful splashes of flamenco guitar solo spark fire between your ears like a Pollock between your eyes, the butterflies that flutter about you in the darkness, awaking you from a depressive coma. The solo is rhythmic and fractured, it seduces you to fill in the empty space its silence induces. Towards the end it steadily builds and our lusty lover pounces on his prey.  He now has her in his arms, infatuation ensues, and the reediest five minutes in jazz commence. Like a stick of dynamite with a long, slow burn, Mingus roasts your soul with a repetitive cabaret melody fit for a raunchy striptease–loud, furious and sexy.  As a force of nature it's the equivalent of Mae West's breasts, it puts a shy man to shame, filling him with both insuppressible desire and a foreboding sense of defeat.  Never will a repetition of one line induce such madness towards its 200th incantation or remind me so much of an intrinsic desire to make taxidermy of my first crush; it's a hedonistic rapture that ends at the peak of its obsession. The peace of mind placed on the pedestal beyond the confines of his cage remains unattained. When the needle clicks and the record stops spinning, you realize that you've only suffered the physical pain of extending your arms so far to reach for the unreachable.
The Black Saint and the Sinner Lady was released in January 1963, and it never outgrew its avant-garde standing. As jazz became more and more obsolete in the eyes of pop culture, so did the stylistic relevance of the record. However, it's the attitude, the character, and the sentiment that's timeless. The Black Saint and the Sinner Lady is a masterpiece of soul exorcism. It predates the existential grief of the Geto Boys and Mobb Deep, and it predates the unapologetic madness of ODB and (dare I say it) Mystikal. If The Black Saint and the Sinner Lady stands as a testament to anything it's the transience of fashion against the permanence of soul. Maybe modern hip-hop is more accessible and its themes and directness are more relevant, but when you hear Mingus you become comprehensively aware of the fact that beyond basic form, there's an eternal element to cool that makes anything you do automatically cool. As a consequence of that element, The Black Saint and the Sinner Lady remains as powerful today as it was in 1963. Next time you find yourself overcompensating to fit the latest hype or worrying about that pimple in the mirror, just remember that long before any of those knobheads in doo-rags could reach for the Magnum (much less breastfeed), Mingus rolled deep.