Culture
ICYMI: Small-Town Tradition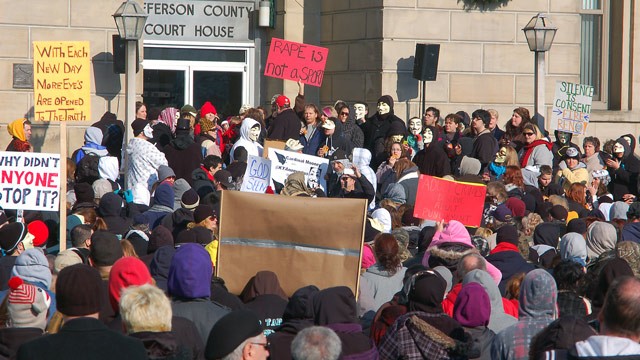 Each week within In Case You Missed It, Mike Haverty takes an in-depth look at the news you may have glossed over or purposely avoided.
(TW: rape)
It's a very old story. Anything that threatens the hometown pride should be kept mum, as  "scholarships" are a few notches above "being a good person." It's the oldest story, actually. Buzzfeed has a well-linked timeline of the case (which feels utterly odd to type). It took a woman who used to live in Steubenville hearing about the story from people that still lived there for someone to deem the rape case worthy of investigation. Then the internet showed up and ensured that the futures of "justice skips a small town" injustices are threatened. As American news agencies, they are not empathizing with 16-year-olds who almost had it all, as if they lost on a game show. The names of these two kids don't matter. The major networks reported the death of an American tradition: justice skipping a small town's huge crime. The sympathetic coverage from major news networks is still a horrible angle for a news organization to take, but using this truth as a lens makes sense of it.
"Incredibly difficult to watch as this sociological phenomenon which had such a promising future, a star narrative trope, a very good maintainer of status-quo literally watched as it believed its life fell apart."
So what now? Well, the victim is getting death threats, which was unfortunately bound to happen. She'll get all the therapy and help she needs once she's out of that toxic environment. Steubenville will have this stigma for some time. Other football town controversies will be referred to as "a real Steubenville" and be rated in comparison to the Ohio crime scene.
"I cannot imagine how emotional the sentencing must have been… an injustice's cover-up in a small football town, sobbing in court, regardless of how pervasive this narrative is, it still sound like an injustice's cover-up in a small football town. What is the lasting effect of this narrative being guilty in court of shaming the victim, essentially?"
A lot of agencies like the Family Online Safety Institute are using the case as a moment to discuss how kids use the internet now. The CEO of FOSI, Stephen Balkam, stated "the social media aspect of this case is truly a double-edged sword. The video, the tweets, the texts — they provided this extraordinary evidence trail that you couldn't run away from. They allowed activists to keep hunting for more evidence, to push prosecutors. Without it, do you think the case would have been brought?" I think I can speak for everyone. Dumb drunk kids, record everything you do and post it everywhere. Live tweet this shit because we don't need it anymore. Teach your peers what constitutes sexual assault, from your place of incarceration.
"There's always that moment just – lives are destroyed. But in terms of what happens now, the most severe thing with this community is being labeled as short-sighted people who tried to obstruct justice to remain comfortable. That label is now placed on them by the entire country but themselves. That will haunt them the rest of their lives."