Music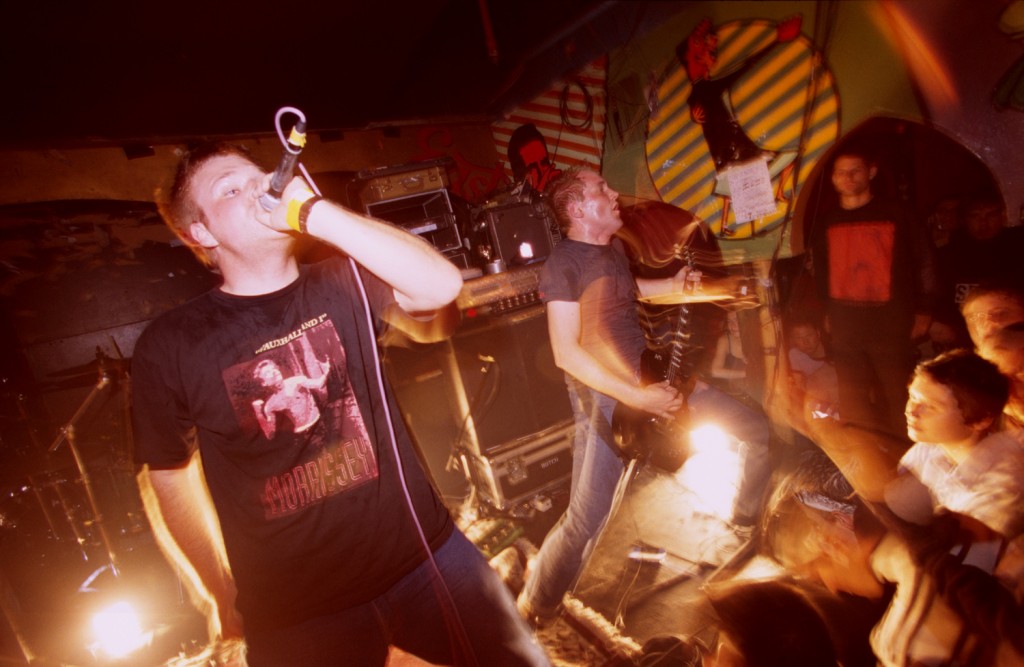 Each week in 45 RPM, Jonathan Mondragon takes a closer look at the discography of a given band. This week, mathcore pioneers Botch.
The Unifying Themes of Sex, Death, and Religion (1997)/Unifying Themes Redux (2002)
Mathcore pioneers Botch are a hydra. During their nine-year run, they were vicious and powerful, a force to be reckoned with. Their name would spread across the country and become a household name in heavy music. Their death was merely a catalyst, and hundreds of mini-Botches would spring up in their place. Their earliest release, a 1994 cassette called Blind…From Youth Installed is not included in The Unifying Themes, a compilation including their first two 7" EPs, Faction (recorded by Jake Snider of Minus the Bear) and The John Birch Conspiracy Theory (recorded by their friend "Wes"). The original release of the two EPs is a compilation, and shows a younger, rawer version of the band, not yet the well-oiled machine they would become, but a band that were playing heavy music before they were old enough to drive.
You'll hear throat-ripping screaming from vocalist Dave Verellen, pummeling drums from Tim Latona, angular and brutal guitar riffs from Dave Knudson and nimble, beefy bass from Brian Cook. Highlights from the original release include a cover of opera standard "O Fortuna," the short-yet-relentless "Third Part In A Tragedy" and the fierce, experimental closer "In Spite of This." The re-release of this compilation in 2002 as Unifying Themes Redux includes covers (notably "Rock Lobster" by The B-52s), previously unreleased tracks, and tracks found on splits with Nineironspitfire and Murder City Devils.
American Nervoso (1999)
A short year later, hardened from touring themselves silly, the band recorded their first full-length record, American Nervoso, their first release for legendary and semi-defunct label Hydra Head Records. This record also marked the first release in what would be a long-standing relationship between Botch and friend/producer Matt Bayles. This record acts as a middle-point between the younger "Helmet-inspired" Botch, and the later, seasoned experimental mathcore titan that would influence so many. Nervoso is full of innovation, clean/distorted dynamics, a newfound experimentation with different instruments such as piano and many original riffs/ideas. The vocals have gotten an overhaul from their earliest material, confident and chaotic. The guitar parts sound like nothing of the time, whipping between discordance, explosions of heaviness, and sounds you wouldn't expect out of hardcore music. The bass holds it down, acting as a thick, smooth foundation that interlocks with the chaos surrounding it, and provides both rhythm and sanity. You'll hear plenty of double bass, crisp snares, and clever cymbal work, but not exactly how you would imagine. The drums lead the chaos, it seems, establishing a song's complex rhythms, and time signatures and soon changing them, making each song unpredictable and complex.
Variety is a common element throughout the album, from the punishing fury of "John Woo" to the somber surprise piano outro to "Oma." Knudson's guitar work throughout introduces some out-of-the-box riffs/techniques, like the harmonics bends in "John Woo," the dive bombs in "Hutton's Great Heat Engine" and the unconventional rhythm/melody of the riff in "Dali's Praying Mantis." "Spitting Black" might be the best example of Knudson's versatility with distorted guitar. There's palm-muting, discordance, unconventional melodies and disorienting time changes to nurture the chaos. American Nervoso might be an excellent album, but it's merely a stepping stone compared to the refinement we would see from this band on…
We Are the Romans (1999)
Ask any metalhead/hardcore kid if they've heard We Are the Romans. They'll either scoff at you for asking them such a blasphemous question, or blankly look at you, confused. If it's the latter, you're probably at Warped Tour. The universally-acclaimed We Are the Romans remains the band's shining achievement, a synthesis of many extremes: lyrics expressing anger, aggression, and abstraction screamed by the manliest of men, immediate barrages of distorted guitar riffs bordering on the absurdly heavy, precise and massive drumming, and rumbling, gain-laced bass. These elements might seem familiar by now, but with this release, they have been perfected, meticulously arranged, and laid down, somehow in such a short time after American Nervoso. Within the first few seconds, "To Our Friends in the Great White North" grabs you, twists your neck, sends you spinning, and just before the last minute, brings you back down for a little bit before throwing you off a cliff with one of the heaviest outros in existence. This just keeps going. "Mondrian Was a Liar" is under 3 minutes, and in such a relatively short time will make you swear you're invincible while you take in the head-spinning riffs, low-end attack, out-there lyrics, and wall of drums.
The song titles, mostly inside jokes and phrases, were brought to the table by bassist Brian Cook and range from the straightforward above, to the humorous ("I Wanna Be A Sex Symbol On My Own Terms"), to the odd ("Swimming the Channel Vs. Driving the Chunnel) and the factual ("C. Thomas Howell as the 'Soul Man'"). Despite being recorded in a month, a year after their last album, there is a clear and substantial improvement in both the talent of the band and the expertise of producer Matt Bayles. Until now, the only thing that was left to be desired from Botch was production value, and We Are the Romans delivers in spades. Dynamics are a greater part of the process, and those few moments of silence between moments of destruction make the fury mean that much more. If you wanted to, you could play the subgenres game, identifying everything from intricate, downtempo post-rock ("Swimming the Channel") to two-step hardcore ("Frequency Ass Bandit") to mysterious Gregorian chanting ("Man the Ramparts") and noisy IDM ("We Are the Romans") over the course of the album. Botch does not limit itself, and it shows on this masterpiece. Give it a few listens, and then some more, until you agree with the rest of us, because you will.
An Anthology of Dead Ends (2002)
Botch laid their weapons to rest in mid-2002. Their final show was held in June 2002. They later released a live DVD to commemorate this occasion (61502), and four months after their breakup, they released their swan song, the EP An Anthology of Dead Ends. As the title suggests, the release compiles songs written/road-tested/recorded after the release of We Are the Romans. The six tracks on this EP showcase more brimstone fury, once again upping the ante on instrumental complexity, vocals, effects, creativity and diversity. The song titles demonstrate more of the band's unique sense of humor, with all songs being names of countries with their N's switched for M's ("Japam," "Framce," "Vietmam"). Opener "Japam," which follows demented whammy-pedal interlude "Spaim," is a flurry of tapping, nimble fretwork, creamy/purring distorted bass, and possibly the heaviest riff in 6/4 you've ever heard.
What may surprise you the most on this EP is seven-minute quiet slow-burner "Afghamistam" beginning with a simple two-note clean bass part, and building up to include winding looped guitar parts, plodding drums, and ending with a beautiful piano/string outro. The beauty is there, but doesn't last for long, going straight into the noisy drum solo intro of "Micaragua." Two minutes in, more brutality follows, and the band chooses to go out with a massive bang instead of a piano-led hush. This release is more than an anthology. It is an end-cap on an important era. The genre of "mathcore" owes its existence to these founding fathers, and devoting a few listens to finding out why might be more rewarding than you'd expect.