Culture
Live review: Coheed & Cambria @ Congress Theatre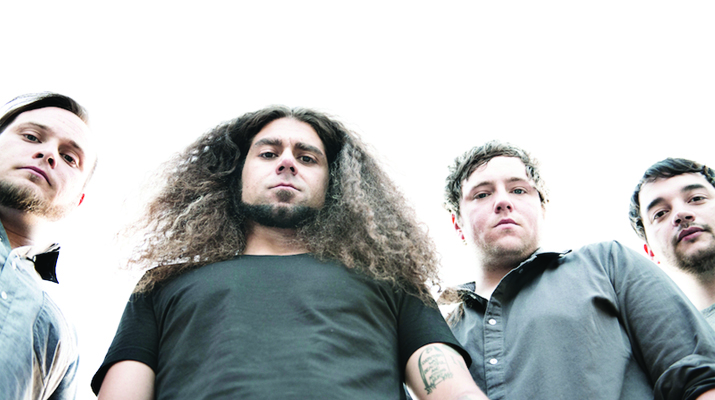 It's no secret to the Chicago concertgoer that in the hierarchy of places to see/hear live music in Chicago, the Congress Theatre is neither the best nor the worst. It's not far from the latter, granted, but at long as the Aragon Ballroom and Riviera Theatre still exist, it'll be hard-pressed to take the throne. That said, the triple bill this past Saturday of Coheed & Cambria, Between the Buried and Me and local instrumental post-rockers Russian Circles was a damned solid show considerably undercut by muddy sound throughout. This was especially pronounced during BTBAM's set; one of the most distinctive traits of their genre-bending sound has long been vocalist Tommy Giles Rogers' ability to switch between crooning harmonies and ferocious snarls at the drop of a hat. The mix didn't improve as the set went on, but at least the vocals were turned up, albeit not in time to stop the vocals being nearly unintelligible during lengthy set opener "Lay Your Body To Rest."
That said, BTBAM's set was still a joy to watch, the disciplined cacophony of their catalog on full display. This was no more apparent than during "Ants in the Sky," off their highwater 2007 record Colors, a song in which the band moved rapidly through dizzying time changes into a euphoric refrain and a bluegrass-metal climax, much to the delight of a pogoing (and in one or two cases, square-dancing) crowd. By the time they closed with "Selkies: The Endless Obsession," off the equally essential Alaska, all in attendance were left in a grateful daze, smoothly calmed by the song's deceptively gentle finale. Likewise, Russian Circles opened the show to a much-appreciative reaction, one that became more so as their set progressed. It's hard to think of a better word than "thick" to describe the band. Despite only sporting three members (guitarist Mike Sullivan, bassist Brian Cook and drummer Dave Turncrantz), the band conjure colossal melodies that lost some of their finer shades given the venue but still proved effective. In particular, closer "Death Rides a Horse" was a technical marvel, a flurry of rapid-fire shifts in tone that build on a cacophonous crescendo.
And then came Coheed & Cambria. If there were two major notables for longtime fans who remember C&C from their days on the Warped Tour circuit, they were probably:
1) how much better they've become as a live act over time and
2) how much they've closed the gap between themselves and accessible arena-metal bands like Iron Maiden.
While C&C are always going to be a lot weirder and more distinctive than their peers, metalheads the world over have embraced them, and it's not hard to see why. Even setting aside the noticeable evolution of heaviness in their sound from their third-wave emo beginnings to the rafter-shaking balladry of their latter-day output, they've always been a conceptually-minded band. The "Neverender" saga that ran through their first five records has expanded into a graphic novel (courtesy of frontman Claudio Sanchez), an in-the-works film adaptation, and now the two-part The Afterman album, with Ascension released late last year and Decension dropping just last week. Their Chicago set was heavy on material from that album, with nine of the 16 songs from their setlist coming from one of the two. The quality of those ranged from the ukelele-flecked "Pretelethal" and the excellent "The Hollow" to "Dark Side of Me," which sounded less like a Coheed song than like the early-aughts output of many of their peers, complete with overmelodramatic lines like "There is no weight that can bury us/Beneath the ghosts of all my guilt/Here in the dark side of me."
To return to the above Iron Maiden comparison, their light show perfectly fit the general feel of the band in 2013, with synchronized lasers and anatomically half-correct mannequins enshrouded in fog, a pair of LED triangles forming an hourglass that lit up when a robotic voice issued missives throught the set, almost forming a sort of narrative within the set. Tellingly, although much of the packed house was made up of the band's devotees, already up on Afterman material, their older songs got the best reaction. They expanded "In Keeping Secrets of Silent Earth: 3" to include an instrumental freakout before the song's resounding final build, and "A Favor House Atlantic" had people hollering "Bye, bye, beautiful/Don't bother to write" like it was 2004. Not all of the partial rearrangements worked; "Wake Up" is a saccharine bit of balladry even on record, and in its fuller version during the encore it morphed into a full-blown, lighter-waving moment of sap in the "Every Rose Has Its Thorn" vein. But then again, judging by the set-closing "Welcome Home," in which Sanchez wailed on a double-necked guitar behind his head and the whole band erupted, Coheed & Cambria might just need their power ballad. They're already carrying themselves as the heir apparent to the A-list metal throne ever more as they evolve.