Music
45 RPM: This Town Needs Guns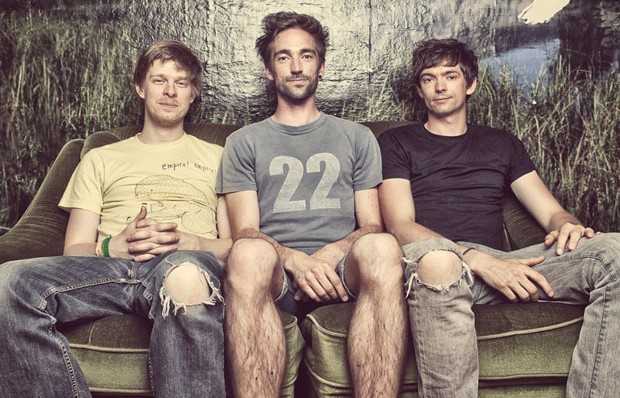 Every week in 45 RPM, Jonathan Mondragon breaks down the full disography of a different band. This week, British math-rockers This Town Needs Guns.
Hippy Jam Fest (2006)
The earliest release from Oxford four-piece This Town Needs Guns might as well be from an entirely different band. Drawing influence from mellower bands such as American Football and Carissa's Weird, Hippy Jam Fest focuses more on dynamics, orchestration (piano and cello can be heard throughout) and interlocking dual guitar parts. Listening to the EP in comparison to their later material shows a young band with great potential that managed to develop a consistent sound over only three songs, and reinvent themselves immediately thereafter. "Denial Adams" showcases the best elements from this release, with plenty of heartfelt lyrics from vocalist Stuart Smith, beautiful and mellow bass/cello/piano and distorted guitar, the likes of which would not be found on any following release.
This Town Needs Guns (2008)
The band's self-titled release was a compilation of sorts that brought together material from various singles and splits released around this time. Despite this, it still manages to have a cohesive sound, and introduces the familiar version of TTNG. Gone are the distorted guitars and orchestration of earlier material (though piano is present throughout a few of the tracks), replaced with far more technical and melodic single guitar parts (courtesy of guitarist Tim Collis) that intertwine with melodic bass and groovy, driving drums by brother Sam Collis. The single (and fan favorite) "26 is Dancier Than 4" is the opener, and perhaps the best example of this sound, while also offering some awesome lyrics: "I'm so sorry I'm not down tonight/But all my friends have lost their minds/And what's more…/I'm not happy here anymore." The song titles on this release are a great example of the band's unique sense of humor and love for wordplay. Examples include "And I'll Tell You For Why" and "It's Not True Rufus Don't Listen to the Hat." The "getting there" recording/production quality and slightly cluttered mix gives this release a certain endearing quality, especially compared to their later, cleaner-sounding material. The self-titled, above all, is a great starting point for new fans.
Animals (2008)
The band's debut LP was released the same year as their self-titled EP on the same UK-based indie label Big Scary Monsters, but was released again in the U.S. in 2010 by Sargent House, exposing the band to a wider audience. The title of the album is in reference to how during the album's writing, all of the songs had placeholder titles of different animals. When finally required to pick final titles, the band chose instead to stick with the placeholders. Animals seems like a big leap forward, both in writing and production quality. The mesmerizing, butter-smooth, open-tuning fingerpicked Tim Collis guitar in opener "Chinchilla" (further showcasing and refining an oft-mentioned influence from technical Midwest emo notables Owls, American Football, and Make Believe) joins more excellent lyrics by Smith: "On nights like this/We drink ourselves dry/And make promises/Without intention."
The album contains a wider variety of moods, experiments in melody, and more uncharacteristic instrumentation such as trumpet and toy piano. The real strength of Animals is its brilliant symbiosis between the immediately engaging, jaw-dropping guitar parts and the memorable songwriting, supplemented by comparatively simple melodic bass and tight drumming. Moments such as the emotional climax of "Gibbon" and the opening of single "Panda" ('I'm in love'/Are the three words I hope to hear this year) are perfect examples of this. At 13 songs (including two noteworthy interludes, "Quetzal" and "Zebra"), there is not a weak point in the album, and it's paced excellently. Sadly, this and the following (highly recommended) 7" Adventure, Stamina, Anger would be the last releases featuring original vocalist Stuart Smith. For fans of mathy emo music with a distinct British flair, and an example of prime TTNG, there is no better place to look than Animals.
13.0.0.0.0 (2013)
Following Smith's departure to focus on family and move away from music, bassist Jamie Cooper also left to focus on a career in graphic design. Now reduced to two members, brothers Sam and Tim Collis, they recruited vocalist/guitarist Henry Tremain of Norwich band Pennines to be TTNG's new vocalist/bassist. Despite now functioning as a trio, the band still managed to keep the same signature elements and identifiable sound while still freshening it up. Despite fan-skepticism over Tremain's ability to live up to Smith as a vocalist, and how this would affect TTNG, he proves to be a wonderful and welcome addition, with a powerful, yet tender voice.
The guitars are still as otherworldly and inhuman as ever, quick-yet-understated and the focal point of most of the tracks. The bass is more prominent this time, forging its own path at times and going to unexpected places. Acoustic guitars are once again present on a couple of the tracks. Guitar overdubs, keyboard, percussion, and samples add depth and texture, filling out the trio. The high production value makes the album a sonic treat, and with the mix being clearer than ever, it is easier to appreciate the compositions in each song. "Left Aligned" and "Cat Fantastic" are catchy as all hell, structurally meticulous, and longtime fans will probably find a connection with them. More clever song titles can be found here, with "2 Birds, 1 Stone, and an Empty Stomach," "+3 Awesomeness Repels Water" and "Nice Riff, Clichard" being particularly notable. An excellent and consistent second album from TTNG which shows that despite the numerous lineup and stylistic changes, there is much life left in this band.