Music
Underrated Classics: Blatz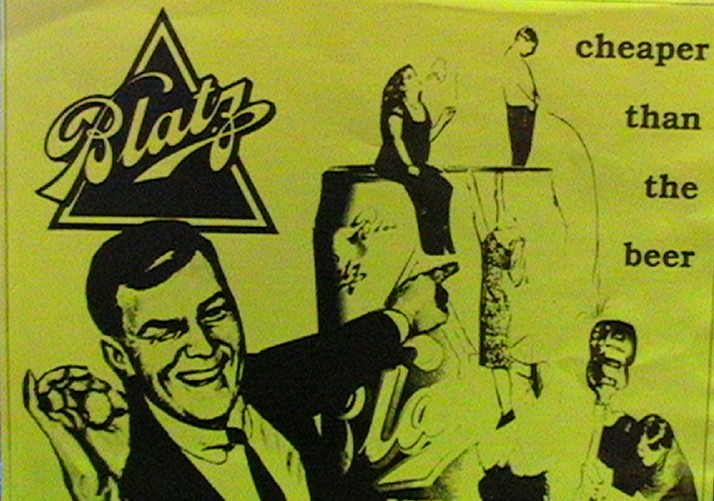 Each week in Underrated Classics, Cory Clifford digs deeper into the annals of music history to recommend essential unsung acts that have yet to even find a sustained cult appeal.
Rebellion is one of the most enticing things that pieces of culture can play into. From the days of James Dean to N.W.A., and even recent times with the brutal honesty of a band like Ceremony or Odd Future, rebelliousness tends to stick with young people really well. In some cases, a single strand of rebellion can turn into an entire subculture. Take punk for example; who would have thought that a legion of slacker musicians, artists, and filmmakers would go on to change the world for years to come (and in many ways, continues to change it today). Punk is an ethos, more than a genre of music, but punk rock is essentially the birthplace of the movement of rebellion that tends to excite and uniquely influence each passing generation. It's debatable to when exactly punk rock "died," but in my opinion, it'd have to be when punk rock's last exciting and amazing band broke up in 1992.
The band I'm talking about is Berkeley's despicable, pissed-off and sardonic punk band, Blatz. Formed in 1989, Blatz got their start and eventual following through West Berkeley's legendary DIY venue, 924 Gilman Street, playing alongside more famous bands such as Operation Ivy and Green Day. While the aforementioned bands played within already successful subgenres such as ska and pop-punk, Blatz's accessibility comes as a bit of a surprise as they sing catchy few-minute songs full of filthy language, a comedic bad attitude, and the vocal stylings of Agent Orange and/or The Slits at their most intense. The perfect evidence of this was on Blatz's second EP, the terrific Cheaper Than The Beer.
Released on Lookout! Records in 1991, Cheaper Than The Beer was practically Blatz's big break in the underground, and it gained them quite the cult following in California. The EP opens with the band's most famous song, "Fuk Shit Up." The tempo-changing party tune is filled with ultimate rebellion in lines like "Burning cop cars and looting stores," and the catchier "Tonight we're gonna fuck shit up." The EP follows with punk rock's second anti-New York song (after Fear's "New York's Alright If You Like The Saxophone,") "Fuk New York." "Fuk New York" has a great sense of humor, and the perfect delivery at the end with a "Fuck you" and a constant repetition of "Fuck New York, fuck New York".
The EP's most brilliant moment comes with the dark and critical "Lullaby." The tune has a twisted method of disdain towards life, recalling a feeling of being duped into satisfaction by your parents in the brilliant opening line of "Sleep little one sleep/take comfort in the night's embrace/cause the morning sun will open your eyes/and you'll see that you live in a fucked up place." The song features an amazing reference of the scariness of growing into loveless person with the line "The stars in your eyes are shattered glass/and the dolls on the shelf become the men in the gutter/and everyone just dreams of somebody else."
"Blatz To The Future" has awesome male/female vocal dynamics, and is the perfect mosh-pit song. The song features a terrific DIY-rally cry with the closing lyric "Sure the whole thing started on the majors, EMI and Warner ruled/but now the indie are just wannabes, major distribution, dude!" The EP ends with the funny and fun "Hustler," a tune about a pool-hall snake. The song is easy to imagine, and incredibly relatable, but most importantly features Blatz's insane female vocals that they became so well known for.
That same year, the band went on to release a split LP with local band Filth, that included "Fuk Shit Up" and "Lullaby." Though the LP was quite good, nothing beats this EP. It features five of the best songs the band had penned, and ended up being the final performance released by the young punks. Cheaper Than The Beer is one of punk's best 15-minute classics, but for the most part, the band has yet to reach the current generation, despite a cult following in the early-90s. Blatz are a band with an admirable ethos, a rebellious yet unique approach towards punk rock, and a vulgar band with a lifetime of hooks. With DIY becoming more of a popular method of musical medium, and the past couple of years seeing a recent influx of late-80s/early-90s sounding hardcore bands, it wouldn't surprise me if Blatz's legacy shone much brighter with time. Fortunately, DIY label Silver Sprocket re-released the classic EP in 2009, and you can still buy a copy of the record at their website. If you want an intense experience with brilliantly fun punk rock band, then look no further than Cheaper Than The Beer.