Culture
Nothing to "Stand Up" over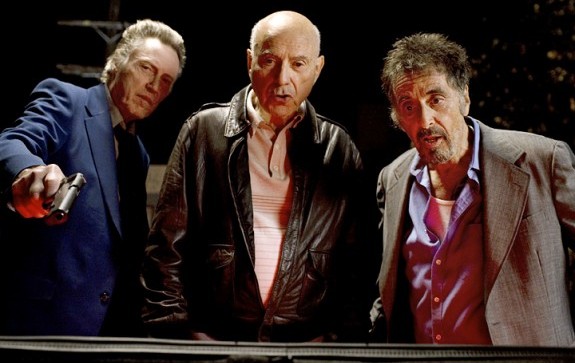 Stand Up Guys dir. Fisher Stevens
Release Date: Feb 01, 13
1
2
3
4
5
6
7
8
9
10
How long can an actor harken back to his once-legendary screen presence in latter-day tripe before audiences realize he's not the actor he once was? For the past decade, Al Pacino's fascinating career death spiral has been a perverse spectacle to witness, the definitive example of a once-great actor retroactively soaking his legacy in a puddle of flop sweat and whatever it is that he was doing in Jack and Jill. In Stand Up Guys, Pacino teams up with Christopher Walken for a film that had the potential to toy around with their onscreen legacies and comment on not only the lack of chances for actors like them to become leading men, but also on the by-and-large death of the sort of films that allowed Pacino and Walken to make their fame. Instead, Guys fails to dig any deeper than its vague, hokey tagline: "They don't make 'em like they used to."
After serving out the entirety of a 28-year murder sentence, Valentine (Pacino) is released into the care of Doc (Walken), his old friend and associate in their previous lives as career criminals. Val, as his friends call him, wants to party, but Doc has bigger concerns. Chief among them is the hit that he's been commissioned to carry out on Val by the nefarious Claphands (Mark Margolis), their former boss. One of the few respects in which Guys doesn't feel like a total retread is in its refusal to tease out this hit as a secret until the end of the second act. Val might've been locked away for a long time, but his instincts are still good enough to quickly figure out that Doc's willingness to throw money around on prostitutes and break into pharmacies for him probably bodes poorly for Val's survival.
Of course, because this is a film that's abundantly aware of its actors' ages and seemingly hell-bent on drawing attention to this at every possible turn, Pacino's brothel escapades require Viagra and Doc steals heart medication while complaining about his co-pay. The film ends up feeling less like the wiseguy caper it's aiming for and more like The Crew, that forgettable "mobsters in Florida retirement" film. This is in part because director Fisher Stevens has little control over the film's tone, overwhelming almost every scene with soul and R&B riffs that feel frequently inappropriate, especially when the film gets pensive about its central theme of death and the days of yore. By the time the duo reconnects with their wheelman Hirsch (Alan Arkin), now holed up in a retirement home with emphysema, the film seems to forget whether it's a comedy, a drama or a crime saga every 30 seconds or so.
The film feels less like a cohesive whole than a series of vignettes into and out of which Doc and Val wander. This would be an exciting proposition, a film that asks two of the great off-the-cuff presences in film history loose on each other, except that Pacino and Walken's chemistry never seems to gel for any sustained amount of time. Also, this tendency combined with the lack of tonal consistency sometimes gets ugly, as in the sequence in which they find a naked and tough-talking Vanessa Ferlito in the trunk of a stolen sports car, a scene that's played for comedy right up until she tells them about her getting gang raped in a warehouse, and becomes bloodily comic immediately thereafter. Stand Up Guys moves through its paces with a shrug by and large, and by the time Doc and Val actually decide to rebel against Val's death sentence, the film doesn't end so much as it just halts, seemingly intending to make a statement about the timelessness of the duo but just lazily ending in the middle of the action. If memory serves, they didn't always make 'em that way.