Culture
The Hipster's Cookbook: Soup Season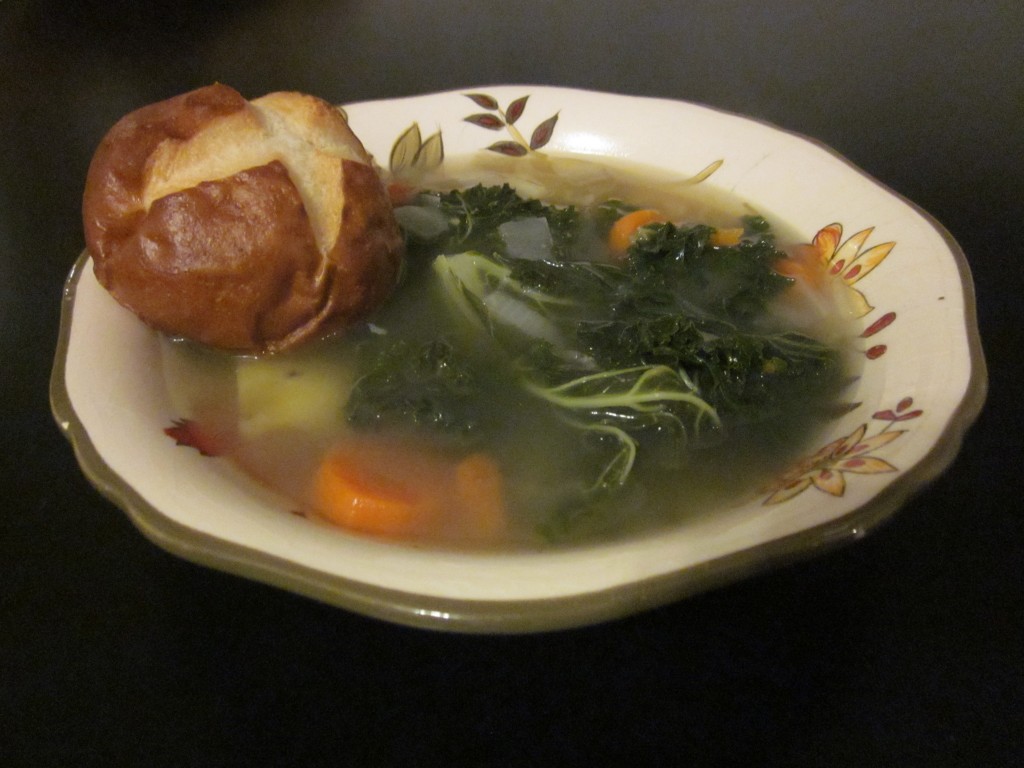 Every week in The Hipster's Cookbook, Meghan teaches you how to make delicious food with not a lot of money.
It's officially soup season. When the temperature starts dropping below freezing and it's dark out long before you leave work, there's nothing better than coming home to a hot bowl of soup to make you feel better. Last winter, I had a period during December and January where I had meetings near my work at least three times a week that started about an hour and a half after work ended, meaning that there was no point in going home, but I didn't really have anything to do in the meantime. It was frigid out, so I frequently found myself hiding out in a café that had an amazing kale and potato soup on the menu. I hadn't had much experience with leafy greens in soup before, so the fact that they could hold up and remain delicious was sort of a revelation for me. When the café switched to their spring menu and took away the soup, I experimented until I had a recipe of my own.
Kale is one of the sturdier greens, so it works particularly well in soups and stews. Some people find it to be too overpowering for salads because its flavor is on the bitter side, but the sweetness of the carrots and lemon (yes, lemon acts as a sweetener here) help to cut it. Bitter or not, it's worth it to eat kale in the winter when your immune system is weaker because it's packed with nutrients. This can easily become a vegan soup if you choose to use vegetable broth instead of chicken broth, but the chicken broth provides added flavor. If you go the veggie route, you may want to add a bit of olive oil to the soup. Like most soups, this doesn't take a lot of attention or precision to create. Cooking longer than instructed on any of the steps will mostly just make the vegetables get softer, so this is a great meal to make when you're multitasking.
——
Kale and Potato Soup
7 cups chicken broth
3 cups water
6 medium yellow potatoes, peeled and chopped into large chunks
3 carrots, peeled and sliced into rounds
1 medium yellow onion, sliced into half rounds
2 bay leaves
1 tsp lemon zest
3 tbs lemon juice
2 ½ tsp thyme
Salt and pepper to taste
5-6 large kale stalks, torn
1) In a large stock pot over medium heat, bring the chicken broth and water to a boil. Add the potatoes and cook until they are just beginning to soften but are not falling apart.
2) Add the carrots, onions, lemon zest and juice, and spice, and simmer until the carrots are slightly soft.
3) Add the kale and simmer until the kale is tender, about 10 minutes.