Music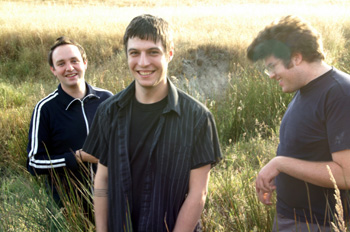 In 45 RPM, Jonathan Mondragon takes an in-depth look at a different artist or band's discography each week. This week, genre-bending chameleons The Velvet Teen.
Out of the Fierce Parade (2002)

The origins of The Velvet Teen can be traced as far back as 1999, when it was known as the solo project of Judah Nagler, inaugurated with a brief tour of Iceland. In 2001, longtime bandmate and drummer Logan Whitehurst joined Nagler to write some songs, eventually adopting the name and releasing an EP of early recordings called Comasynthesis, from which one track ("Penning the Penultimate") would resurface on their debut album, Out of the Fierce Parade. By 2001, Josh Staples had joined the band on bass, leading the band to release another EP early in the year called The Great Beast February, and the Immortality EP later the same year. With three solid-yet-slightly unfocused releases under their belts, the band enlisted help from venerable producer Chris Walla of Death Cab for Cutie, and released Out of the Fierce Parade in March 2002.
Now operating more as a band than ever before, rather than as a solo project with accompaniment, these songs showcased more refined songwriting finesse rooted deeply in indie rock, with highlights such as the beautiful and driving "The Prize Fighter," all-out huge-chorus rocker "Radiapathy" and a new version of the previously released six-and-a-half-minute disarming ballad "Penning the Penultimate," a particularly breathtaking example of Nagler's noteworthy falsetto. Though this record is wonderfully produced, features some excellent songwriting, and is overall a great selection of tracks from a young indie rock band, the experimentation was not yet prevalent, and thus it is harder to separate it from a lot of its contemporaries in indie rock.
Elysium (2004)
Take everything you know about this band and throw it out the window, and just get used to it. From here on out, The Velvet Teen would morph with every release, becoming a truly unclassifiable and ever-changing group. Elysium and the circumstances surrounding it are fascinating. There are little, if any, guitars on this album, mainly relying on piano, bass, drums, electronics, strings and horns, presenting a more somber, chamber-like orchestral sound. Musically, this is one of the most beautiful and meticulously arranged albums of its kind. Strings swell quietly and then erupt, airy and melancholy piano parts drag out every bit of emotion from the songs, the vocal harmonies will give you goosebumps and a solid and understated rhythm section holds it all together.
Lyrically, it is evident this is not in the least bit happy. With various mentions of rings, heartbreak, depression and social isolation, it's evident the lyrical content reflects a broken engagement and the apparently devastating events that followed. From the more direct, wounded and hopeless "A Captive Audience" (perhaps one of the saddest songs you will ever hear), to the abstract, 13-minute, 1,089-word monstrous centerpiece "Chimera Obscurant," it is clear Nagler has evolved to an entirely new level of songwriter. He captures some of the most fragile, affected, and defeated emotions laid to tape, with lyrics such as "A hope vicarious/A captive audience/Even the people that you call your friends/Can fuck you over in the subtlest ways/It'll be your comfort that you're always alone." This album captures a sad, dark, ultimately beautiful period. To make matters worse, shortly before the album's release, drummer Logan Whitehurst was diagnosed with brain cancer, and left the band. He was replaced by Casey Deitz, who remains with the band to this day, and would play on the following two releases.
Cum Laude! (2006)
If Elysium is the month trapped in your apartment in the winter, hopeless and jaded and beaten after a breakup, Cum Laude! is stepping out into the daylight, reinvented and full of energy. Existing in the other extreme, its sound can be best described as an expert fusion of indie rock, IDM, 8-bit chiptune and outright noise. Right away, from noisy, badass opener "333," you know this is a different band, possessing a new energy, a new element of technicality and texture (in part thanks to the welcome addition of new drummer Deitz) and a corner of the music world all to themselves. Over the course of the album, many facets of their new sound are explored, with fast, loud, feedbacked guitar, inhumanly snappy drumming, otherworldly electronic sounds (from bleeps and bloops to textural samples, not unlike an Aphex Twin recording) and a variety of keys.
Unconventional song arrangements coated in a glaze of experimentation make this one of the most interesting and unique releases TVT is responsible for. Recommended tracks include hyper 8-bit single "Tokyoto," huge, glitched-out closer "Gyzmkid," the pretty, upbeat "Noi Boi" and the beautifully victorious explosion of "Spin the Wink." Shortly after touring for the album, Josh Staples quit the band to focus on other projects and Logan Whitehurst passed away after a two-year struggle with cancer. Judah moved to bass/vocals, with Casey Dietz remaining on drums, and new member Matthew Izen on guitar. Though a new band in style and membership, Cum Laude! showed an ever-changing group hitting all the right notes.
No Star EP (2010)
In 2009, Josh Staples rejoined the band, making The Velvet Teen a four-piece for the first time ever. This lineup consisted of both Nagler and Izen on guitar, Staples once again on bass and Deitz on drums. The incredible four-track No Star EP was the only recording with this lineup, as Matthew Izen recently left the band. Returning to a more guitar-heavy rock sound, this release features memorable riffage, signature shuffling super-drumming, thick, distorted bass, and once again, some absolutely next-level vocal work. Opener and title track "No Star" is an octave-laced shredfest, with beautiful lyrics, shifting time signatures and an outro that will have you headbanging like you would never have expected. "Fixing A Faucet" is a driving, sinister balls-to-the-wall with a chorus fit to make you drive 100mph on the highway. Closer "Pavlovian Bell" starts with an unusual guitar/string sample, and out of nowhere erupts into anthemic, explosive rock that will probably bring an ear-to-ear smile to your face as soon as it hits. This EP is a snapshot of a very short yet truly fantastic stylistic endeavor by a band that constantly reinvents itself, with consistent success. It's hard to predict what a band like TVT will sound like next (they have a new album dropping in early 2013, the first in six years), but you can rest assured that it will carve its own niche, and hopefully attract much-needed attention to this criminally underappreciated band.