Music
'Life's A Gas,' and The Tins prove it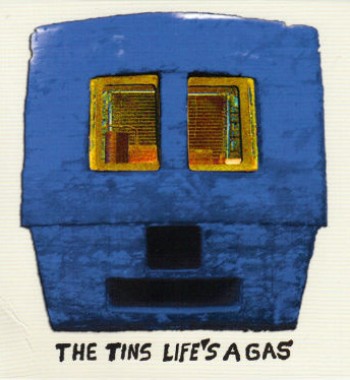 Life's A Gas The Tins
Release Date: Oct 02, 12
1
2
3
4
5
6
7
8
9
10
Everything is pretty dialed-in to a single genre these days, if it's country or pop or even something like glam rock or freak folk. But the Buffalo, NY-based trio The Tins fit into "indie rock" for all the reasons you might slide them into the same category as "classic rock" and "shoegaze" and "1990s" (that is its own genre, yes) all at the same time. There is so much threaded between each song that it's almost like a game to figure out what's coming to mind with each change of tempo or instrument or lyrical lilt of vocalists Mike Santillo (also keyboards) and Adam Putzer (also guitarist) alongside drummer Dave Muntner. With their debut full-length, Life's A Gas, The Tins and producer Joe Blaney (Modest Mouse) have created something that's both endearing and captivating on repeat – for how long, that's for you to find out.
You might think you've entered into an 80s hair-band gone soft for a moment when the album starts with "Hit And Miss." Zig-zagging and staccato synthesizer up-and-downs, an overlapping beat quickly sweeps the song along with Putzer's surprisingly delicate vocals that ease in with a cherubic kind of yowling, as if perhaps his youth were full of innocence and ice cream. But there is something – so subtle – of a grain in his stretched callings, like a poppier Tim Kasher doing a British indie band from the 90s that winds up on some quirky film soundtrack. That's a "hit."
Still in the past in terms of rock, classic rock, British rock, what-have-you, "Spies" is heavier on the riff, longer in duration, and is pretty deeply-fleshed out, recalling any number of 1960s-1990s bands and influences. It's all wrapped up so nicely, never really able to settle on just one kind of tone or music-history quotation in the composition – and that really seals the deal on The Tins for me by this point. Four tracks in and it's obvious Life's A Gas is a puzzle they've got all their pieces to.
Clearly slowing things down a bit with their non-immediate entrance onto "Midnight Crowd," the song feels like a stripped-down and gutted-out version of something we easily could have heard already. The lightweight feeling, even when the drums pick up, is refreshing and only helps to establish the band's breadth on the album (is this the "ballad"?) or at least in what they're capable of for the future. It's catchy in a soft way, the kind of thing you'd have in your head as you're padding around our apartment.
After "16 Colors" takes us on a quasi-choppy lo-fi romp for 2:38, "Please Be Kind" certainly feels a little more mature, something more akin to when The Killers debuted with Hot Fuss, but with the glam removed. The track feels a little on the darker side to the rest of the album, and it wouldn't be a bad thing if The Tins wrote a grittier album on their next venture into the recording studio. Life's A Gas concludes with "Whiteout," a 4:40-long wonder that treads in-and-out of what you love about so many of the "indie rock" bands (in quotes, because what is really "indie" about anything anymore?) in your iTunes. The Tins can get you to see why life is a gas and why you should care about that – and more importantly, why you should care about them as a band.