Culture
Washington in "Flight" over film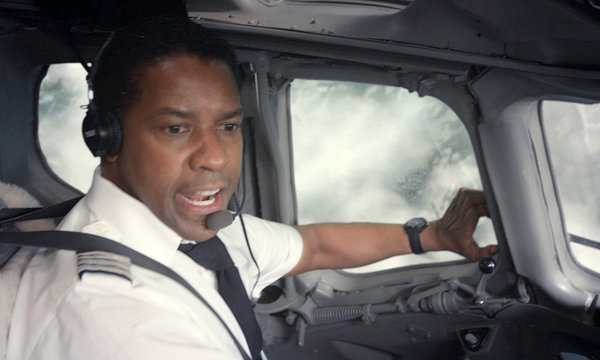 Flight dir. Robert Zemeckis
Release Date: Nov 02, 12
1
2
3
4
5
6
7
8
9
10
Whip Whitaker (Denzel Washington) is an alcoholic, and to a less prevalent degree a drug addict as well. This is evident from the first scene of Flight onward, and for the majority of the film he struggles to realize that simple truth, evident to virtually everybody around him. This is one of the central tenets of the alcoholic's logic, embodied best by the film's opening, definitive setpiece. Whip, when not abusing any substance he can get his hands on, is an airline pilot. Taking off for a routine flight from Orlando to Atlanta, Whip shows up hung over and coked up, blasting his way through a major rainstorm into a pocket of clear air as he informs his co-pilot that "I have it under control." When an equipment failure takes the situation out of his control, Whip executes a heroic maneuver that saves most of the passengers on board and also forces Whip into the public spotlight, sentenced to facing all his demons when the possibility of criminal negligence charges arises. All the while, Whip repeats his drinker's prayer: "I have it under control."
Robert Zemeckis' first live-action film in 12 years (Cast Away being his last triumph before a decade of motion capture science experiments) is equal parts moving and maddening, a delicately observed character study and a heavy-handed treatise on God and frailty all at once. After Whip wakes up in the hospital, for all the world's insistences on his status as a national hero, his only real friends are Harling Mays (John Goodman), Whip's friend and dealer, and Charlie Anderson (Bruce Greenwood), a former co-pilot and acquaintance who has little idea just how troubled Whip truly is. In these early scenes, Washington is a phenomenal presence, strutting along with the assurance of a man who's surrounded himself by enablers and the easily manipulated, a man who can still self-identify as a high-functioning drunk and therefore is absolved of having to acknowledge that he has a problem at all. And once things go wrong, Washington lets Whip's wounds slowly begin to show through.
It's in that point in the film, in the middle hour of the film's overlong 138 minutes, that things do indeed go wrong, both for Whip and for the film. In order to provide a stark contrast between Washington's feeble attempts at recovery (he jumps on and off the wagon with very little provocation) and an actual effort, Whip has a meet cute of sorts in the hospital with Nicole (Kelly Reilly), a young woman whose heroin addiction left her near death from an overdose. The two quickly bond, sensing the fragility of one another almost right away, and soon are living together in Whip's family house in the country, where Nicole can continue her 12 steps and Whip can continue to spiral. Their scenes, while well-acted on both sides and occasionally touching, also feel more than a bit pointed. The film as a whole struggles with a notable lack of subtlety, but in the romantic sequences it becomes especially clear, drawing on tropes from thrown bottles to a difficult, contemplative shot of a woman leaving her troubled lover a letter for him to find when he awakens.
This bluntness undercuts Flight enough that it exists in constant tension with the raw force of Washington's performance. At times, it becomes uncomfortably comical in a film that aside from Goodman's genial enabler is dead serious. Even when Harland is introduced, it's to the tune of "Sympathy For The Devil," and when Whip takes Nicole in, "Gimme Shelter" appears as well. Zemeckis isn't exactly known for subtlety; indeed, much of the beauty of films like Cast Away or Forrest Gump can be found in how obviously both traffic in familiar tropes and recycle them in a way that still manages to feel fresh. With Flight, by contrast, the film conducts itself as though no other films exist that examine the struggles of the alcoholic in denial, or his trials when forced to confront his destructive behaviors, often due to either a cataclysmic event or a relatively naïve loved one. This film has both, and digs its teeth into each with aplomb. By the time Washington sits before a panel examining the accident, forced to wrestle with his conscience with all the cameras on him (distractingly clicking away, no less), it's clear that Flight is less about the evolution of this man than about the broadest possible considerations of redemption and morality.
But then, at the exact same time, that performance. While Reilly and Goodman do solid character work, this film belongs to Washington, to such an extent that Flight's problems almost (almost) become irrelevant. Even as he's forced through a handful of cringeworthy moments like a confrontation with his devoutly religious co-pilot, hospitalized after the accident, or that aforementioned and climactic panel showdown, Washington remains in total control of the film. He draws marvelously on the most ubiquitous aspects of his star persona (the smile, the dignity, the formidable presence) to craft a man who's largely unlikeable but fully relatable. And if Flight does not rise to meet him at all turns, that is the fault of the film. On his own, he soars.