Culture
Heave DIY: The College Try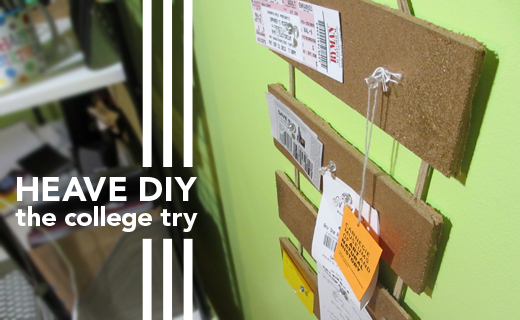 Repeat after me: I bought a behemoth corkboard for college, used it for one semester until it fell off the wall and then relegated it to my parents' basement for the next four years.
There. Now that you've admitted it, you can repurpose it.
Chances are, you stocked up on some ugly-as-sin generic dorm goods for school and later realized that you had no use for them whatsoever. I insisted on buying a gigantic half dry-erase/half corkboard, which refused to adhere to any surface no matter how many Command strips I affixed to it.
The simple solution was to throw more money at 3M by purchasing a small, lightweight dry erase board for the dorm room door and propping up the large one on my desk. However, I soon grew tired of it falling over any time I'd try to pin on the flimsiest of receipts. Home it went and home it stayed, even after I tried to revamp it with the ribbon tape I love so dearly.
As an adult, I still find corkboards to be extremely useful, though I favor an aesthetic that doesn't scream "I bought this from Target, along with this 'live, laugh, love' poster and rainbow-striped duvet."
You could wait until you've accumulated enough wine bottle corks to construct a decidedly adult device. Or you could reclaim your old college standby by, quite literally, freeing it from the plastic it came in and slathering it in the essence of the new you – obviously gold, in honor of all the money you're not making with your bachelor's degree.
Materials:
-cork board
-ruler
-pencil
-box cutter
-stapler
-staple remover
-spray paint
-suede lace
Time: 45 minutes
1) Remove the board's plastic frame. If it has a layer of dry-erase, peel it away to salvage as much of the cork as possible.
2) Trace 3-by-9-inch strips onto the cork, then cut.
3) Spray paint each piece and let dry for at least 25 minutes.
4) Cut 3-inch strips of suede lace. You will need two sets of two cords to join together two corkboards. I used four boards and a total of 12 cords. For three boards, you would need eight cords. Turn over the dry boards and line them up about 1.5 inches apart. Staple a set of suede lace on either end of the board, and then staple the free ends to the next board.
5) Cut two 8-inch strips of cord and staple them to the topmost board to form a loop. Hang it up and start pinning!
Variations
Spray paint thumbtacks to match, or make your own by driving small nails into bits of the leftover cork.
Want more ideas for organizing with ordinary household objects?
Fashion a simple, striped necklace rack from a wooden coat hanger, or store the odds and ends on your desk with a terra cotta pot and clothespins.