Culture
Rambling Dispatches: Kate Gosselin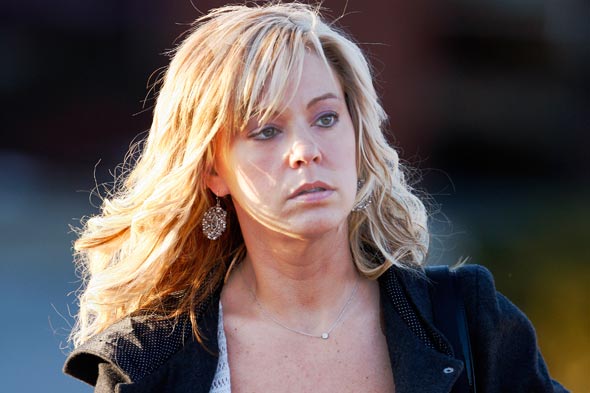 Kate Gosselin. Oh, how I've missed you so. Not really, actually; I secretly hoped she was just kind of forced onto a raft and set adrift, or hunted down by a pack of bear ninjas that only attack people of the most questionable moral fiber. (They are called Bearly There, because puns are cute.) Anyway, she's actually back in the news, and it isn't about public nudity or a sex tape, which is what I usually write about when it comes to ex-reality celebrity returns. I was browsing through pop-culture news and stumbled on the Gosselin seal of absolute bat-shit craziness. That seal is actually just Kate Gosselin's name, or that guy she was married to in a picture just looking sad in an Affliction T-shirt. The article is about how Jon Gosselin alleged that Kate only bought dogs for her kids so she could get more views as a reality program, because dogs give off a family vibe and make people believe that this familial train-wreck is less so because of puppies. The worst part is that she apparently abused the dogs, and they were living in filth when they were with Kate. I know what you are saying right now, WHY THE HELL IS THIS NEWS?
First things first: why is Kate's last name still Gosselin? Oh, that's right, for the fame. It's sad to say that she's still more famous with the name of that douchebag attached to her, even though they've been divorced for nearly three years now. Not like that last name is awesome or prestigious. As far as I can tell, it has a negative connotation, and I guess it has to do with her too. I'm led to believe that she's choosing to keep that name because she's part of the reason it inspires rage in people like me, and it's part of her penance for the crime. Or maybe when she was getting a divorce, the judge decreed that her last name be forever stricken from her title, and she must wear the Gosselin last name as a badge of shame, much like The Scarlet Letter. I like to believe the latter.
Second, who actually has an interest in these two idiots anymore? (Beside me, because I have articles to write.) Have they even done anything this year, like a book, or a television appearance, or a smut film? Apparently so, because the Examiner wrote the article that triggered this whole conversation. The article says that Jon leaked the information about the abuse to a source that has been close to Jon for a while. Already I call that guy into question, because who just volunteers for that job? That's a lot of shame to swallow for a little celebrity. The guy apparently wrote the book about Kate, and it wasn't called Dances With Wolves because that was taken already. So why now? Is there anything big coming over the horizon for these two divorced people who share the same last name? Nope, just out of the blue, Jon comes in with "Hey world, my ex-wife beats dogs, just thought you should know." I guess it was time to throw another log on the fire so America wouldn't just forget about one of its old laughingstocks.
And finally, I haven't forgotten about the dogs. There are two dogs here that are kind of just in the mix, didn't choose the family they were placed in and later found out there is a noise more annoying than that silent whistle. I feel bad if this is all factually accurate and those dogs are getting abused, but the article even says that the guy who published these accusations never saw animal abuse, but just took good ol' Jon's word on it. That's why I'm not getting all Sarah McLachlan up-in-"the arms of the angels" over this, because it's probably a load of horse shit. The accusations are that she never fed them, they lived in their own feces and they were caught eating plastic Easter eggs to survive. While I'll bet they probably weren't played with all the time, or that Kate probably yelled at them, I doubt that they were left lying around in feces and forced to eat inedible objects to survive. My dog ate rocks because he's an idiot and saw me playing with them, because I was a bored idiot. No one came at me and said it was because I neglected him; it's because dogs are like permanent toddlers. They eat shit all the time if they can get to it. That's what makes them adorable and loyal to you. I love dogs, but I can also smell bullshit and see when a person is just looking to make some noise with accusations of dog abuse.
Moral of the story: Jon and Kate Plus the Trail of Relentless Bullshit will continue on forever. And none of this was about their kids. I don't even know how the kids are doing. I assume fine enough since they're older now. Did you know they are eight, and the twins are 12 years old now? Maybe the next story will be about how eight children just want their parents to cut the shit.