Culture
The Bloody Truth: "Lovely Molly"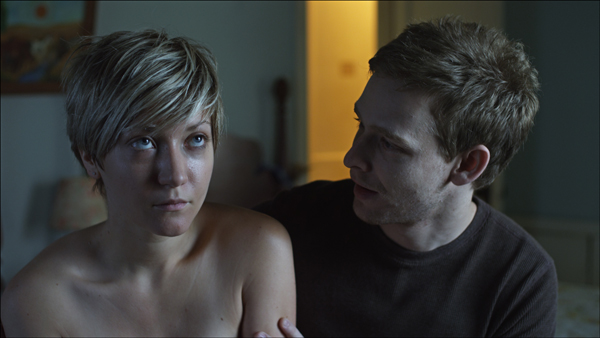 Welcome to a new weekly feature at Heave, The Bloody Truth, in which columnist Calhoun Kersten considers various horror movies, modern and classic alike, in their larger social contexts. SPOILERS ahead.
Horror movies, although frequently discarded as "trash" or "nonsensical," serve an important function in our society. They talk about what's just beneath the surface. They interrogate what's lurking in the shadows of contemporary culture and harness that fear, even exploit it, to make something visceral. After all, at the heart of each horror film is something undeniably honest that speaks to the audience. Perhaps that's what makes horror so lovable, or for others, it may be what makes it so contemptible. Whatever your feelings on the genre may be, there's no denying that there's very little room for middle ground on the topic. Here at Heave, this column is dedicated to digging beneath the surface to expose that core truth that makes horror so haunting.
The first movie up is this year's Lovely Molly. Lovely Molly had a quiet release and didn't get much attention, even within the horror community, but it remains a fascinating character study. The film follows Molly (Gretchen Lodge) and her husband Tim (Johnny Lewis) as they move into Molly's father's house. Molly, a recovering heroin addict, slowly becomes unhinged as memories of her traumatic childhood resurface. The film is unclear on whether or not the scares are supernatural or not, instead choosing to leave the question unanswered for the audience to resolve itself. However, more unnerving than the ghostly whispers and the slamming doors is what Lovely Molly has to say.
One of the crucial storytelling points is Molly's history. While the film only alludes to events in her childhood, director Eduardo Sanchez spells out Molly's addiction. At the heart of the film is a very human story about a young woman's addiction, her relapse and her subsequent attempts at rehabilitation. Make no mistake, supernatural or not, Lovely Molly is first and foremost concerned with the mental state of its protagonist. Lodge gives a standout performance as Molly, wavering between meek and outlandish, wild and enraged. However, it isn't just about her performance, it's about the character's core relationships.
One which Lovely Molly could stand to spend more time developing is Molly's relationship with her sister, Hannah (Alexandra Holden). One of the most telling moments is toward the end of the film, when Tim calls Hannah over after Molly has violently assaulted him. Tim wants to call the hospital and have Molly checked out for safety's sake, but Hannah stops him by saying, "You have no idea what they did to her there." It's a simple enough line and was probably inconsequentially written in to pad the film, but it calls something greater into question.
As the film explores whether the events of Lovely Molly are reality or insanity, that small line begs the question of how all the pieces of this film fit together. There are countless references to Molly's father sexually abusing Molly and Hannah. One could surmise that this would drive someone to unhealthy means of coping, such as substance abuse. So far, the film follows a very standard line of pop psychology to explain its troubled lead. However, when Hannah says that, the film pulls another factor into play. It's common knowledge that in rehab, there's a good deal of therapy. People are asked to look for elements in their lives and their past behavior that may have driven them to substance abuse. Frequently, people are even asked to confront their past traumas. For a character such as Molly, this would certainly include the instances of sexual abuse that possibly drove her to heroin.
As Lovely Molly progresses, the torment increases. What began as haunting whispers begin to manifest themselves physically and begin to affect Molly in every aspect of her life. This haunting can be directly tied to Molly's psyche as her ability to repress crumbles. Her inability to process these events, which are never depicted, is destroyed as she finally surrenders herself to the torment of her sexualized past. Lovely Molly seems to suggest that through rehabilitation and her confrontation of her father's sexual abuse, Molly is made worse rather than better.
Furthermore, the film goes so far as to characterize her as a product of this violent and sexual upbringing. Lovely Molly manages to do this in its few death scenes. The film is grounded in its uncertainty, and therefore the body count is significantly less than its slasher counterparts. Nevertheless, the depictions of violence are inherently sexualized. When Molly first attacks Tim, she does so by kissing him and eventually biting his lips. When Pastor Bobby is killed, they make it a point to show Molly naked as she surrenders her body and Bobby surrenders himself to his temptations. The next shot is of Bobby with bite marks all over his body and a screwdriver in the back of his head. The only other death in the film is of a young girl, who is not killed onscreen, but her body is found towards the end of the film. This could easily be read as the death of Molly's innocence as a young girl.
Lovely Molly doesn't provide the answers as to what's in Molly's imagination and what's supernatural. It instead explores the possibly supernatural through the lens of its main character. Characterized by her addiction, Molly's own crimes are informed by her own past. Violent and sexual, Molly's childhood and her inability to cope are at the heart of this film, which makes it a deeply troubling and unforgettable study in the horrifying nature of humanity itself.