Culture
The Hipster's Cookbook: Chicken of the Sea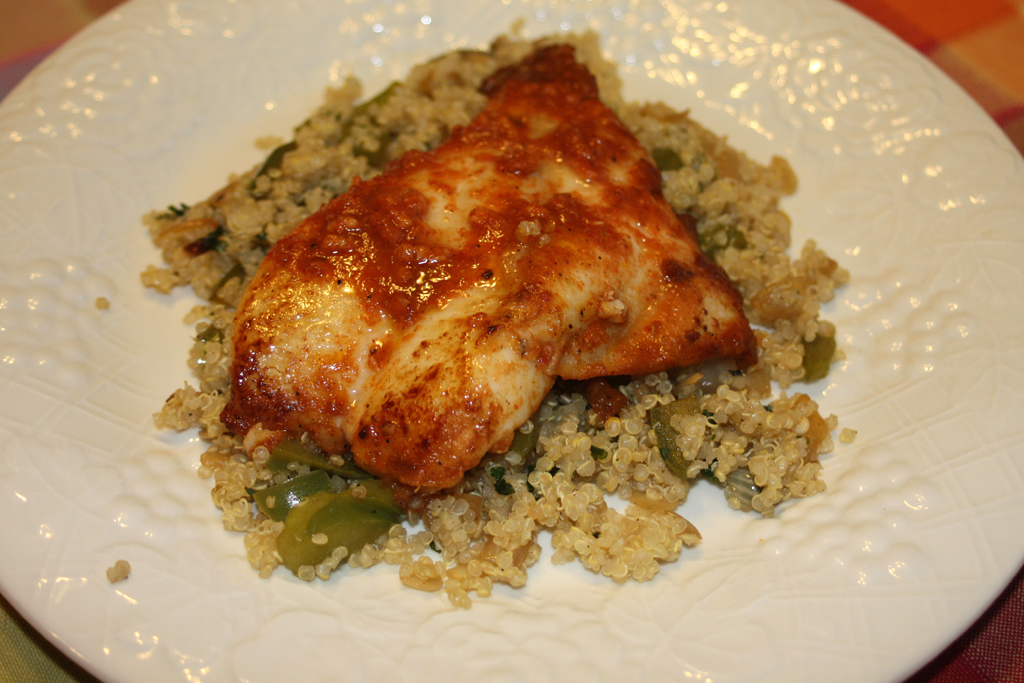 Welcome to HEAVEmedia's swap week! Our columnists have taken over each other's articles all week long. Today – Heave DIY's Seetha Sankaranarayan takes over Meghan Bongartz's The Hipster's Cookbook.
I dated a guy in college whose M.O. was painfully basic. Like, a daily uniform of black V-necks and blue jeans basic. So simple that he could survive for weeks on end with only eggs, milk, bread, yogurt and chicken. But, oh, the things he could do with chicken. The meat was like a blank canvas for painting portraits of flavor with whatever he felt like pulling from the spice rack.
That's how I look at tilapia, what I consider to be the chicken of fish. Unlike salmon or tuna, it doesn't have a particularly strong flavor on its own. You can dress it however you'd like: Asian, Southwestern, fried or grilled. Being Asian, I tend to lean toward those kinds of flavors (and loads of spice).
You can tone down this recipe if fiery-hot chili sauce isn't your steez. Plain old OJ can substitute for red orange juice, too. Under ideal circumstances, I prefer to marinade meat at lunchtime, and then stick it in the fridge to soak up the sauce until preparing it for dinner. However, 30 minutes will still give the tilapia plenty of punch. It pairs nicely with plain white or brown rice, but quinoa is even better. The recipe for the latter is adapted from one printed on a Trader Joe's box.
——
Orange Sriracha Tilapia
3 tilapia filets
¼ cup blood orange juice
¼ cup (or less) Sriracha sauce
1/8 cup soy sauce
3 cloves garlic, crushed
½ tsp ginger paste or powder
2 tsp lime juice
½ tsp ground nutmeg
½ tsp ground thyme
pinch of sea salt
1) Combine all ingredients to make the marinade. Coat both sides of the fish thoroughly and let stand at room temperature for at least 30 minutes.
2) Heat a nonstick frying pan to medium-high and slick the surface with a thin layer of oil. Cook the fish until it browns, roughly 2 minutes per side.
3) Pour any remaining marinade into the pan. Turn the heat to medium-low and let the sauce reduce for about 5 minutes.
4) Remove the fish. You can continue to cook the sauce until it reaches the desired thickness. Drizzle the sauce over the fish and serve with rice or quinoa.
——
Bell Pepper Quinoa
1 cup quinoa
2 cups water
4 tbs olive oil
1 small onion, chopped
1 bell pepper, chopped
5 cloves garlic, crushed
handful of basil, sliced
dash of salt and pepper
1) Prepare the quinoa as you would prepare rice by combining 1 part quinoa and 2 parts water in a rice cooker or pot. Cover and cook, stirring intermittently.
2) Heat a nonstick skillet to high and pour in the oil. Add the onion and bell pepper and sauté for about 2 minutes.
3) Add garlic and sauté for another 2 minutes or so. Remove from heat and season with salt, pepper and basil.
4) Mix the vegetables into the quinoa and serve.