Music
Underrated Classics: Steven Van Zandt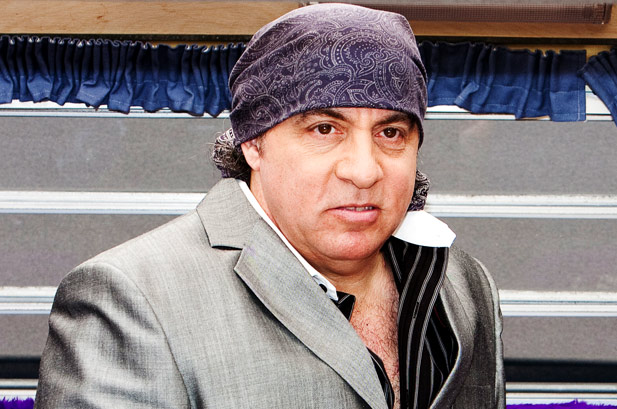 Sometimes I wonder what it's like for songwriters who play in a band with a more acclaimed songwriter, to be a respectable songwriter and yet follow in the shadow of your universally-loved cohort. The most famous of these instances is with McCartney and Harrison playing with John Lennon in The Beatles, but there are many other occasions. It causes in-fighting at times, and typically causes jealous rifts. In some cases, the artists never really forget where they came from, and who helped them to get where they are today. One great relationship between two great songwriters is between The E Street Band's Bruce Springsteen and "Little" Steven Van Zandt. Springsteen and Van Zandt influenced each other in their earlier days, but after a few commercial flops, Springsteen enlisted Van Zandt to co-arrange several songs for The Boss' most highly regarded album, Born To Run.
From that point on, the two of them (with the rest of the E Street Band) would release a string of incredible albums in the late-70s/early-80s, and the band forever went down in history as one of rock n' roll's best and brightest. But Little Stevie also had his own songs, and in 1982, he released his solo debut, filled with an updated sound on 60s-R&B that is truly an overlooked gem. Released under Little Steven & The Disciples of Soul (which during the recording process included at various moments Springsteen and members of the E Street Band, as well as The Ashbury Jukes, a band strongly associated with the aforementioned) Men Without Women, is stylistically very similar to E Street Band records, and ultimately has just as much classic potential as The River or Darkness on the Edge of Town.
The album opens with the horn-laden rocker "Lyin' In A Bed Fire," and gets the band kicking hard right from the get-go. The following tracks are more soulful. The first, "Inside of Me," has a brilliant late-60s soul style to it. On the other hand, "Until The Good Is Gone" has a more late-career Curtis Mayfield nod, and even features The Boss harmonizing in the chorus of "Where it comes from baby I don't know/That same old something ain't gonna let me go/It's too late baby, it's been too long/Don't try to stop until the good is gone." Then we have the title track, another Springsteen harmonized track that announces the stupidity of things that men without women do. "Under The Gun" and "Save Me" have an epic E Street shuffle to 'em, whereas "Princess of Little Italy" is cool, calm and collected in its ode to a bad and beautiful Italian-American lady. "Angel Eyes" is next, and it's one of the album's biggest tracks. It has riotous horns, spiraling lead guitar, and awesome blue-eyed soul from Little Steven.
The last two, "Forever" and "I've Been Waiting," are just as solid. "Forever" would later become a popular live staple for Bruce Springsteen & the E Street Band, and it's popular for good reason. The track has a perfect verse-chorus transition, and that chorus turns chords well enough to put a smile on your face while you're shuffling your feet. "I've Been Waiting," the closer, is more of a melancholic track. Steven is wrenching as he opens the song by singing "I've worked so hard so I could say nobody owns me/You can spend your whole life trying to forget that you're lonely." There's a huge gang of vocalists in the chorus, as Steven's love-stubbornness breaks down while singing "I've been waiting such a long time/Waiting here for you girl."
While "Forever" got a decent amount of radio play, the album itself barely cracked the Billboard 200. Yet, at the same time, it was a perfect showcase of Little Steven finally being the star after years as one of the New Jersey rock scene's favorite guitarists. Little Steven is soulful, multi-talented and eventually showcased some serious acting skills on The Sopranos. Aside from being a fan of his music and his acting, since I was a pre-teen I've been a huge fan of his contribution to one of my favorite genres of music, garage rock. Since 2002, Little Steven has hosted a weekly nationally-syndicated radio show called Little Steven's Underground Garage, where he exposes a pantheon of brilliant garage rock bands from previous decades, as well as today.
Since 1999, the entire lineup of the E Street Band has been rockin' again, but I wouldn't be surprised if here and there you'll hear a couple Little Steven songs in their set. Men Without Women is a terribly underrated album, and Little Steven is one brilliant songwriter. Despite his debut album not being as successful, his following R&B-laden albums (1983's Voice of America and 1987's Freedom-No Compromise) would help Little Steven & The Disciples of Soul become a very popular touring act in the 1980s. Though Little Steven's solo career officially ended in 1999, I hope there'll be a rediscovery of his terrific albums, because The Disciples of Soul are one of many 1980s bands I'd love to see live. If you're fan of The Boss or just rockin' music in general, then listening to Men Without Women is a must.