Culture
On The Bandwagon: "Luther"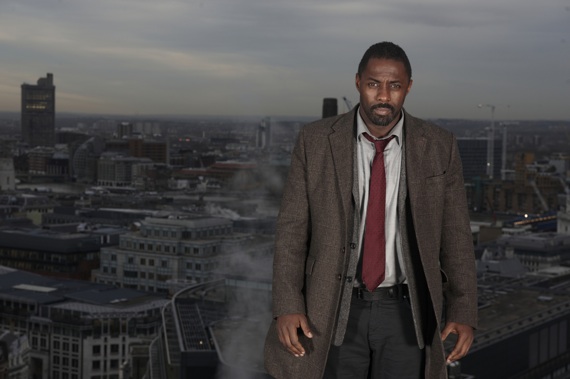 On The Bandwagon is Heave's new bi-weekly television feature, in which Marissa Morales breaks down TV shows you may not have seen yet, and informs you of why you need to get caught up.
Luther is a show about the eponymous DCI John Luther, played flawlessly by Idris Elba (as if we'd expect anything less from him). DCI Luther is what Americans refer to as a detective, and tends to have the craziest cases one could imagine. We also get deep insight into his personal life, but we'll get to that momentarily. The show takes place in present-day London, and gives Elba the opportunity to really show his acting chops, just in case you didn't realize how talented the man is. Did you sleep through The Wire?
The first episode is mainly a setup for the show, but once you make it past that I promise you will be hooked. We meet the essential characters for the first season, which would take me far too much of this article to go through. The basics on the personal life front are: his ex-wife Zoe Luther (Indira Varma), Zoe's boyfriend Mark (Paul McGann), and Alice (played by the deliciously creepy version of Emma Stone, Ruth Wilson). Alice isn't initially a part of Luther's life, but after being the suspect in a murder case, she develops a fascinating relationship with him.
At work he has his boss DCU Rose Teller (Saskia Reeves) and his two main partners DCI Ian Reed (Steven Mackintosh) and DS Justin Ripley (Warren Brown), who should definitely be one of your favorite characters on the show. DCI Reed is one to keep an eye on, while DS Ripley prefers to play by the rules, but completely trusts Luther and his unusual methods for solving cases. The cases are some of the most disturbing I've ever seen portrayed on television, ranging from a blood drinker to a sniper exclusively seeking London's finest. Each episode is its own mini-thriller condensed into 60 minutes.
The final two episodes of series one (for this is British television ,kiddies; we have series and not seasons) left my heart and mind in such a set of disarray and lack of oxygen that I had to lie down before I could start series two. Yes, at times Luther can feel like the British version of Hugh Laurie's House, but Elba plays him in such a way that you're always rooting for him, and he doesn't feel like a jackass. The show could easily have been a cop-plays-by-his-own-rules crap drama, but instead Elba brings a beautiful depth to a character that could easily have been overplayed. Plus, Luther has a deep love for David Bowie, which is silently nodded to throughout the show.
Series two brings a different look into Luther, who is (spoiler alert) dealing with loss and recovering from being a suspect in the final episode of series one. He gets wrapped up with a young girl, Jenny Jones (Aimee Ffion-Edwards, who Skins UK fans remember as the insanely creepy Sketch from generation one). They don't get wrapped up romantically (perverts), but instead Jenny's mother Caroline (Kiersten Wareing) asks Luther to save her daughter from a life on the street. Caroline also has ulterior motives for bringing Luther into their lives.
Series two has a stronger running plot. While there are still cases to solve, Jenny gets her own subplot that really livens the show up. (Not that it necessarily needed it, but it still works.) The cases are still just as enthralling, and include a man trying to become the next notorious London serial killer and a case with a twist that involves dice and game play. Series two only contains two separate cases, each spread over two episodes with jaw-dropping endings to the first of each two-part episode.
One thing I can say with full confidence of Luther is that never does interest wane, and even with a solid 60 minutes per episode, the pace is kept up and it's not plagued with too many subplots (I'm looking at you, current season of True Blood). Elba proves why he won the Golden Globe this past year for his performance as the DCI, but he isn't the only one giving an impressive performance. Every actor involved on the show, whether they have one episode or more, is stellar at their craft.
Series one has seven episodes, while series two has four. There's really no reason you can't knock these out in a weekend. Especially given that series three is currently filming, and if the show continues to gain award show recognition and the fanbase stays strong, we may be lucky enough to keep John Luther around for a long while. If you enjoy a good thriller, and need something to tear you away from Law and Order marathons on USA, this is just the ticket. Bonus: it's a BBC America show, so your friends will think you're cultured.