Music
Underrated Classics: Jonathan Richman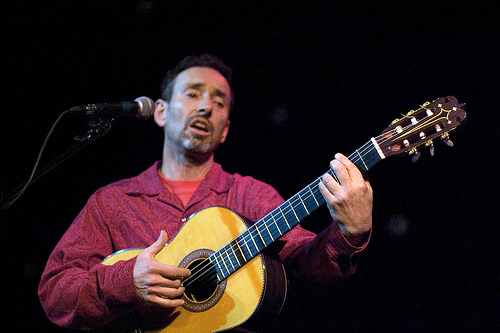 Each week in Underrated Classics, Cory Clifford digs deeper into the annals of music history to recommend essential unsung acts that have yet to even find a sustained cult appeal. This week, he looks at cult punk hero Jonathan Richman.
If you are a fan of punk music, and you have never listened to the Modern Lovers, then I cannot and will not take you seriously. The Modern Lovers were the very first punk band; complete with three-chord wonders, lyrical slackerdom ("Pablo Picasso never got called an asshole") and a careless yet wonderfully melodic approach to rock 'n roll. They were produced by proto-punker John Cale, influenced an unbelievable amount of bands and recorded the sessions for their eponymous album a whole five years before "the year punk broke." The band's main songwriter and singer, Jonathan Richman, is one of the most underrated musicians to emerge since 1977. Understandably, Richman still has a very dedicated and moderate following, but for an artist whose discography is bigger than the Green Monster at Fenway Park, he has a wealth of overlooked albums that are just as much "classics" as The Modern Lovers and his few well-known solo albums.
In 1985, nearly ten years after the release of The Modern Lovers LP, Jonathan Richman's second incarnation of The Modern Lovers released one of his most immediate and entertaining albums to date, the diner jukebox-influenced Rockin' & Romance. The album opens with the familiarity and beachiness of Jan and Dean on the appropriately titled "The Beach." The timelessness of Rockin' & Romance is instant, and though the style may be archaic, the production is raw, and sounds as fresh as anything that could have come out this year, possibly fresher. Next we have another beach pop song, this time a hapless ode to America's favorite clothing item, the silly yet catchy "My Jeans." The beachiness keeps a-comin' this time with the "Kokomo"-like "Down In Bermuda." A conversational masterpiece, "Down In Bermuda" has a call-and-response feel with backup vocalist Ellie Marshall. Starting with "UFO Man," the next stretch of the record becomes an upbeat doo-wop rock 'n roll-er.
The tempo attenuates temporarily with the beautiful love ballad "I Must Be King." A song built around a slow skiffle-beat, Jonathan itches into "Since she's my queen, I must be king." The album picks up again with Richman's second-best ode to a famous painter (just a notch behind "Pablo Picasso"). It's a doo-wop tribute to Dutch painter "Vincent Van Gogh," in which they claim he's "the baddest painter since Jan Vermeer." The tributes keep coming with his tribute to baseball's greatest nice guy, "Walter Johnson." A song with just Jonathan and his acoustic guitar, the adorable tribute to "The Big Train" really gives you a feel of what Jonathan Richman's live show normally consists of. "I'm Just Beginning To Live" is next, and despite its simplicity, the song really permits serious virtue and emotional sustainability. "The Fenway" follows, another fitting tribute, this time about Jonathan's childhood baseball park, Boston's majestic Fenway Park. "The Fenway" is a beautiful song about nascent memories, in which Richman sings "All that nostalgia comes out every day, you see, on the Fenway where I've dreamed my dreams."
The skiffle seen on "I Must Be King" picks back up, this time with the clap-happy rockabilly track "Chewing Gum Wrapper," an interesting observational song about a dried-up chewing gum wrapper in which Richman can find the beauty. The last tribute on Rockin' & Romance comes with "The Baltimores." The song's about a dream soul band he'd "drive to see," as the doo-wop style returns once more. The last two songs are "Up In The Sky Sometime," and "Now Is Better Than Before." "Up In The Sky Sometime" is a sillier song about the desire for space-travel, but "Now Is Better Than Before," is not just the best song on the album, but possibly one of Richman's most emotionally gripping songs period. Richman sings a song about being in a long relationship that's become stagnant in lines like "sometimes I think that I'm just a comfort to her and not that same young lover," and "sometimes I think that my cheeks had more color in the past, and that my heart once did beat more fast." Yet he resolves that since he's loved her for so long that "now is better than before." The song is a truly moving track that features some of Richman's best vocal-work, and has excellent backup vocals from Ellie Marshall.
Rockin' & Romance truly is highly regarded by anyone who's already a fan of Jonathan Richman, but like I mentioned before, Richman's discography is a largely uncharted island. Like any prolific songwriter, Jonathan released album after album, not for ambition of becoming a huge success, but because he has an unbelievable amount of music in him and because he loves doing it. I've come to realize over the years (as an aspiring songwriter myself) that guys like Richman tend to have the last laugh, even if it comes when they're in middle-age. He's the type of songwriter that has worked hard, but never took himself too seriously, and has always made sure there was tenderness in his music. Rockin'' & Romance is the perfect listen, because it's a very mature yet child-like approach to a (somewhat) modern rock n' roll recording. It has 13 songs that are just a speck on Richman's discography, but a speck that shines brighter than most songs in rock n' roll.