Culture
The Hipster's Cookbook: In Defense of Salads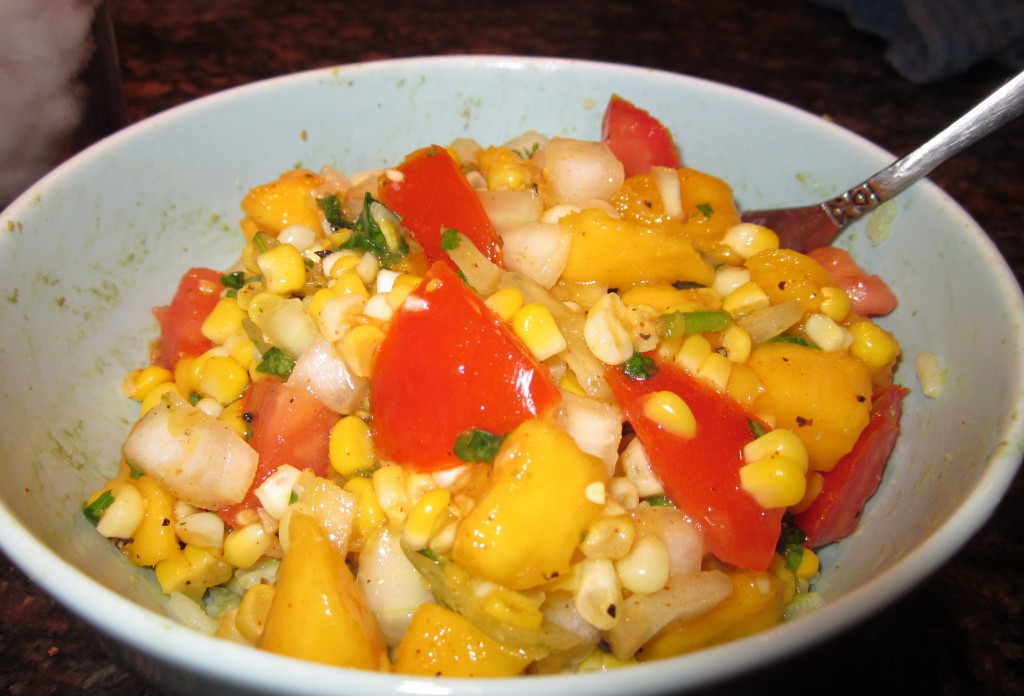 Looking for some cooking ideas? Meghan Bongartz has you covered with The Hipster's Cookbook every Tuesday, in which you'll always find a recipe and a humorous anecdote or two. This week, Meghan defends salads and offers up a recipe for one with some salsa-style flourishes.
Let's be honest: It's too hot out to cook. No intelligent person with any sense of self-preservation is going to turn on the oven when the air outside already feels like one and, quite frankly, the thought of eating a hot meal isn't the most appealing thing right now. When the temperature is leaving 90 degrees behind well before 10 a.m., it can be tempting to subsist on sushi delivery and root beer floats (I'm not the only person who has literally only wanted these things out of the world for the past week, right?); unfortunately, the former is expensive, the latter has no nutritional value and neither helps use up all the groceries you bought when you forgot that there was an endless heat wave in the forecast.
So this is where salad-type meals come in. I know that salads get a bad rap, and I can understand why. If you order a side salad at most restaurants, you get a plate of iceberg lettuce with two slices of cucumber, one slice of tomato and your choice of Italian or ranch dressing. Sometimes they take it up a notch with some shaved carrots or red cabbage, which I don't think serves any purpose other than to add a color that isn't green. I promise that this doesn't have to be your diet for remainder of the summer, though. Salads can be really delicious if you get creative with your ingredients, and if you add protein (nuts or grilled chicken or steak) or grains (rice or quinoa), they can also be filling enough to serve as an entire meal.  If you like leafy vegetables, you should consider using spinach, chard, or a Mesclun mix of lettuce instead of the traditional iceberg for variety, but your salad doesn't have to have a leafy base. This particular recipe uses tomatoes and mangoes to make it more reminiscent of a salsa. The corn only boils for five minutes to keep your kitchen as cool as possible.
—–
Mango Salad with Avocado Rice
2 ears sweet corn
2 tbs granulated sugar
1 mango, roughly chopped
1 medium tomato, roughly chopped
1/3 cup Vidalia onion
¼ cup chopped cilantro
Juice from 1 lime
1 tsp lime zest
¼ – ½ tsp chili powder
1 clove garlic, finely minced or crushed
Salt to taste
Pepper to taste
1 ½ cups prepared white rice
1 avocado, removed from shell and pitted
1) Fill a large stock pot or sauce pan about halfway with water, add the granulated sugar, and bring to a boil. Use the time while the water is heating up to chop the mango, tomato, onion, and cilantro and place in a medium bowl.
2) Shuck the corn and, when the water has reached a rolling boil, place it in the pot and cook for 5 minutes. Remove from water, let cool briefly or run under cold water, and use a sharp knife to strip the kernels from both ears of corn. Add to salad.
3) Squeeze the juice from one lime over the salad, season with lime zest, chili powder, garlic, salt, and pepper, and toss.
4) In a separate bowl, place the rice, avocado, and additional salt and pepper if desired. Using the back of a spoon, crush the avocado into the rice until mostly combined, but some chunks still remain.
5) To serve, place rice mixture in individual bowls and spoon salad over.