Culture
Monday Morning Roundtable: First Shows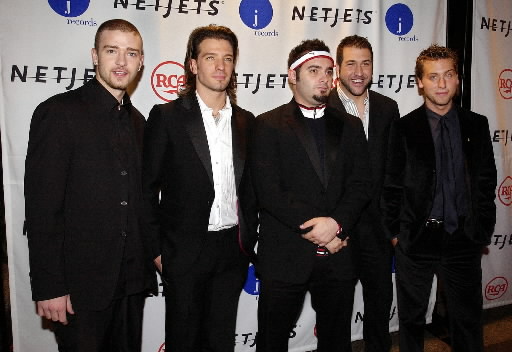 This week, the Heave staff was asked:
What was your first concert experience?
Calhoun Kersten
I'm assuming we're talking about first concert I decided to go to? Because I was dragged to a couple of Raffi concerts as a kid, but my first concert (we're talkin' tickets bought with my allowance money) was Nickel Creek. Yes, I was and still am a bluegrass nerd. It was back in Cincinnati at Bogart's, which is kinda dive-y, so to hear the fiddle and banjo when you're in bathrooms so dirty you thought you were gonna get hepatitis from flushing the toilet? Yeah, it was kinda weird to say the least.
Amy Dittmeier
My first concert was Matchbox 20, Everclear and Lifehouse with my dad. I remember I got dressed up in what I thought were super-cool rock duds (metallic blue jacket, baby doll tee, ripped jeans) and my dad took me to the show. I've never asked him if he actually enjoyed it. I know I did. I think he repaid me for it by showing me Led Zeppelin and Pink Floyd later that year on a road trip, making me see how uncool Rob Thomas was.
Quinn McGee
Honestly, the first concert that I can remember was a Gloria Estefan concert with my parents. I have no clue why I was there, because I just remember sleeping on the lawn of the Tweeter Center back when it was called that. Pro tip: don't take five-year-olds to concerts.
Patrick Gill
F-Minus, Lars Fredricksen and the Bastards and the Nerve Agents (their third to last show together). All of it was a busy and curling torrent of darkness; it was the night I fell in love with circle pits, stomping and loud men. Eric Ozone incontrovertibly changed anything my 14-year-old mind could think of a performer. It was grinning brutality; we were crammed into the Veterans Hall in my home town, and though I went to more shows there in my time, when I walked past that boarded up building recently, all I could remember was pieces of that night.
William Jones
I think the first concert I ever attended was the Rolling Stones at Soldier Field on the Bridges to Babylon tour. It was obviously a big production of a classic rock show. My father took me for my birthday one year. It was a present to me, though I suspect it was just as much because he wanted to go. The band was late and we didn't get to stay for the whole set because I was so young and I think someone had somewhere to be in the morning. But I still remember the circular screen in the center of the stage that exploded with pyro after a something hurled through space to reach it and kick off the show. Our seats were pretty far back, but it was still a spectacle to behold, and much different from all the club shows I'd later find myself going to. It was also a rock show possibly only rivaled by the AC/DC performance I caught a few years back at the Allstate Arena.
Cory Clifford
Haha well, my parents were friends with one of the ex-bassists of ultra-cheesy 80s hair-metal band W.A.S.P. back in the day, and him and some local Pittsburgh-ers had a cover group that played regular gigs. I got to see them play at a local carnival when I was five, and I remember them playing that song "More Than Words." For years, I kid you not, I thought that they were the ones who wrote that song until I asked my mom about "why it wasn't a famous song" when I was 10. Quite a memorable first concert.
Michael Alexander
My first concert experience happened my first year in college. The one and only Twista performed in our quad at the end of the school year. It was so surreal to look around at the diverse crowding rapping and enjoying the music just as much as me. It's a moment I still cherish.
Shelby Shaw
I first saw *NSYNC when I was too young to store a full memory of the night. We went courtesy of my mother's company, which meant car service and box seating in Madison Square Garden. It was all sublime, I guess, except that the only thing I remember responding to was that Pink was the opener and I had no concept yet of what an opener was. I was worried we were at the wrong concert, and then just plain angry that she was playing when all I wanted to hear was my 90s dream. I told everyone at school that she was at the show, but with a tone of confusion, not bragging… And now I hope my memory is serving right.
Dominick Mayer
When I was a few weeks away from finishing junior high, an older cousin took my younger cousin and I to see Avril Lavigne and Simple Plan at the UIC Pavilion. I remember being shocked by the huge feel of it; to this day, the closest I've ever come to that arena show vibe has been headliners at outdoor music festivals. This was also during a time shortly before I started subscribing to Alternative Press to impress girls and would discover actual punk stuff. In my southwest-suburban purview, "I'd Do Anything" was punk as fuck. It was actually a good show, but the minute Lavigne delivered her squeaky cover of Green Day's "Basket Case," I knew that something was missing.
Desiree Mitchell
The first concert I went to (where there was a sizable crowd) was at my hometown's summer festival On The Waterfront. I saw Stabbing Westward. I believe I was 12 or 13. I crowdsurfed for the very first time. It was the best experience of my life. Being there with hundreds of people of different backgrounds all in one space at one time, made me fall in love with seeing bands perform live, and I've gone to concerts ever since.