Music
London ladies' choir Gaggle harmonizes pretty with punch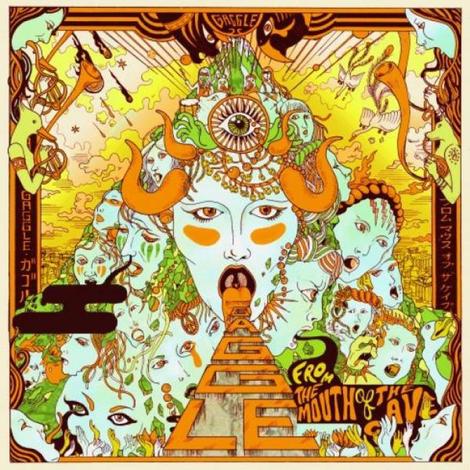 From the Mouth of the Cave Gaggle
Release Date: Jun 25, 12
1
2
3
4
5
6
7
8
9
10
Glee videos and auditions don't count as listening to a cappella. Neither do your high school musicals nor college choir groups. So know that there are ensembles that are lean, mean need only their synchronized trained voices to lure you into their words. Enter Gaggle. They're singing business – look at the ladies – from East London, an "all-girl alt choir" of roughly 15-23 gals and not backing down. Their debut release, From The Mouth Of The Cave, is composed of both new and familiar songs of theirs, altogether a powerful whole even if at sometimes seeming over-the-top.
Be not fooled nor frightened away by the industrial apocalypse that greets you with opener "From the Mouth of the Cave" – rather, sit back and listen hard. It's only starting, for over a minute, the sounds that are both rainforest and concrete jungle giving way to what seems like a cultish chant a first, transcending into a beautiful harmony taking you far from any visions of desolation you may have begun with. Then, right before three minutes, a moment of time-keeping clapping transitions into a vocal-heavy continuation of the harmony. It's cinematic. It's grandiose. It feels much bigger than just the first track of an a cappella choir of gals. Perhaps a little too heavy to start with, but nonetheless an impressionable six minutes that end with a pick-up in pace. I'm thinking it's only going to keep picking up from here.
If the UK gave us trip hop, then "Army Of Birds" is declaring chick hop the new vogue to follow, recalling some of the dance group craze of the 90s. There's something akin to what we had loved about British power grrrl pop group, Spice Girls the relentless beat. Or maybe I'm thinking of S Club 7. Neither are bad choices, really.
The first instance of feeling like standing and listening to an actual gaggle of gals would start with "Happy is the Country," despite it's instrumental agitation in the background. The girls' rapid urgency in repeating and repeating their words, layered with the rising harmony counterpart is both chilling and successful, but moving back into the dramatic music with "Gaslight" tips the balance slightly in favor of over-the-top. I suppose it's the same sensation as listening to the soundtrack of a musical (although From The Mouth Of The Cave is not a linear story) when you know nothing about said musical. There feels like something missing that's leaving me in the dark with all the gusto beneath the girls' voices, but perhaps seeing a live show would put me into place. The instrument-sparse "Liar" follows up as a nice refreshment.
It's practically indisputable that lullabies are gentle and calming, and especially after a song in which a group of women personify a murder (gaggle?) of crows, "Lullaby" is quite soft indeed. Showcasing, again, the harmony of the ladies with only a light lilting of few background instrumentals whizzing and whirring slowly, sleepily, the track seems like an obvious ending point for Cave. But oh, not yet.
It's another potentially-the-epic-closer track before returning us back to the opening industrial wariness of a 21st century gone awry in the shadows of Gaggle's songs. "Leave The City" may have you wanting to pack your bags for the country and deactivate your Facebook once and for good (that droning repetitive pearl-drop strum in the background is quite ominous in a technological way when you listen again and again) but you ought to think about slipping Cave into your bag. This is not what they've contributed before but yet still the same tough relentlessness. Enter the mouth of the cave and see if it suits you.