Interviews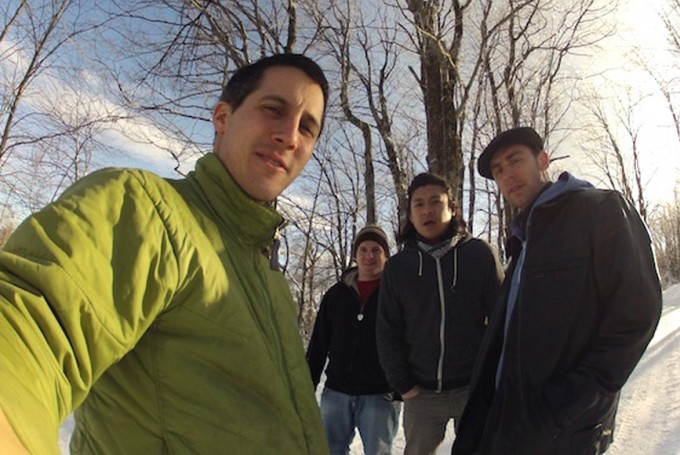 At the very beginning of this year, mainstay avant-rock/everything duo The Books called it a day after more than a decade in existence. That proved to only be the beginning for Nick Zammuto, who then channeled his energies into Zammuto, a new full-band project that occupies some of the same territory under the broad umbrella of "esoteric" as his previous band while also expanding into larger, sonically lusher sounds. Their self-titled record (which you can hear over here) is a burst of eclecticism, exploring a riot of styles that showcase the giddy thrill of pure discovery.
In advance of their show tomorrow night at the Chicago Theatre (opening for Explosions in the Sky), Heave got a chance to talk with Zammuto (the man, not the band) about his separation from The Books, the reception of Zammuto and the satisfaction of transcending genres.
HEAVEmedia: Where did the evolution from the "found footage" style of The Books to the (in some ways) more grandiose Zammuto work begin? How did you negotiate that shift?
Nick Zammuto: The ideas started within the Books stage show itself. During performances, I wanted to move away from the 'laptop' type meta-band approach towards working with real players, especially a drummer. I stayed away from drums for nearly a decade with the Books because the sounds felt too ubiquitous and constraining genre-wise, and then I met Sean Dixon (through band-mate Gene Back) and he opened my eyes to a polyrhythmic style of playing drums that I found instantly refreshing.
Having Sean on stage (and in the studio) has increased the energy of the music tremendously and he's got the chops to handle any strange idea I throw at him, so it's been a great collaboration so far. I knew Gene well from working on the Books, and he did the string arrangements for the record, as well as guitar and keyboards in the live show. My brother, Mikey, plays bass, which was an obvious choice. Everyone loves Mikey.
When I finished the record (in my cut and paste way), the four of us got together and reworked the tracks to give them a live feel with plenty of breathing room. Then we added a live video element to several of the tracks, and rehearsed the hell out of them. After the first 20 shows, the sound is really starting to gel. I'm ecstatic about it. I've never had more fun onstage, and can't wait to get back in the studio and bring the band in for open-ended creative sessions.
HEAVE: In early interviews, you mentioned that Zammuto was a very "do or die" record for you. Given the positive reception, and about a year removed from the formation of the band, has there been any sort of sense of relief?
NZ: Yes and no. There's been some relief, but still a lot of angst as we negotiate this nascent phase. Luckily we're not dead yet, but I'm not quite sure how I'll be able to fund the next record. We've got our first extensive headlining tour we're about to announce (September-November), but the future of the project completely depends on folks coming out to those shows. For what it's worth, I promise the shows will not disappoint. Like I said, it's been an incredible thrill to see the band bring the music to life in such a satisfying, warm way.
HEAVE: You explore a lot of different musical territories on the album, often seemingly changing genres by the track. Can you talk a bit about the process of how this came about?
NZ: I've always felt homeless in music.  I think growing up as a white kid in the suburbs erased any heritage that would have lead to a commitment to a genre that felt like an honest expression of who I am. Like so many people, I'm a jumbled mix of things and what bubbles to the surface any given day is unpredictable to me. I don't think any of the tracks on the record could be mistaken for form-fitting examples of a genre. My primary interest is subversion of expectations in order to reveal the very strange (and, to me, much more satisfying) universe that exists just below the surface of things we have names for.
HEAVE: You've spoken in interviews about your more secluded recording space. How did stepping away from most industry-related things inform Zammuto?
NZ: I never had a connection to the "industry," and still feel roundly ignored by those gate-keepers (which I don't mind at all). I've always had a DIY approach to everything, including the buildings I live and work in. My wife and I moved into the mountains of Vermont about six years ago in order to raise our children in a better environment, and living up here has affected my work habits in a great way. You can see pictures of how we've set it up on the website. Like any modern life the crux and the challenge seems to be "noise control" and maintaining a place to focus one's energy without too much distraction.
HEAVE: How has the new material been received on the road so far?
NZ: It's been spectacular. I'm honestly in awe of my players and how much of themselves they've given to the project and how great they sound, apart from anything I've done. I think the way video works in the show is also very refreshing for the audience, and they seem pretty transfixed by the whole thing. I just hope we get the opportunity to keep running with it.