Music
The Intelligence keeps their punk edge on new album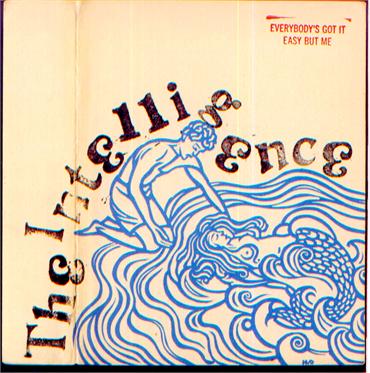 Everybody's Got It Easy But Me The Intelligence
Release Date: Jun 19, 12
1
2
3
4
5
6
7
8
9
10
The Intelligence is a band that's been around for well over ten years, and in that time span (specifically between 2005 and 2010) they've released consistently noisy and strange, but terrifically catchy, garage punk albums – starting with the synth punk-garage-fusion, Icky Baby, to their previous affair, the more straightforward punk rock record, Males. With each passing album, the Intelligence have made a slow yet steady climb into indie-popularity (possibly due to the blog-hype of Males-track, "Like Like Like Like Like Like"). Yet it seems that a lot of the Intelligence's Pacific-Northwest peers (Ty Segall, Burger Records-bands, Tim Cohen, etc.) seem to be steering a little bit more towards psychedelic & 60s-pop elements. The eighth full-length from The Intelligence, Everybody's Got It Easy But Me seems to incorporate the aforementioned a little, but still maintains the fun punk edge that's had more and more people swooning over this band with each passing release. Where their previous album, Males, lacked the progression and full-force that was shown on 2009's Fake Surfers; Everybody's Got It Easy But Me gives you everything you could wish for from one of America's most unique punk bands.
The Intelligence frontman/ringleader Lars Finberg isn't exactly the poetic-genius that contemporary garage rockers like Sonny Smith or the aforementioned Tim Cohen are akin to, but he writes terrific songs that make you sing along to it or rock your fucking face off…or both. On opener "I Like LA", the band starts off very slow, something the Intelligence rarely do. Somehow, with a literal count to 44, the music breaks out for a brief moment before Lars introduces "Ladies and Gentleman, the band." Next thing you know, you're in an "I Like LA" that's very different, full of odd organ, and it transitions into good old garage rock bliss.
Right from there, these old punks get right into it with two awesomely fun tracks back-to-back. "Hippy Provider" is a blast, and the bass-thumping "Evil Is Easy" is a rockabilly-esque track that's sure to be a crowd-pleaser! Following the excitement, comes another toned-down track; the brilliant Procol Harum-circa-A Salty Dog-like "Techno Tuesday." This is the first sign of 60s-pop influence on the album, but it won't be the last. Keeping the consistency are the "The Entertainer"(the first to feature vocals from Shannon and The Clams frontwoman Shannon Shaw), and the 2009 A-side to popular B-side "Likex6", "Reading and Writing About Partying."
"Reading And Writing About Partying" opens with a 7-inch of a Ramones track playing in the background before the desert-like post-punk track explodes into the dissonant party-track that most fans of The Intelligence have had the pleasure of enjoying for the past three years. From there we slow down again with the tropicalia-percussed track "Dim Limelights." About a minute and a half in, the title becomes the chorus, and the song rocks in surprisingly power-pop fashion for a few minutes until extended noise plays the track out. Next is the first single, a split with underrated pop mastermind Kelley Stoltz, "(They Found Me On The Back Of) The Galaxy." A very Devo-like track, "The Galaxy" is a spazzstic & fun post-punk affair. Following is another awesome rocker, the minimalistic and Mclusky-like "I'm Closed", which features really odd lyrics, and closes with the catchy "and we're here to tell you that that just isn't true."
The aforementioned Shannon Shaw has one of the best voices in rock 'n roll today, and this time she shares lead vocals with Lars on the wonderful Del Shannon cover, "Little Town Flirt." The Intelligence & Shannon's cover of the Del Shannon classic is grittier, a bit more uptempo, and(much like every track on Everybody's Got It Easy But Me,) wonderfully produced.
Following is another slower, more jangly track, the Paisley Underground-ish, "Return to Foam." The last two tracks on the album, are also the longest. The first of these two is the most psychedelic The Intelligence have been on the album. "Sunny Backyard" is crazy and fun enough, that it would make a young-Julian Cope jealous. The last minute and a half of the six minute track gets more and more chaotic before self-destructing into tape-echo oblivion. Fading directly from that, is the most poetic, beautiful, and perfect closer in The Intelligence's catalog. "Fidelity" lifts a similar chord-progression directly from Roberta Flack's classic "Killing Me Softly With His Song." Lars seems really bummed as he opens with "Ask me how I'm doin'/I'll tell you I'm doin' fine/If you really scrape for the truth/Every part of me has died and is soaking in wine," before "oh, oh"-ing in a way that only an acoustic guitar could complement. The solo acoustic tune, quickly turns into an organ and reverb-heavy 60s discotheque-slow-dance-affair that closes the beauty of Everybody's Got It Easy But Me.
The Intelligence already have fan-appointed classics, but Everybody's Got It Easy But Me might just be the universal classic that could explode the band into a more-recognized powerhouse. Albums don't come around like this too often; it's the perfect balance for those that miss the crazier days of early-Millenium garage rock, as well as those that have a new-found love for the more late-60s-influence that's been prevalent in today's garage scene. Everybody's Got It Easy But Me is a punk rock record that sporadically soothes your spirit, gets you pogo-ing, and almost always will make you dance. The Intelligence (and lest we forget Shannon Shaw) have made a rock record that anyone could ask for, and that everyone should remember.