Culture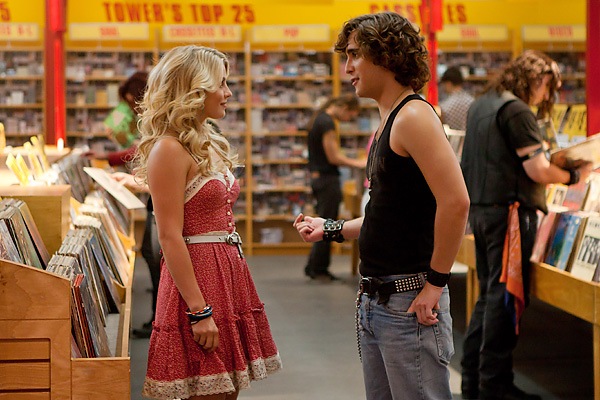 Rock of Ages dir. Adam Shankman
Release Date: Jun 15, 12
1
2
3
4
5
6
7
8
9
10
Having not grown up through the 1980s, I can scarcely make genuine assessments with respect to how exactly the hair metal crowd received their music. Did they love it just for the pure sex, drugs and rock n' roll? Or was it romanticized, a way of flirting with danger without actually having to get out and do anything genuinely hazardous to one's health? The latter seems like a more modern notion, at any rate, but it's the one under which Rock of Ages operates. The definition of hair metal in Ages is rather loose, as Hall & Oates and Starship appear right alongside Def Leppard and Poison for this grandiose, big-budget jukebox musical that ultimately fails to catch either the spirit of the era or the giddy, subversive style of director Adam Shankman's other recent movie musical, Hairspray. In large part, this is because Shankman wants to have his cake and eat it too in making a film that both lampoons its target era and demands that audiences get nostalgic for it.
To say that Rock of Ages is a pastiche of clichés is to miss the point as to why this is such a bad film; by design, the musical (originally on Broadway) is an amalgamation of every neutering process America has undergone in the past two decades or so to sanitize any pop cultural history that might look a bit too seedy. So, we get Drew (Diego Boneta), a nice, immaculately coiffed rocker, and Sherrie (Julianne Hough), a fresh-off-the-Oklahoma-bus wannabe starlet. They come to Los Angeles in 1987, and of course they have to meet cute, because how else will the city boy and the small-town girl inevitably serenade each other with Journey's "Don't Stop Believing," the preeminent cultural text on such topics? They court each other and negotiate the crazy world of late-80s rock music while crossing paths with a self-righteous anti-metal moral crusader (Catherine Zeta-Jones), a shady manager (Paul Giamatti), the aloof management of the famed Bourbon Room (Alec Baldwin and Russell Brand) and Stacee Jaxx (Tom Cruise), an Axl Rose-based loose cannon of a frontman.
The film strangely exists within and outside of its era simultaneously; Sherrie owns Night Ranger albums and Motorhead billboards occupy space on the Sunset Strip, but yet when Drew plays "Don't Stop Believing," it's a new song he wrote just for her. The film operates under similarly lazy logic; most of the film's few honest laughs come from Drew being suckered into forming a jive-talking boy band, even though that era wouldn't fully see its moment of cultural relevance until years later, not in the middle of '87. There's a lot of talk of how the spirit of rock music can conquer pretty much anything, but it all sounds hollow, like an aging ex-groupie with a fading lower-back tattoo at the end of the bar telling anyone who'll listen about the night she gave clandestine oral sex to a member of Winger. Ages seems more interested in compiling a series of romanticized observations about a dirty era in pop culture history, while simultaneously castrating it of all the things that made it so legendary. This is best evidenced by Sherrie's declaration that L.A. looks like "a velvet blanket covered in diamonds," which is every bit as telling as it is creepily naïve.
The cast is game, which is unfortunate given that more of them embarrass themselves than don't. Zeta-Jones contorts her face into ghastly, cartoonish Phelps family poses, and sadly it's still not nearly as terrible as the fate that awaits poor Bryan Cranston as her two-timing husband, who appears in the film in what might be the only non-singing role to get spanked with a ruler by his secretary and make goofy faces. Hough is pushed so hard in the direction of doe-eyed and innocent that she comes off creepily infantile, instead of the working-class sex bomb that Shankman is obviously aiming for, which undercuts the inevitable downward spiral sequences she goes through later in the film. Boneta is good in a role that gives him little to do, but fails to leave any distinct impression aside from possessing what may be the softest-looking hair in any recent American film. Giamatti hams it up, as do Baldwin and Brand; the latter have the only sincerely out-of-left-field moment in the film together, one that will probably thoroughly piss off the film's target audience.
And then there's Cruise, whose Stacee Jaxx joins his foulmouthed movie mogul in Tropic Thunder on the list of overrated but nevertheless amusing performances of his that aren't nearly as shocking as promotional materials and some critics would have you believe. He gets most of the movie's laughs, admittedly; his out-there, hedonistic rock god struts around in a diamond-encrusted codpiece and can't seem to hold a conversation without drifting into paranoid tangents. However, the film cuts him off at the knees by introducing a plucky journalist (Malin Akerman) who makes Jaxx reconsider his life of reckless self-destruction, and also ensures that Cruise's story arc is both inevitable and entirely dull. He's somehow simultaneously too present and not enough so, not in enough of the film to elevate it but in just enough that one wishes he'd been made the main character instead of the clean-cut banality that Hough and Boneta present. In the moment in which Cruise seduces Akerman with a rendition of Bon Jovi's "Wanted Dead or Alive," one gets a fleeting glimpse of the legitimate dirty excess that Rock of Ages wants to recreate. Like the rest of the film, though, we get a PG-13 version of an uncontrollable sexual romp that ultimately misses the point by miles.