Music
Metric grow up, get down on the dance floor. To varying success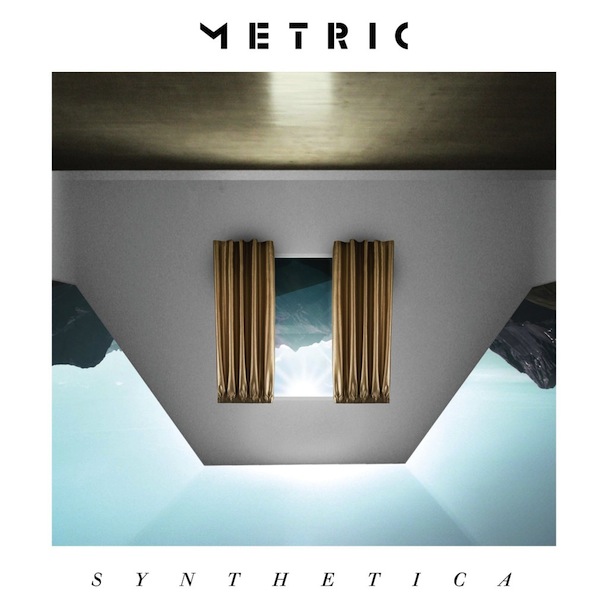 Synthetica Metric
Release Date: Jun 12, 12
1
2
3
4
5
6
7
8
9
10
It seems like only yesterday that I could look across a crowded college house party, feel the waves of restlessness waft up from an only hardly-moving sea of drunkards and know that right now, now was the time to dim the lights another notch and put on Metric's "Dead Disco." The riot anthem inevitably got people up, screaming, dancing, shirts off, and way more nerds laid by the end of the night than should be legal.
Now, after five albums, Metric has followed their namesake and progressed to a level that is finally as regimented as any other system of measurement. Always a bit of a synth-rock outfit, where once there Pynchon-esque counter-capitalism cries, frontwoman Emily Haines, especially here on Synthetica has become measured, balanced, introspective. Which stands right alongside the overall sound of Synthetica: measured dance-pop that would be as at home in a BDSM club as it is in your headphones while you're dancing along at work.
"Youth Without Youth" is particularly heavy on the grinding dance gears, chugging along like a freight train, a haunting synth line throughout, and Haines at the helm. This isn't a departure from the rock roots a la The Yeah Yeah Yeahs a few years back. The standout track "Speed the Collapse" walks a fine line between this late 80s haunt vibe and Metric's post-punk roots. Here, again, Haines toes the line between two worlds and really begins touching on the crux of the entire album lyrically, a detail of running away from an impending doom with the eery calm of the repeated line: "Feet don't fail me now."
There's celebratory tracks of resignation like "Breathing Underwater," when Haines chants, "They were right when they said we should never meet our heroes…Is this my life/Am I breathing underwater?" This track, that possesses more of Jimmy Shaw's patented shred-factor on guitar than most of the rest of the album, that sits right alongside others like the ballad, "Clone," (featuring a particularly vulnerable Haines and childlike staccato beat) and "Lost Kitten," where Haines practically plays a farce of herself in her highest octave, most over-the-top matter of fact shock-value lyrics.
Sound like a lot of breadth? It is. Which might be the album's downfall. For all the danceability and almost-perfect hooks, there's the lack of a punch in the gut on Synthetica. I want "Dead Disco." I want, "Monster Hospital." I want at least one standout track from this band that I know will get every last person on their feet. Metric, for all the high-minded high-wire acts they've pulled off on Synthetica, might have given up what they were best known for.
This is an album that I can see growing on me and other ears over time. It's a shock enough that I've got to get used to it. It's a great sign of maturation for the band. So I'll give it time. And in the meantime, I'll happily dance along.
(No, I did not comment on the Lou Reed cameo. That is something that I just… no.)