Culture
The Hipster's Cookbook: Grilling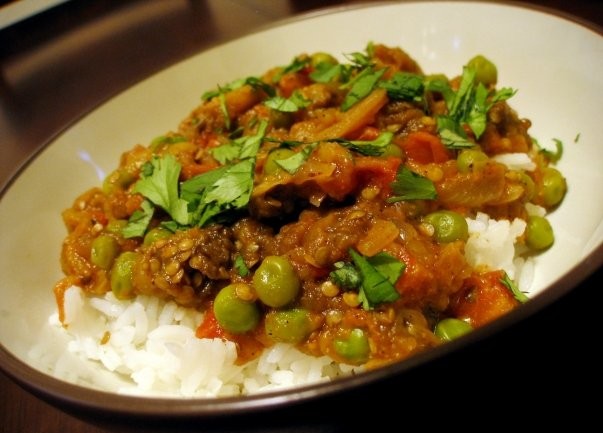 This is week two in a row of reasonably warm weather, so as far as I'm concerned, it's officially grilling season. That isn't to say that I don't grill throughout the winter in my snow boots, but it's a hell of a lot more enjoyable when I can stay outside while my food is cooking and not risk frostbite.
It's a well-known fact that every food in the world just tastes better when it's been cooked on a grill. And yes, to answer your question, you can grill ice cream. This means that you should be cooking outside every chance you get, all summer long. Obviously, a proper grill can be kind of expensive, and if you live in an apartment, storing one can be a challenge. (I keep mine on my enclosed back porch. Don't tell my landlord.) If you really just can't have a grill of your own, I recommend forcing the neighbors who do have one to be friends with you. As long as you're willing to pitch in for charcoal or gas (depending on what type of grill it is), they probably won't mind.
When most people think about grilling, what comes to mind is meat: hamburgers, hotdogs, sausages and, if you really feel like mixing things up, shish kabobs. As someone who's not terribly excited about meat in general and hates hamburgers in particular (un-American, I know), I'm always looking for different options for cooking out. Eggplant is one of my favorite underrated foods because it's filling and, although mild on its own, soaks up the flavors of whatever you cook it in really well. When I was nannying for an Indian family a few years ago, I loved it when they would make this eggplant dish, so when I found a real people job, I had to learn to make my own version.
There are many varieties of eggplant out there, and any of them will work for this recipe; however, large eggplants with shiny skin will have the least amount of seeds. Male eggplants also have less seeds than female ones (which I guess makes sense), so look at the indentation on the bottom of the eggplant to determine its sex. Female eggplants have a deeper, dash-shaped indentation, and males have a shallow, round one. The more you know.
—–
Baigan Bhartha
1 large eggplant
2 tbs olive oil
1 medium yellow onion, diced
1 large tomato, diced
1 ½ tsp minced fresh ginger or 1 tsp ground ginger
1 large clove minced fresh garlic or ½ tsp garlic powder
½ tsp turmeric
Salt and pepper to taste
Cilantro to garnish
Rice or potatoes to accompany (If you go with potatoes, just chop them up and put them in a foil packet with a little olive oil, salt and pepper, and put them on the grill at the same time as the eggplant. Bam.)
1. Set your grill to medium high heat or, if you're limited to inside cooking, preheat your oven to 400 degrees. Brush the skin of the eggplant with 1 tbs of the olive oil and, using a sharp knife, cut slits all around its surface. Place on the grill or on a baking pan in the oven and cook until the outside of the eggplant is charred and/or looks like it is starting to collapse, usually about 20-25 minutes. (It probably won't char in the oven.) Turn the eggplant once or twice while cooking, especially if you are working on the grill.
2. Use the time while your eggplant is cooking to dice your onion and tomato and mince the ginger and garlic if you are using fresh spices. Heat the remaining 1 tbs of oil in a pan, and, when you are ready to remove the eggplant from the grill, start sautéing your onions over medium-low heat. Don't forget to stir them occasionally while you work with the eggplant.
3. Remove the eggplant from the grill and let cool briefly. Peel the skin off, using a knife if necessary, and discard. Roughly chop the flesh of the eggplant into large pieces. It should be coming apart on its own at this point, so you won't have to do much work.
4. Add the eggplant, tomato, and all spices except the cilantro to the onions. Stir together and continue to cook over medium heat for about five more minutes.
5. Serve over rice or grilled potatoes and garnish with fresh cilantro.