Interviews
Interview: Barrett Lindgren of Ghost Light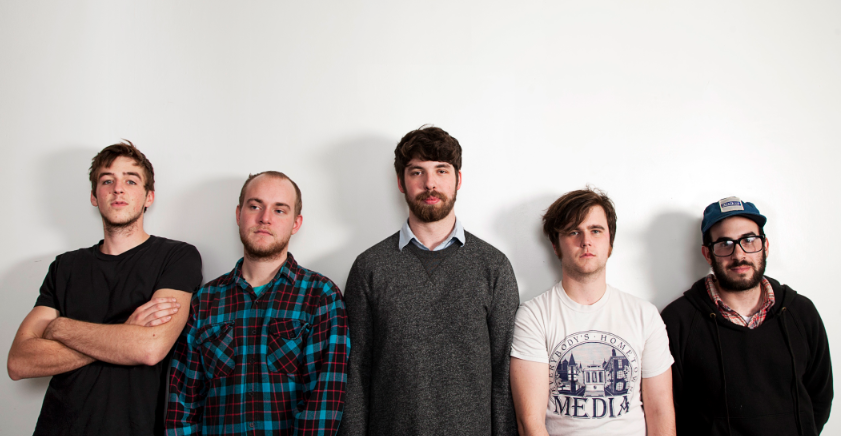 Barrett Lindgren is the lead in the Philadelphia-based up and coming band: Ghost/Light. Check out the links below and give them a listen, rest assured you will find yourself enamored by the way they can capture sadness and make melancholic melodies that tear you up inside. We spoke with Lindgren about Ghost Light, his insight on baked ziti, and the music scene in Philly.
Heave: Think of the first thing that pops in your head, don't say what it is, now send me a picture of it, or something like it.
Barrett Lindgren: It's my partner Grace making baked ziti. (Inquire further for exclusive ziti photos)
Heave: Single Girl Married Girl Records, tell me how you found them or how they found you?
Barrett: I had been following their releases for a year or so, and I really liked the stuff they were putting out. I knew Yianni (who runs SGMG and is in the band Hermit Thrushes) through a few friends, and when I finished recording Awful Feelings I asked if he would be interested in putting it out. We talked about it for a few weeks and decided to put out the tape.
Heave: What is the music scene like in Philly? I have heard mixed reviews…
Barrett: It lends itself to mixed reviews. I book a lot of all ages shows in Philadelphia for touring bands, and that has become a large part of music for me; the way people react to different music, the way musicians react to the crowds here, the way people act towards the people running shows, etc. There's a strange sense of "getting away" with it. It doesn't feel like anyone is watching most of the time, but once in a while you're reminded that some are; we've only really been a full band for a few months.
Heave: How did it start, can you give me a brief timeline?
Barrett: Well it goes really far back. I've been recording albums by myself since I was about fifteen years old. I started doing Ghost Light about two years ago when I made an album called New Beast and released it myself. After that I went on tour, came back to Philadelphia, and entered a pretty serious bout with depression. I lived in a hall closet and worked nights at a coffee shop. That's when I started recording Awful Feelings. About halfway through, I started talking with Jarret, Bill, and a few other friends about putting a full band together. We had some lineup changes and eventually settled into Jarret, Bill, Alex, Josh, and myself.
Heave: What are you listening to now?
Barrett: Honestly, a lot of SGMG stuff. The Dean Cercone/Skinless Boneless split is crazy and great. Everything Kate Ferencz does is so scary and honest and comforting. The last Hermit Thrushes record is mind blowing. Other than that, a lot of punk and noise stuff, Nation of Ulysses, Crass, Void, and Fat Worm of Error. Also there is this band SoftSpot from New York that we played with a few weeks ago, their tape is great.
Heave: What are a few items essential to your "tour survival kit"?
Barrett: Normal travel stuff. I like to bring a lot of tapes. We play a game where someone puts their mp3 player on shuffle and we get points for knowing what band it is first. It's a really stupid game and it means we never listen to anything all the way through, so tapes help us stop doing that.
Heave: What is the worst advice you've ever been given?
Barrett: "You should do more of a…what's that guys' name? Oh yeah, John Mayer. You should do like a John Mayer kind of a thing."
Heave: Missed connections ad written about you, what does it say?
Barrett: Somebody wrote one at the coffee shop where I work. They asked if I wanted to get a cup of coffee. Stop asking people who work at coffee shops if they want to get coffee with you. They almost definitely don't.
Heave:What can we expect from the band in the future?
Barrett: We just started working on an album that I've been wanting to make for a few years now. It's the first Ghost Light thing I've done with a full band. That will probably take us the better part of a year to finish. We're planning on touring for a few weeks in August or September.
Learn more about Ghost Light, and purchase their album Awful Feelings on Single Girl Married Girl Records.