Music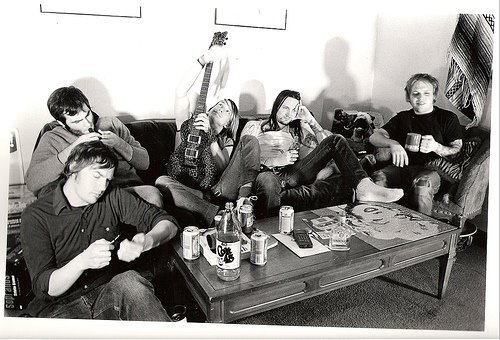 Daughters EP (2002)
BEWWWRRR  MEEEEERW TICTICTICTIC RAHHARAH!! DAUGHTERS USED TO BE A BAND CALLED AS THE SUN SETS AND THIS FOUR-MINUTE EP SOUNDS EXACTLY LIKE THEM A.K.A. WHAT YOU EXPECT FROM SONG TITLES LIKE "HELLO ASSHOLES" AND "A ROOM FULL OF HARD-ONS AND NOWHERE TO SIT." SUPER-TECHNICAL SCREAMY GRINDCORE. IT'S LIKE THEY HEARD DILLINGER ESCAPE PLAN AND ASKED THEMSELVES "WHERE ARE THE BLAST BEATS IN THIS???" AND ALSO ASKED SATAN "BLESS US WITH THE HARSHEST VOX" AND ALSO THE GUITAR EFFECTS ARE SUPER-SHRILL AND WINDING WHICH THE BAND WILL KEEP FOR THE DURATION OF THEIR CAREER. RORORORORORO!!! ARE MY CAPS LOUD ENOUGH FOR YOU? FOR FANS OF LIVING NEXT TO CONSTRUCTION SITES, PISSING LIVE HORNETS, AND SNUFF PORN FEATURING CANNIBALISM.
Canada Songs (2004)
Prepare yourself for the older brother of the Daughters EP: taller, angstier, more of a pottymouth. Like its sibling, Canada Songs is a mathgrind headache with crass song titles and a screaming dude who won't stop screaming at you. For the most part, Canada Songs is like the eighth grader tearing up your textbooks and shoving your head in a poopy toilet. And just like that older brother, Canada Songs is all brutality with little ingenuity. You come to expect his methods of torment. Wedgies aren't as big a deal after you get a few of them, and neither are double-bass assaults. How can an album with no songs over two minutes long have any room to get boring? As standalones, the wild bursts of super-technical grind are amusing. You don't even have time to skip them on shuffle. But an album? Good luck getting through these eleven minutes without an aspirin. The only dynamic shift (and it's pretty slight) is the inclusion of a few calmer bridges.
"I Slept With Daughters and All I Got Was This Lousy Song Written About Me" plays itself out with a spacey Cure-esque outro of quiet reverberated guitars spidering over one another (a trick they pulled almost identically on the previous EP).Most of "I Don't Give a Fuck About Wood" places a dance-punk bassline and cymbal-centric drums at the forefront, in lieu of the usually strident guitars and vocals which sit much lower in the mix. Also, the last half of "The Ghost With the Most" (thinly-veiled Beetlejuice reference) is still devious, but with calmer drums and more playfulness between the guitar squeals and bass; slurry spoken word can be heard over the quiet intensity, the preamble to Daughters' imminent maturity. Even violent middle-schoolers can grow up into senators, professors and hardcore musicians.
Hell Songs (2006)
The cavalry has arrived! By "cavalry" I really mean "occasional melody" and "radically new vocal style." Gone are the days of thirty-second grind songs and song titles about shitting and jerking off.  The drumming continues to be a breakneck apeshit tantrum, and the guitars still sound like dissonant, compressed sirens. Frontman Alexis SF Marshall quit destroying his throat screeching and adapted a low, dead-Elvis bawl, more of a talking voice with insane range than anything. The product is a distorted, profane, dissonant decapitation scene with a neck that can't stop gushing blood.
Daughters still don't have an attention span to speak of, but here their same level of ferocity is redirected toward a noisy, frenzied hardcore, one where the frequent changes in a song are less jarring and more logical and fluid. Sure, there are still blast-beats and breakdowns, but they're few and far between , scattered among the six-minute epic "Cheers Pricks" (in all of its funk-bass and wall-of-noise glory) and driving shredfest "Recorded in a Pyramid." With tighter production and songwriting, Daughters' inventive musicianship comes through crystal clear. The stream-of-consciousness stylistic structure creates interplay between the instruments. Riffs are saturated in octaver and whammy effects, crying out over Alexis' tales of people tortured by their selfishness and cynicism. Bands like Daughters get slapped with labels like "thinking-man's metal" or "grownup hardcore," and as belittling as it sounds, it makes sense. The band have finally synthesized a more unique sound that challenges what "chaos" and "noise" once meant in punk.
Daughters (2010)
Q: Honestly, did you even hear the album?
A: Dude, I pre-ordered it as soon as it was announced. I've been a fan since As the Sun Sets.
Q: Then how is Daughters not working for you?
A: You kidding? They sold out. It's watered-down. Alexis SF Marshall said it himself.
Q: Marshall also labeled Canada Songs as "30-second phony grindcore with sarcastic titles" and "bullshit."
A: This one's totally accessible though.
Q: Bullshit. The production reaches Steve Albini levels of static-breaking noise. The atmosphere is so dense and grimy. There's no peace on this record, it's disgustingly suffocating. Are you forgetting this is still hardcore? To whom is this accessible?
A: Posers.
Q: Okay, the first thirty seconds of "Sweet Georgia Brown?" That's classic Daughters. Animal from the Muppets on drums, wailing guitars sliding all the way up and down the fretboard, brown-note bass–
A: Tch, then it turns into a pop song.
Q: Danceable and bluesy, sure, but still saturated in a downpour of machine racket. And the last half of "Our Queen"? That keeps switching between heavy snare bursts and the handclap-stravaganza that is one of the catchiest things that happened in 2010?
A: Daughters aren't supposed to be catchy. They're grindcore.
Q: What does that even mean? How can communities of people who claim they love music use abstract words like "grindcore" and "atmospheric sludge metal" and "electro-folk" to measure other bands against each other? Who cares if The Number Twelve Looks Like You is better at noisecore or whatever than Daughters? Who said Daughters even set out to do be that kind of band?
A: Well–
Q: No. This record is a natural evolution. I can't stand you OG fans griping about a band's progress. You reserve every right to think a new direction sucks. I happen to think Mastodon are half the band they used to be, because the music they make now doesn't suit my taste. But when a band moves away from an easily categorizeable niche, you basement-dwelling gnolls feel entitled to a sense of betrayal, like Daughters changed at you.
A: But Alexis said–
Q: Once a work is published, it no longer belongs to the artist. The fact is, this album happened, it's breathtaking, it's ours. It's equally brutal but so focused and disciplined. It's the loudest thing Daughters have done and one of the loudest records ever.
A: Loud by ripping off that band The Jesus Lizard. What is that, Christian rock?
Q: Influences, sure, syrupy Louisiana cacophony like tourmates Young Widows, sludgy wall-of-sound like their labelmates on Hydra Head Records, and noise pioneers like Jesus Lizard or Shellac, they all play a part. But it's Daughters.
A: I mean, the intentional skip in "The Hit" did make me do a triple-take.
Q: Exactly! All those tormented guitars with that galloping rhythm. How about the ten trillion guitar tracks fighting at once on "The First Supper," then locking into those sparse grooves, come on, the pins-and-needles dynamic that literally sounds like going to hell.
A: Did we listen to the same record, dude?
Q: Listen. "The Unattractive Portable Head" is a perfect closer. The creepy Casio organ. Clapping. Shrieks and howls. The feeling of being crushed. It may be the band's altogether finest moment. Maybe it's what makes Daughters such a controversial album: it came out of nowhere, shocked, disappeared and was rife with these small tweaks and experiments that brought some fans to rejoice and some to despair.
A: How could they end on this note?
Q: Bittersweet. It's a jigsaw last monument to a short-lived band, an exercise in claustrophobia, aggression, anxiety and catharsis. Long live Daughters.
A: I want my money back.