Culture
A perfectly long "Engagement"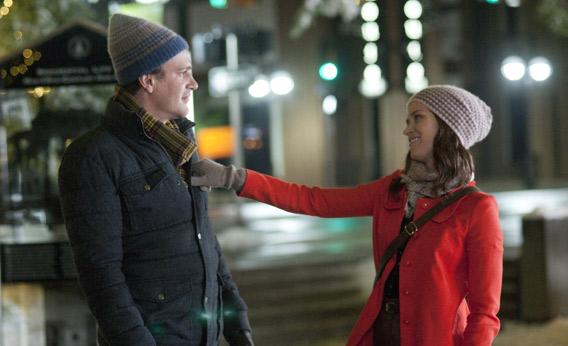 The Five-Year Engagement dir. Nicholas Stoller
Release Date: Apr 27, 12
1
2
3
4
5
6
7
8
9
10
We've now reached a point in American popular culture where A-level comedies can form around the idea of a man giving up his career for his wife, as evidenced by The Five-Year Engagement. And that's pretty great, even if the movie at times still paints it as seriocomic tragedy. Violet (Emily Blunt) and Tom (Jason Segel) meet cute at a New Year's Eve party in San Francisco, and within the year end up engaged. This is merely where the film begins, though, for Violet gets an offer to do her post-doctoral work at the University of Michigan. Tom agrees to relocate from California to the Midwest while his fiancée pursues her dream job, but he quickly realizes that giving up his job as a sous chef at a high-end restaurant and possibly becoming a "house husband" isn't all it's cracked up to be.
There's a lot of director Nicholas Stoller's past two films in Engagement. Like Get Him To The Greek, the film goes to some increasingly real, nerve-touching places as it unspools, and like Forgetting Sarah Marshall Stoller isn't interested in plot as much as he is in following these two people through a scenario and seeing how they react. There's a thrill in watching his films, no matter how unwieldy they might get, because his is a style of comedy that isn't done nearly often enough: the genuinely humane. Unlike most films, and indeed even some of Judd Apatow's work, Engagement doesn't impose value judgments on its protagonists. There's no right or wrong answer for how Violet and Tom handle their predicament, and the movie carries itself accordingly.
It's also really, really funny. Segel, game as always, gives Tom the wounded feel of a man who suddenly finds himself experiencing the alpha male's angst, despite not being one in any way. When he starts to come unglued and embraces the "gritty naturalism" of the Midwest, his natural vulnerability gets mutated into something hilarious and yet deeply sad. For as great as Segel is, Blunt is even better as the funny, radiant Violet. She's long been one of Hollywood's most naturally magnetic actresses, but she gets to show off a light, goofy touch that far too many of her movies don't bring out. The supporting cast is a murderer's row of talented comedians; Kevin Hart, Mindy Kaling, Brian Posehn and Chris Parnell all show up, to say nothing of Chris Pratt and Alison Brie's scene stealing as Tom's best friend and Violet's sister. Rhys Ifans is also quite good as Violet's overseeing professor, who could've easily been a smooth-talking lech but instead gets legitimate depth.
The film runs over two hours, which at times starts to become apparent, especially when the film ends up finding more concluding moments than The Return of the King. Despite this, though, there's a subtle rhythm that keeps the film moving, and a lot of it comes from the fact that Segel and Blunt have a sweet chemistry that make Tom and Violet two of the best romantic heroes in recent cinema. The rest comes from the film's willingness to explore some difficult issues related to manhood, love and the process of sacrificing one's life and livelihood for someone else's sake. Unlike so many movies ostensibly about fated love, though, Engagement shows a couple that's actually, truly supposed to be together no matter what. And that's pretty great.