Music
Can't Stop Won't Stop: 4/27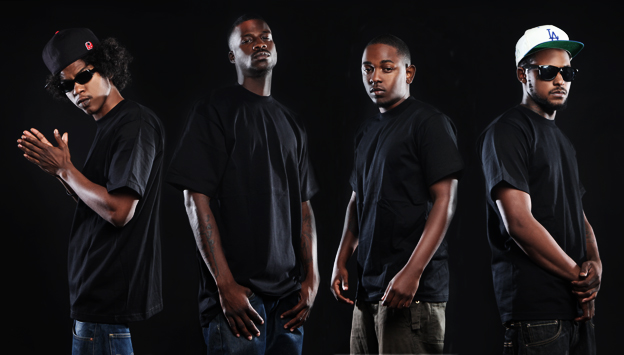 5) Talib Kweli, Ace Hood – "Let 'Em In" (prod. M3 and Noyd)
"Opportunity in the flesh so let em in," That's part of the chorus off one of my favorite tracks of the week, "Let 'Em In". Talib Kweli released a mixtape entitled We Run This Vol. 7 (available right now on iTunes), where he teams up with up-and-coming Def Jam artist Ace Hood. I really love the uptempo beat and style that the two are able to conspire on. Three verses of fast-rapping delivery and a funky beat proves that the odd union of the two MCs is a great combo.
Pros: Pleasantly surprised by the unlikely tag team of Talib Kweli and Ace Hood.
Cons: Not knowing We Run This Vol. 7 was out is completely unacceptable on my end.
4) Slaughterhouse and Cee Lo Green – "My Life" (prod. Streetrunner and Sarom)
Slaughterhouse's upcoming album Welcome to: OUR HOUSE provides a single that features the abstract Goodie MOB pioneer Cee Lo Green. I'm torn over this track. For one, I like the lyrical flow that Slaughterhouse has, and it stays true on this track, but the beat and Cee-Lo add a poppy, commercial, crossover feel to it. It's sad to say, but that's one of the directions hip-hop keeps heading: trying to appeal to larger audiences in hopes to generate even more revenue. The open-mindedness in me respects it, but hopefully the album is a little grittier.
Pros: The lyrical flow the group has doesn't get overshadowed by the beat and Cee-Lo.
Cons: Kinda poppy/radio-made.
3) Wiz Khalifa – "Work Hard, Play Hard" (prod. Stargate and Benny Blanco)
YEAAAAA BITCHHHHH! Wiz Khalifa delivers another hit single from his upcoming album O.N.I.F.C., to be released this August. Equipped with a catchy hook and killer beat by Stargate and Benny Blanco, this makes the anticipation from Mr. EZ Wider worth the wait. This track is an anthem for all those out there grinding 9-5s, those who enjoy and relish their down time by partying hard. Work! Work! Work!
Pros: Hook, beat and I have one of my favorite artists back.
Cons: O.N.I.F.C. comes out in August. I needs that, like, yesterday!
2) Ab-Soul, Schoolboy Q – "SOPA" (prod. Nez and Rio)
I love this track! The beat by Nez and Rio is dirty as hell, and I'm all about the Black Hippy artists Ab-Soul and Schoolboy Q. The lyrical flow is dope, and the content may be a little dark for some, but I absolutely digs it. Poking fun at the anti-piracy bill SOPA, the TDE (Top Dawgs Entertainment) running mates provide a single to be featured on Ab-Soul's new album Control System, dropping next month. I'm all over that.
Pros: Really like the beat. Plus, Black Hippy!
Cons: Some of the lyrics are a little dark.
1) Jadakiss, Fabolous and Lloyd Banks – "Respect It" (prod. Marley)
If you thought I wasn't going to put a new track featuring heavyweights Jadakiss, Fabolous and the PLK at number one, you must be crazy. "Respect It" is a new hit off the Consignment mixtape from Jadakiss, scheduled to drop today. You have the right hook by Fabolous on the first verse, uppercut by Kiss on the second and a KO by Banks at the end, on a track displaying some of the best MCs in New York right now. I don't even know where to start with my admiration for Jadakiss, but all I know is Consignment will be in heavy rotation the whole weekend. DBLOCK!
Pros: Jadakiss is back.
Cons: Jadakiss was gone.

—
Mixtape of the Month Review
Wiz Khalifa – Taylor Allderdice
The prince of the city, Wiz Khalifa, has grown up right before my eyes. The skinny pothead delivers another classic to his mixtape resume with Taylor Allderdice. I know the mixtape dropped last month, but I didn't have a column last month, so bear with me! He's worked hard to get where he is today as an artist, from his series of some of my favorite mixtapes such as Prince of the City, Flight School and Kush and Orange Juice. I admit, like many I gave up on Wiz Khalifa after he released Rolling Papers, because it just didn't sound like the same rapper I was accustomed to. I felt he sold out. But when Taylor Allderdice dropped, I was hooked again. Top-notch beats from I.D. Labs, Spaceghost Purp, Cardo and Sledgren couple perfectly with Wiz Khalifa's smokey, ball-hard bravado. The main reason I like this tape is because it sounds like Wiz is having fun again. If you knew/heard of Wiz's rap before, complaining that he only raps about weed is just foolish, because that's who he is. Plus, I respect people who are accountable for their actions; knowing Rolling Papers wasn't the greatest album he expected, he says it was "a learning experience." Apology accepted.
There are a total of 17 tracks on Taylor Allderdice. Some of my top tracks are: "California," "Amber Ice," "Mary 3x," "Guilty Conscience" (my favorite track), "O.N.I.F..," "Never Been Part II," "Nameless," "Rowland" and "My Favorite Song." Now, I might be a little biased, but having Juicy J team up with Wiz on some of the tracks on the mixtape just does it for me. I can't help it; I'm all about anything Juicy J does, so get over it. I previously mentioned his new single "Work Hard, Play Hard," in my top tracks section, and I eagerly await the release of his album this summer. Taylor Allderdice works well to curb that anticipation.