Reviews
Cosmic love = cosmic sound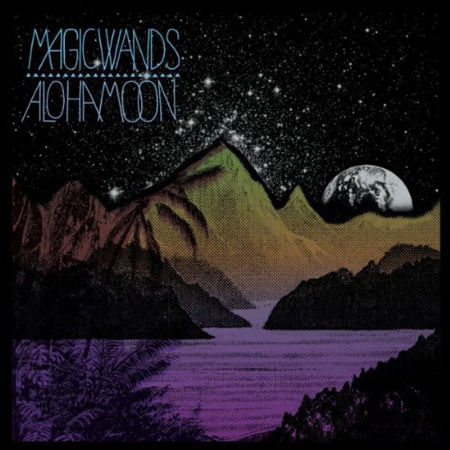 Aloha Moon Magic Wands
Release Date: Apr 24, 12
1
2
3
4
5
6
7
8
9
10
If ever you find yourself in a situation where you're alone and left to your own devices, let the trance-like voice of Dexy Valentine be your guide home.
Popping Aloha Moon onto your stereo just may be the most cosmic thing to happen to you since those chaps in The Hitchhiker's Guide to the Galaxy found out the meaning of life—which is 42, by the way.
The band's beginnings are just as mystifying as they sound. When Chris Valentine stumbled upon "Teenage Love" on Dexy's MySpace back in 2008, he didn't know what hit him. Enticed by the straightforward nature of the song, Chris dropped Dexy a line via MySpace and after several months of corresponding between Los Angeles and Nashville, they formed Magic Wands. The first song they put together "Kiss Me Dead," was ironically a song that Chris had intended to be written just for Dexy.
After four years in the making, Aloha Moon, was released on Bright Antenna Records. A handful of the tracks were produced by the magical hands of Dave Sardy (LCD Soundsystem) who added the elements that Magic Wands were lacking as a duo. With the addition of drum and bass tracks, Sardy managed to retain the band's dreamlike, astral sound and enhanced Dexy's liquid-cool vocals.
Magic Wands takes a more modern twist on the Postal Service's approach to music collaboration, while at the same time pushing towards a more vintage sound. A number of the tracks just barely tear down the "lovewave" environ that Aloha Moon thrives in. Dexy's trancelike voice trail on in the tracks like a path of white smoke—or perfume—and a lot of the sound is self-contained in its own little world. Though there are some sick guitar solos here and there, none of these songs would break your REM cycle. They're all calm, which is totally uncharacteristic of Dexy's earlier stuff (she was once in a punk band).
So, if you're looking for that nice cinematic backdrop to your evening cruise off into the sunset or just something calm to soothe you into a celestial slumber, take out your Magic Wands ready your aim, and wait for the sparks to fly.