Interviews
Interview: Keith Hampson of Power Animal
After Keith Hampson dropped out of high school when he was 16 he began picking up instruments and recording songs in his bedroom under the alias of Power Animal. Years passed and he eventually formed a live band. I caught up with Hampson late Sunday evening for a two-hour conversation about everything from allergies to homemade xylophones.
Heave: Draw me a picture of something you love, Keith.
Keith Hampson: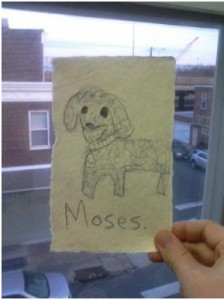 This is my dog Moses. He's a bichon poodle though it's probably hard to tell because I'm not that great drawing. Any who, he lives with my mom and her fiancé in south Philly and I don't see him that often. Though last week my mom went to hang out in Argentina to dance the tango and what not, as she often does and I got to walk him a couple times which was nice. He's chill… actually I don't know why I wrote that, he's pretty hyper like all the time. But yeah he's cool.
Heave: Do you have a day job?
Keith: Yep! I work as a DJ for this company called In the Mix Entertainment. I don't know if this needs to be pointed out but if you look at the website, those aren't my actual favorite songs and I don't usually dress like a member of Papa Roach or something.  I work weddings and stuff but mostly sports bars a few nights a week…places where I have to yell drink specials between songs and play top 40 music. It's pretty weird. But I also just got a job as an assistant regional manager for a Lifeguard Co.
Heave: Where did you grow up?
Keith: I grew up in Northeast Philadelphia. It is almost like a suburb. It's 20 or so minutes outside of center city. But it was totally void of any local music scene.
Heave: How did you start getting into music?
Keith: I just started recording music when I was 16 or so in my bedroom. I recorded a ton of songs that were mostly what made up the album People Songs, after the songs had been sorted through and adapted by the full band. I had no plans to play shows but my friends and especially my brother were super encouraging with the idea of turning it into a live band thing. Being from the northeast part of Philly, it was a really slow process to get to where we are now. We didn't really know any bands and had to play a lot of crappy shows at first.
Heave: Give me an example of a really crappy show you played.
Keith: We played in this one basement that no one came out to with this band from NJ who were all in his or her late 30's. They played prig-rock ballads. They were sort of extreme, bringing this huge laser light show rig. But it was absurd because there was only like eight people there. They had a smoke machine and with all these lasers blasting at eight miserable people in a smelly basement for what seems like two hours.
Heave: What instruments do you play?
Keith: I play the marimba, banjo, glockenspiel, flute, tuba, piano, drums, synths, samplers and a few other instruments that I'm pretty poor at. Also I built these portable vibraphone things where the keys of a vibraphone are separated into 4 parts on these little frames I built. There is actually a video of us using them from a piece we played on tour from while back.

Heave: So you mentioned earlier you have really bad allergies?
Keith: Yeah, cats and dogs are kind of the worst for me. (Moses is hypoallergenic)  A couple years ago right before I left for a tour, I was at a friend's house practicing and noticed my eye was all red and itchy which was normal beings that I was allergic to his cat. It didn't go away though and it kept getting worse as the tour went on. I went to the ER twice in whatever states we were passing through and they treated it with medicines that weren't working. Finally on my 21st birthday we were set to play in Carbondale, IL, but the moment we got there I had to head straight to the ER, I was in so much pain.  I remember the doctor pulling out a book saying,
"We've got to figure this out!"
He found out I had Allergic Conjunctivitis and not just regular pink eye.
He basically said I needed to go home and be isolated from all the new outdoor allergies I was experiencing while traveling. So I took a 3 am Amtrak to Chicago and then took a 14 hr train ride from Chicago to New York and finally back to Philadelphia. But I do really enjoy touring, and I ended up going back out a few weeks later to finish the tour. Also if I take Aspirin or anything in the category I will pretty much die.
Heave: Tell me about the recording of People Songs?
KeithPeople Songs consisted of seven of my friends and I playing adaptations of what I recorded in my bedroom years earlier. We made it with our friends Sleep Whale over the course of two weeks at their house in Denton TX.

Heave: Tell me about recording the latest album Exorcism?
Keith: Right after we did our big tour for People Songs I got really sick with mono. I was sick off and on for a good year or so. I'd get better for a few days and then just come down with some random symptoms and sometimes end up in the hospital. I was just super fatigued all the time, so I made the majority of this EP just kind of laying in bed with my sampler and going through a collection of cassettes that I'd bought at thrift stores. I had this awesome cassette player that I got during the year or so I was in high school. It was designed for playing books on tape and they were issued to blind and dyslexic kids. I can't remember why I was given one exactly because I'm not dyslexic or anything. But anyway, the books on tape were separated into 4 mono tracks rather than 2 stereo tracks like a traditional cassette. The cassette player had all these functions to work with them that were really handy with getting cool sounds out of commercially produced cassettes. I would slow them down or speed them up and then put one channel in reverse and send it into my 404. The backbone of the album comes from that. Most of the album was composed in the SP-404.
Heave: How did you decide on the title of the album?
Keith: I guess I really felt like I was in a rut when I made that album, I couldn't figure out how to get healthy again and there were a lot of other things falling apart in my life. I felt kind of resentful and also guilty about a lot of stuff. I guess the title Exorcism was just about trying as hard as I could to release some crappy feelings.
Heave: How did you go about releasing both albums?
Keith: People Songs, was originally released on Waaga but then re-released through our label: Human Kindness Overflowing. HKO is my friend Paul North's and myselfs (aka Sunnybrook) non-profit label. Exorcism was our second release with HKO and was also put out on an awesome cassette label called Crash Symbols .
Heave: Both albums proceeds partly go to charities, correct?
Keith: Yep, for People Songs, 50% of the proceeds went to the Japanese Red Cross and Exorcism is raising money for a local food bank called Philabundance.
Heave: What's coming up next for you and Power Animal?
Keith: I'm working on a new album with my friend Kyle Pulley helping out at Head Room Studios. It's the first time working on an album from the ground up in a really decent studio with a producer/engineer guy. It's really exciting. I'm also using Ableton now. I'm trying to make things fancy. I don't think people will use the word "bedroom" or "lo-fi" when they describe it; at least that's what I hope. Not that I hate that or something, I just want to move on from it. But yeah, I'm really pumped on this.
You can download the album from the HKO bandcamp or get the Cassette from Crash Symbols. This album also has a b-side of remixes with artists such as Lushlife, Botany, Melting Season, Spirituals, and Golden Ages. Released in February 2012 with Crash Symbols. All the songs were recorded in Keith's bedroom and mixed with the help of some friends.
Listen to the title track here