Interviews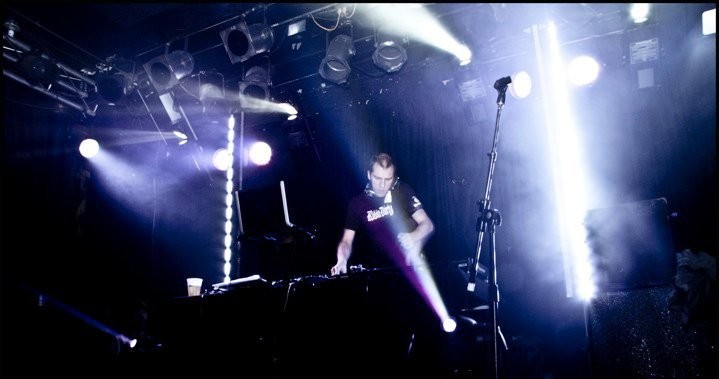 Jeekoos got his start deejaying in the 90s and has since had several radio shows in addition to joining the Part Time Sucker Radio crew. He is also a founder of Dubfront Records. You can hear him spinning this Friday at Katacombs.
Heave: What's been the biggest challenge with running your own label?
Jeekoos: Lack of time. All three of us that are running the label have been getting busy in other areas of our lives to the point where the label is suffering. I'm not sure how many more releases Dubfront will see any more, if any at all. It had its time.
Heave: How do you balance running the label, deejaying often, and also creating flyers for other bands and events? Mad discipline, or what?
Jeekoos: I'm very passionate about all these things, so if it means losing sleep or not eating in order to get things done, you know… shit gets done.
Heave: Obviously, audience interplay is a huge part of a DJ performance. Your own mood, your creative agenda, must also have a big role in a set. Do you size up the crowd first? How do these pieces of your process fit together?
Jeekoos: I usually have an idea what a given audience may be looking for (a little bit of research helps), so I try to select at least some music that may fit the specific club or event. However, there is always a good chance it may all go out the window as soon as I start playing. I definitely pay attention to the crowds reaction to the stuff I play and try to give them what they want. However, lately I have been enjoying genres that may not be expected of me and I do try them out while playing live which can have all types of unexpected reactions…But I must say that so far it's been working out pretty well. Of course the radio show is quite different, it pretty much only depends on my mood.
Heave: You've played venues all over the country for several years. What's one of the most memorable experiences you've had, good or bad, in other parts of the States?
Jeekoos: Last years Hookahdome at Burning Man between Joro Boro and Sub Swara, on a Saturday night, for a few hundred people was one of the most amazing out of town shows I have played. Sharing the stage with these people, at that place… it does not get any better than that.
Heave: With dubstep arguably being one of the most evolving genres in music today, how tricky is it to not only evolve, but to maintain a certain aesthetic or sound for just the right amount of time, in order to be definable in the timeline of dubstep?
Jeekoos: Hmm, I feel that everyone does it their own way to a degree. Also, dubstep is a fairly open term in my opinion, so I don't think it's too difficult to maintain the sound…In my case I am always looking to make raw bass music, whatever genre you wanna call it. I create what sounds good to me at the time.
Heave: Describe what is you bring to the genre or would like to bring to dubstep.
Jeekoos: I try to keep dubstep honest and rooted, while still experimenting with new sounds and structures. seeing how trends come and go, I try to make upfront, gritty, bass-heavy music, whatever you may call it.
Heave: Favorite venue in Chicago to play at?
Jeekoos: Smartbar. Darkroom has also been on my favorites list. I've always had a great time playing at both of those venues.