Culture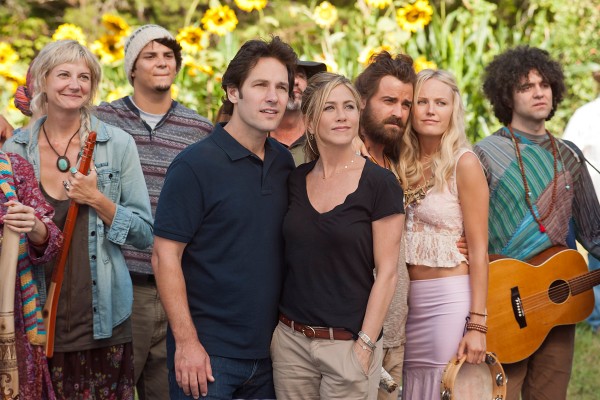 Wanderlust dir. David Wain
Release Date: Feb 24, 12
1
2
3
4
5
6
7
8
9
10
David Wain's Wanderlust continues in the vein of 2008's Role Models in that it delivers at times the bizarre alt-comedy on which he made his name through TV's The State and Stella (and for that matter his modern cult classic Wet Hot American Summer) while also softening the edges for mass consumption. Though there's nothing here quite as gleefully bizarre as Models' climactic LARP battle, Wanderlust is consistently funny and delivers its own share of genuine belly laughs, many of which come from its willingness to push its R rating as hard as it damn well pleases.
George (Paul Rudd) and Linda (Jennifer Aniston) are the typical tech-addicted New York power couple, until George unceremoniously loses his job and with it his ability to support Linda, whose penguins-with-cancer documentary was just turned down by HBO. They head for Atlanta, where George's obnoxious brother Rick (Ken Marino, who co-wrote with Wain) has a data-entry job for him that mostly involves constant, belligerent humiliation. En route, they spend one night getting stoned and playing the didgeridoo at Elysium, a commune (or rather, an "intentional community") in the woods. When George finally cracks and refuses to stay at Rick's, they return to Elysium, where Seth (Justin Theroux, hilarious) and the rest of the "family" welcome them with open arms. When Linda starts to take to Elysium better than George, though, they're forced to face their own issues in comparison to what seems to be a blissfully happy collective.
Wanderlust benefits from a murderer's row of talented comedians in virtually every role. Rudd, who's found an entire second career in the past decade, is consistently hysterical as the uptight George. He's the perfect representative for the current generation, envious at first of the carefree hippies around him but unable to fully let go of the modern life he loves, mostly because he's hooked on it. Even more entertaining is Aniston, who's been liberated in Hollywood by letting her freak flag fly here and in last year's Horrible Bosses. Most of the film's best moments come from the two bouncing off the other residents, among them Joe Lo Truglio as an oenophile nudist and Malin Akerman giving her best turn in some time as the free-loving Eve. (An extended cameo involving a wacky, three-piece-suited news crew is a highlight for any longtime Wain fans.)
Although there are consistent laughs here, Wanderlust's commitment to plot stops it from entering the higher ranks of recent comedies. There are far too many moving pieces for a movie that finds its rhythm in simply bouncing its characters off each other, and one main character's ultimate sinister intentions come off as an unnecessary letdown. There's also not too much to the film, which poses a simplified version of the already oversimplified thesis on display in last year's Midnight in Paris, namely that running away is fun but you can't do it forever and it's best to just remember the lesson. A serious dose of strange outside of the fairly rote peyote trip sequence halfway through would've gone a long way in Wanderlust. For as funny as the film gets at its peaks, it's hard to sense any feelings of genuine liberation for a movie about free living.