Reviews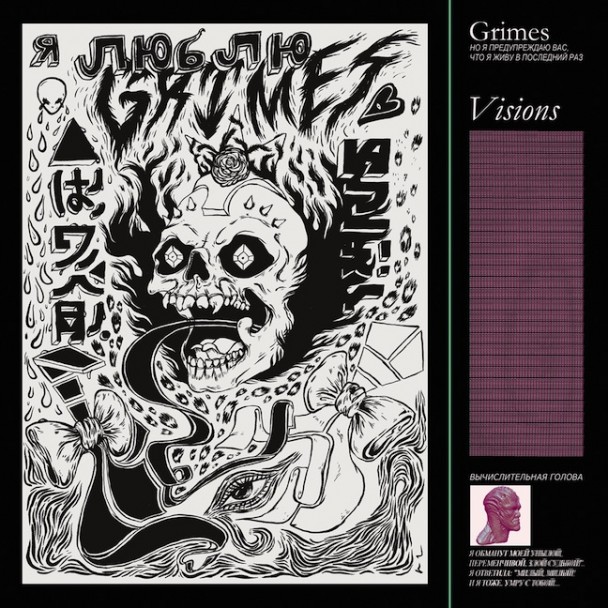 Visions Grimes
Release Date: Feb 21, 12
1
2
3
4
5
6
7
8
9
10
Whoa, whoa, whoa. Wait a minute there! This isn't a metal album, so put down away your leather and chains…unless that's what you're into.
For crunching out four albums in a little under two years, this girl's got it going on. Grimes aka Claire Boucher, is a 23 year-old singer-songwriter whose stomping grounds hail north of the border where maple syrup and dance music seem to be a prominent thing this time of year. This Montreal-based gem not only produces everything you can hear, but she is also the magic behind the artwork.
Visions is Grimes' first record with 4AD, an indie label responsible for giving us Grammy award winning artist Bon Iver and other memorable musicians Blonde Redhead, The National, and the like. The album plays on the musical elements of panning, layering, delicate vocalizations, and sappy lyrics packaged in a form that allows the listener to dance carelessly in the dark alone. It's an emotional journey. Let's begin.
Just as the cover art clearly depicts, the album itself is all over the place. With tracks like "Colour of Moonlight (Antiochus)" that have Prince-like influences very reminiscent of "When Doves Cry" to her hit single, "Oblivion," which shows off Boucher's Lykke Li-esque voice, you'd be surprised that this girl doesn't even know how to read music.
Two tracks in particular stand out simply due to the strong, oriental influences they carry with them. Her latest single, "Genesis" has a cascading piano line that reminds you of dragons, fireworks, and the Chinese New Year. While, "Be A Body (侘寂)" is one that touches upon the Japanese aesthetic of Wabi Sabi, a belief that embraces the beauty of transience, which when applied to music is a no-brainer since the listener knows right off the bat that the song is eventually going to end.
From a lyrical standpoint, the songs are very simplistic and have a sort of sadness to them as if they're trying to reach out to a specific person, something that can be very typical of a young artist. Regardless, the vocal style of Grimes keeps your interest. "Circumambient" speaks to this concept, while throwing you in a world of cyborgs and confusion. Many of the songs have a very symmetrical set up that gets jumbled up in the breakdown with a copious amount of lyrical layering and catchy beats.
Panning vocals during the intro play on the ears in a musical game of hide and seek in "Skin." When Boucher whispers, "You act like nothing ever happened but it meant the world to me," you can't help but relate to this girl. We've all been there before: that one that got away and left you to sulk. Regardless, this track  fully exemplifies the common threads that pieces the entire album together: complex layering, clever panning, somber vocals, and a nice sweeping chord progression all put together in a very symmetric way. And then the album ends, just like everything else does…