Reviews
Fictionally time-traveling with One Model Nation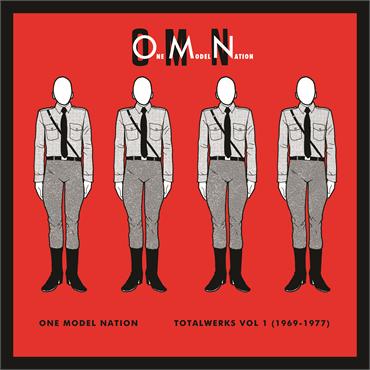 Totalwerks Vol 1 (1969-1977) One Model Nation
Release Date: Jan 31, 12
1
2
3
4
5
6
7
8
9
10
It is Germany, in the 70s, and you and I are characters in this past. The war has been over for some time but you and me, our parents did some pretty awful things. Now we've grown up in shame, but are breaking out via Western culture – hello Krautrock. If our country is repressed, that doesn't mean we have to be… Courtney Taylor-Taylor, of The Dandy Warhols, has played the God game and added a whole slew of awesome rules, like making a CD and a comic book relative parts of the whole fictional world. Pairing up with Donovan Leitch (son of the Donovan, and whose sister is Ione Skye) to create a fictional band, One Model Nation. With the help of Elliott Barnes and Jon Fell, the unreal Germanic youth group of industrial tech-pop came to be within three days. The story itself, however, took ten years. Listening to Totalwerks Vol 1 (1969-1977) opens you up to page one, but doesn't number the corners afterwards, leaving you to figure your own way out.
You are waking up in a factory, disoriented. You try to comprehend the agonizing words coming at you, about being an only friend. But before you can fully digest, you're jolted upright by a steady electronic beat that has ominous undertones. The whispering of a static nation on "Transmission" can't help but remind me, of course, of At The Drive-In. But as the various voices layered, some distorted roughly, others light-hearted, singing their passive aggressive ode to the beginning of their attempts at ruling, the 80s blare through clearly and it's quite like a delusion set to Devo or Joy Division.
Now that you've begun the journey, "East Berlin" picks up the pace just a step. The song,  in it's marching-in-place feeling, welcomes you to where destruction still is subdued beneath the society. The simple lyrics, telling you this song is not about Amsterdam or Baghdad, or a number of other places, point out the earnest of these fictional youth – like suffering from "middle child syndrome," surrounded by a number of other high-name cities and countries leaves Berlin an overlooked question mark. In East Berlin, not all ist sehr gut. But you couldn't know if you weren't there.
"Nihilists, Communists, whatever's fair," sing-song OMN on "Mission To Mars." When growing up knowing only one thing, what else do you know? Only what you can reason. We've never been to Mars, can we know what it's like? The song is like a dream version of what other societies may be like: a blasé look at just another city, just another bar, just another people. It's the seed of anarchy but it's not receiving any water or sun. Only what sounds like a soundboard from Terminator.
A brawl in your ears, a chaotic mass of people, you're caught in the middle of a rave or a bust, muffled and sounding electronic, like those phone recordings played on Cops. "Russian Standard Time" is unsettling and unnerving, perhaps crossing the border of East Berlin. I get the sense of A Clockwork Orange, and this would be the audio equivalent of one of Alex's horrorshow nights, Russian-based youths taking the leaders' torch of honor and slowly burning them down with it. Quick, at 1:33, and the job is done.
Starting more simplistically, "Bicycles" sounds like the original Blue Man Group, the tin sounds of (I'm envisioning) old garbage can lids and beads and industrial rhythms. It's like the mechanism of a bicycle wrote an ode to itself while still sounding like a rave-worthy piece of synthesizer enchantment. Bicycles changed people because they're empowering, versatile, simple, and clean. Here, that all becomes sound.
As you play your way through Totalwerks until fantastic close-out, "Gypsum Noggur," you will continue to be taken in by these young resistors, feeling berated by the work of the rock, feeling, certainly, oppressed. You may follow the story or be lost in the post-war. You have 7:58 on this last track to decide what you'll do – follow One Model Nation and play the album again, or run back to Western culture to ponder over what you just heard. Either way, an impression has been made. Time traveling will never get old.