Music
Seven Day Listen: 'This Island'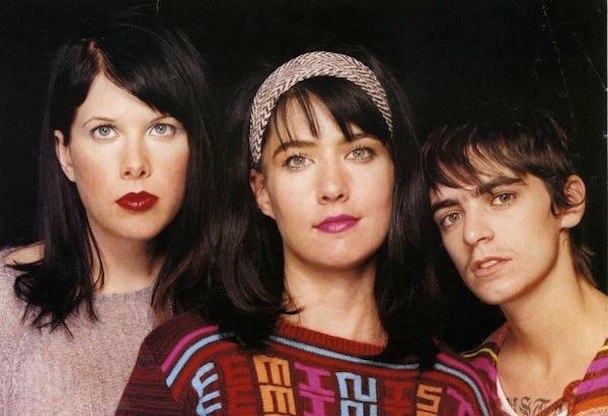 Welcome to Seven-Day Listen, in which we listen to one album every day for a week straight to see what we may find. This week: Patrick Gill considers Le Tigre's This Island.
I saw this album as I was mining through my CD collection for Sleater-Kinney's All Hands On The Bad One to write about how concert clips of Wild Flag and her role on Portlandia have Carrie Brownstein making me question my sexuality. This pale pink disc though poked out, smiling as if it were saying "This is my week.  You wanna shake your ass."
Le Tigre is an amalgamation of the Riot Grrrl movement of the Pacific Northwest 90s, Kraftwerk inspired robot noises, and feminist performance art that involves a lot of vinyl and bright cellophane patches on neon dresses. They are a highly celebratory and critical thinking group of musicians who make you want to dance, know things, and love yourself.
Their third album This Island is the soundtrack to parties thrown by the fun people in your college's Women and Gender Studies Department. Released in 2004, it was also their last before their hiatus in 2007. They currently are doing things understood to be what cool people do on hiatus: side-projects, teaching art classes at NYU, DJ sets at that club in that hip major metropolitan area, running hair salons in the West Village, and producing songs with Peaches for a Christina Aguilera album.
Day One:
This Island is by far Le Tigre's pop-iest/most synth-heavy outing. It is also their first venture off of Mr. Lady Records and on Universal.  A chunk of critics were going to hate it from the beginning. Lead vocalist Kathleen Hannah's wail and croon has drawn criticism since her first band Bikini Kill. Other reviewers felt this outing was a disservice to the power Le Tirge brought with their self-titled first album and Feminist Sweepstakes; it was lost in either gloss or big label misdirections. I was reminded though that sometimes I don't mind my politics getting a little popish. I gripe about the commercialization and defanging of Green Day with their release of American Idiot, but I can't say I don't love well-produced songs with heart and message. I know it sounds near hokey, but I love that. I also feel like This Island is the perfect primer for young radicals.  Are you not sure you enjoy what defines "girl" or "boy," uncertain of which way you swing, or don't really care for sexuality labels? This Island opens up a physical space for you and helps you understand this can be a fun and incredible thing.
Band member JD Sampson said it best. They were moving away from the raw anger of Riot Grrrl and making "music for the people that [they]  loved to come together, unify and have fun". What better way to promote solidarity is there than a club banger.
Day Two:
You begin to find perfect things to do while listening to particular songs: Shuffling on hardwood floors in house-shoes like Ellen DeGeneres to "Nanny Nanny Boo Boo;" dance sexy in the shower to "Sixteen." The groove of the album, though on the punk side, is rarely interrupted. Occasionally tracks are cut up and have you lose interest due to over-distortion of the guitar and sometimes Hannah's vocals, which also go too high and wild for some tastes. "Tell You Now" is fairly clunky in part due to Hannah's wail, but this is caused by the psudeo-bossa nova melody it runs over.  It's sad because the message seems to be fighting back against someone who has disrespected or harmed it. "Tell You Now" is a sometimes listen.   Also, they line up a furious anti-Bush shout "Seconds" right after a fuzzy yet danceable "On The Verge." If you are building a dance album, don't have your super distorted dance track as the lead and then launch into your raucous synth punk wailing song. It's a little off-putting if the purpose is to reach out to listeners who might not know the glory of femme punk.  For the record though, "On the Verge" is a beautiful tone setter. It's rough and danceable and has the band shouting out the turning point of their career.
Day Three:
The most obviously political song is "New Kicks" and it's actually the weakest point on the album.  It is a hodgepodge of anti-war speeches given by everyone from Al Sharpton to Susan Sarandon, coupled with a beat made of protest chants, lo-fi guitars, and blasting drums.  It suffers from over complication. Though "this is what democracy looks like, this is what democracy sounds like," "who fights the war," and "we will not be silent" are near spine-tingling when strung into song – really this track falls flat. It's a bad rehash of "Hot Topic" off of their first album. It flops because it lacks the voice of the band and over compensates by putting as many voices in as possible.
Where "New Kicks" fails, "Viz" thrives. The original intent of "Viz," a shortening of visibility, is an exploration of different identities in the lesbian/queer community.  Butches, femmes, Trans* men, it's a mellow head-nodder/booty-shaker, dedicated to them with an almost rap of Sampson riding over the easy beat.  Though this song as well as many others by Le Tirgre has to do with the LGBTQ community (which I as a member enjoy), I think this stretches beyond acronyms.  It's purely about visibility of identities that are divergent from what is "normal." If you're a bit different, you'll find a place on this dance floor.  Come get rowdy with us and celebrate yourself.
Day Four:
Le Tigre is often referred to as Kathleen Hannah's group, and thus she is the crux of the crew.  I do love her, so much, for her music and all that she has done in her activism against sexual violence and towards full equality for all people, but I think these statements unfairly overlook band mates Johanna Fateman and JD Sampson. You hear each member's voice on nearly every track, supporting Hannah or taking the lead.  Fateman and Sampson shuffle readily between guitar and keys/synths and drum-machine.  Kathleen Hannah, you are forever my rebel grrrl, but you would agree Le Tigre is at its best when all three are on point and together.
Day Five:
"After Dark" is almost too serious, until you reach into the heat of melodramatic New Wave and realize this is a track where you pout and glare and only dance with your shoulders. In other words, this song is sexually charged and tinged with good humor.  "TKO" is high energy, crunching as it rolls along, coyly wailing until its undeniably shout-along chorus.  It's too prime for dance floor claiming and I think the album would have benefited from this being the lead single rather than "New Kicks". Its occasional Bollywood-esque blips and tings, its smooth beat that surfaces in just the right places and, again, its charging forth guitars, are what moves and shakes the album. Though they are very different sonically, these are the songs in which Le Tigre hits its perfect stride, a blend of serious, sex, and fun.
Day Six:
"Don't Drink Poison" is pure fun; it's punk rock James Bond/Charlie's Angels/Any Pam Greer movie style fun. I think it is an underplayed track that highlights the bands ability to fuse solid guitars with eerie synth, only to bring in quick clipping drum beats and a coarse chopped delivery of flat lines.  Along the same lines is their cover of The Pointer Sisters classic "I'm So Excited."  I always have a bad taste in my mouth when I think about their rendition, but as soon as I turn it on – watch yourself.  It doesn't seem like Hannah's howl, the guitars, and especially the dub-ish bridge, would work. But they do for the most part.  I feel like the track stands up better live, a small club with a lot of people around; it would make for an incredible encore.
Day Seven:
The title track of the album is a pitch-perfect urbanite jam.  It pulses like a street corner through the exploits of a night.  It admonishes its listeners to clean up the messes they have made of themselves said night while still being indisputably danceable.  It's not judgmental though, just a night in the life of narrative.  In the middle of its fast pace, there is a serene breakdown in which I believe Fateman sings and it's like a glistening and breezy park among the blacktop gridlines of beats.  Yes, it's a love letter to New York. But I first started to listen to it when I moved to Chicago, my first extended bout with any concrete landscape. It helps me remember, in flashes, the nights of my freshman year of college, and the moves I later made across the city – from a rickety house in Roscoe Village to a thick brick noise factory of an apartment on Clark and Belmont.  It's a song that is easily peppered with personal montage of mental images, it's how we can remember and keep on dancing.